British people tend to oppose the UK and USA sending ground troops into Iraq to fight ISIS – but only 18% say we should rule it out completely
Tony Blair wrote that air power alone will not suffice in the fight against ISIS militants on Monday, in an essay urging Western and allied governments not to rule out sending ground troops into Iraq and Syria in the future. The intervention came as Britain considers joining the US and France in air strikes on the region, with David Cameron recalling MPs on Friday to ask for their support in doing so.
Public opinion has moved dramatically on the issue of UK involvement in air strikes on ISIS in the past six weeks. At the start of August, the public were roughly divided (37-36%); ever since the start of September - and the emergence of the beheading videos - there has been a consistent majority in favour of action (53-26%).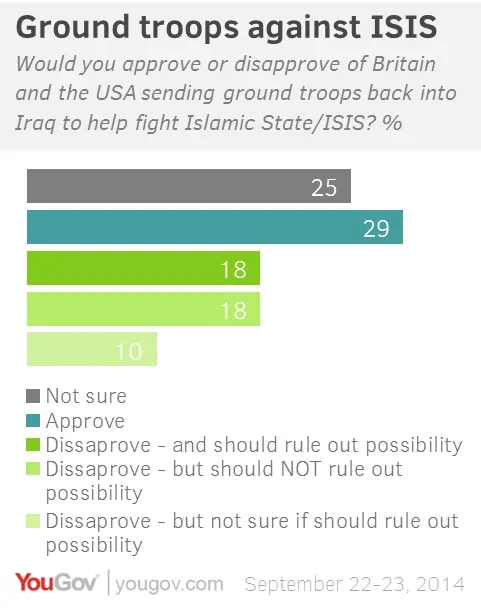 A new YouGov poll for the Times Red Box suggests that public opinion is still on the march. We track whether people would support sending ground troops back into Iraq to help fight ISIS, and opposition has already softened since last week. 29% would now approve of UK and US troops being involved (up 5%), 46% would disapprove (down 9%).
Barack Obama has long been against the involvement of ground personnel, silencing American generals who advocated such a response last week: "I will not commit you and the rest of our armed forces to fighting another ground war in Iraq".
Opposition to sending ground troops into Iraq by British people may prove to be surprisingly soft, however. We followed up with the 46% who are against ground troops, and only 40% of them say Britain and America should 'completely rule out' ground troops. 39% say we should keep the option on the table and 22% don't know.
Image: PA