The British public expect UKIP's conference to be the most fun, funny and interesting – and that the Liberal Democrats' will send you to sleep
For political enthusiasts the end of September is prime time, as the three-week conference season brings politics to city centres across the country. They have become less about policy debates and votes, and more about lobbying and show-stopping speeches, but they are a spectacle nonetheless.
New YouGov research asks the British public for their views on the various party conferences, and if it's fun you're after there is a pretty clear winner.
The UKIP conference which starts tomorrow, set to be the party's biggest ever and held on the border of Ed Miliband's Doncaster constituency, is thought to be the most fun as well as the most funny. Conservative voters are at least twice as likely to think this about UKIP's conference as their own.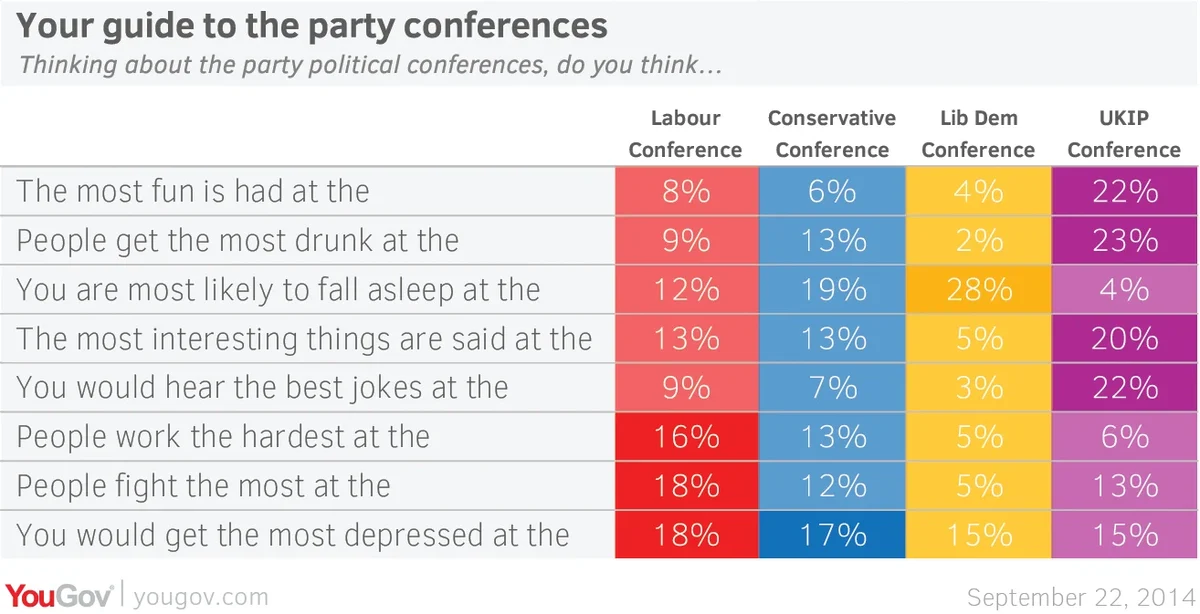 The UKIP conference is also thought to be the most interesting, but almost one in four (23%) think people get the most drunk there.
The Labour conference is perceived positively on being the most hardworking, but people also think attendants fight most here. The Tory conference is tied with Labour's on being the most depressing, and the Liberal Democrat's gets the highest score out of all the questions (28%) on being the event you are most likely to fall asleep at.
Conferences are now a huge money maker for the political parties. At the Conservative's event last year £20,000 could get you access to the Blue Room, where corporate guests could network with cabinet ministers; at Labour's, £10,000 could buy you adverts on "eco-friendly" conference bags. The dates for the events this year are: Labour – 21-24 September; UKIP – 26-27 September; Conservative – 28 September-1 October; Lib Dem – 4-8 October.