YouGov finds support for several new Labour policies across the political spectrum
A day after Labour leader Ed Miliband's 68-minute speech, many commentators have turned their attention he didn't mention, rather than what he did. However, Labour did propose a number of new policies at the conference that will likely be included in their pitch to voters ahead of the next general election in May 2015.
In a survey for the Times Red Box, YouGov tested public opinion on four of the policies and finds them all to be popular, even among those who currently plan to avoid Labour at the polls next year.
The most popular policy of the four is means-testing the winter fuel payment for pensioners so it no longer goes to the richest 5% of pensioners: fully three-quarters support the policy, while only 18% oppose it. Public backing is at similar levels among Labour, Conservative, Lib Dem and UKIP voters.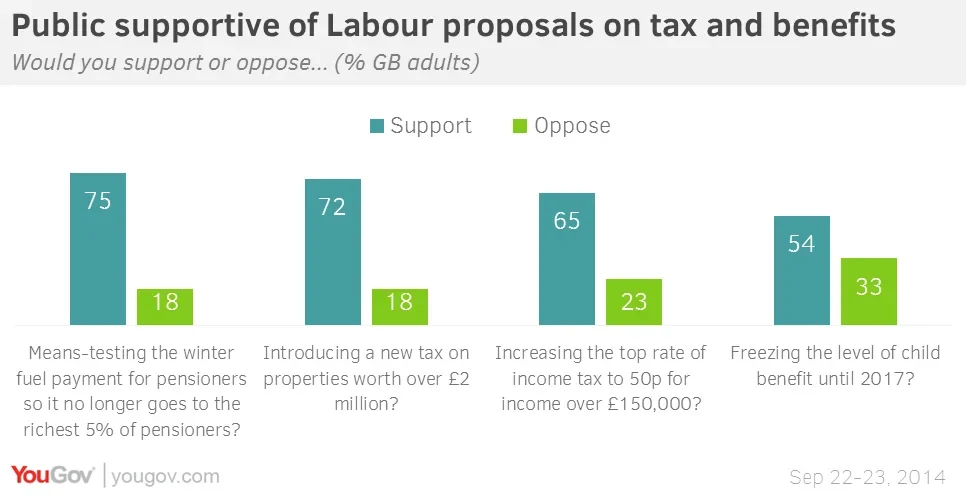 The other policies earned lower levels of overall support and less cross-party consensus, but all three are nevertheless supported by most people.
72% support and 18% oppose introducing a new tax on properties worth over £2 million, also known as the "mansion tax". Here Labour voters overwhelmingly support the policy, by 85%-8%, while Conservatives show more muted, but still robust support, at 58%-35%. Notably, support is similarly muted (58%-29%) among voters in London – a Labour stronghold, but a place where house prices have grown at a much faster rate than elsewhere in Britain.
The public support increasing the top rate of income tax to 50p for incomes over £150,000, by 65%-23%. This is the only of the four policies not supported by the majority of Conservative voters, who are evenly divided on it 47%-47%.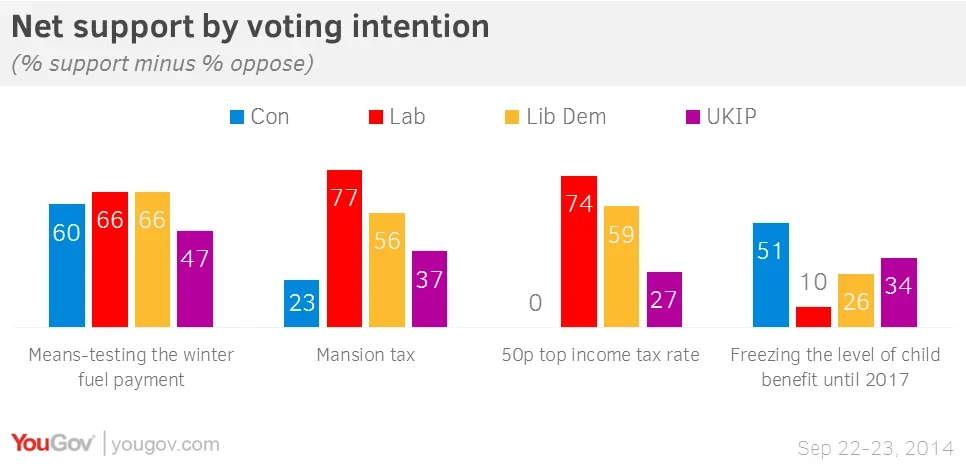 By contrast, the least popular policy of the four, freezing the level of child benefit until 2017, which 54% support overall and 33% oppose, is more popular among Conservative voters (73%-22%) than it is among Labour voters (49%-33%).
Other policies Labour have rolled out at their conference include charging tobacco companies to help fund the NHS, raising the minimum wage and building new homes.
Image: PA