Support for RAF air strikes against ISIS continues to increase, to 54% – and, for the first time, a majority now support expanding the strikes into Syria
Phillip Hammond, the foreign secretary, has admitted the UK government cannot rescue British hostage Alan Henning, "because we don't know where he is", after the Salford taxi driver was threatened with death in a video depicting the murder of David Haines. The video, the third of its kind, was the first to show the killing of a British citizen by Islamic State (IS) militants. The British militant responsible – the same man who appeared in the previous two videos – said Mr Haines had to pay the price for David Cameron's promise to arm the Kurds.
YouGov has been tracking public opinion on potential responses to the threat of IS since early August, and the latest poll finds that the trend towards support for RAF air strikes has continued. 54% now support such British involvement, up from an initial 37%.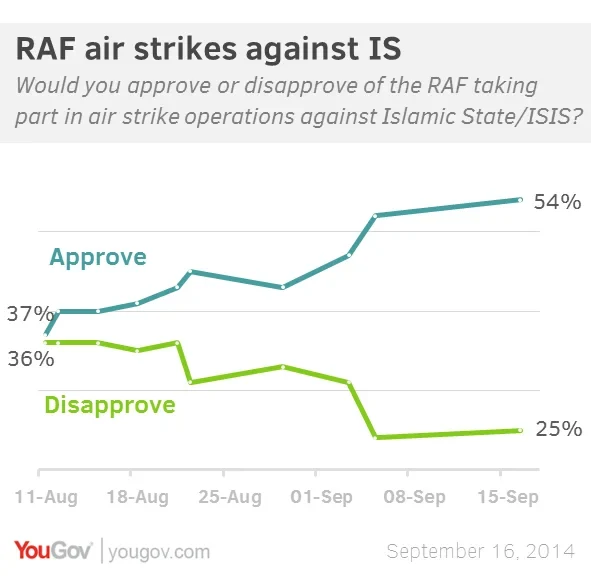 Speaking last Wednesday Barack Obama insisted that to "degrade and ultimately destroy" IS he would not hesitate to take military action in Syria as well as Iraq, however he did not suggest this would be imminent.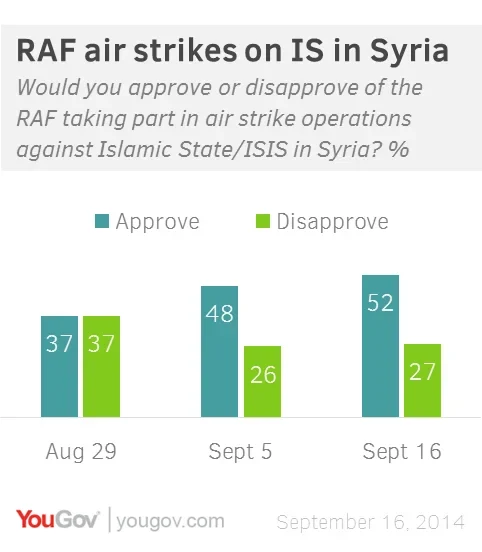 Whereas last year YouGov found strong public opposition to military action against the regime of Bashar al-Assad in Syria, just over 12 months later the majority of British people (52%) approve of RAF air strikes against IS in Syria. 27% oppose, but even at the end of August this year British people divided 37-37% on the issue.
Support for US air strikes in Syria has also increased to 61%, the same number as support US air strikes on IS more generally – new highs for both measures. And approval of the US President's handling of the crisis in northern Iraq has increased from 44-34% to 49-32%. David Cameron's approval is mostly unchanged, with 37% saying he has done well, 44% badly.
In the strategy he outlined last week, Barack Obama said air strikes, so far unaided by Britain, would not be accompanied by ground troops. Senior US General Martin Dempsey, however, said yesterday that if the current approach ceases to be appropriate "and there are threats to the United States, then I of course would go back to the president and make a recommendation that may include the use of US military ground forces". YouGov America has found increasing support for air strikes against IS, but the number who would back the use of ground troops remains small.
Image: PA