Beer fans divide equally between ale and lager drinkers – but despite the surge in popularity of specialty "craft" beers, classic bitter is still the favourite for ale drinkers
For years, ale had a fusty image. With few to choose from and a discount price tag ale came across as an old man's drink, suited to dingy pubs and smoky living rooms. But it has had a resurgence: a pint of locally brewed ale with a fancy name can cost well north of a glass of lager, and trend-seeking fans are queuing up for a drop.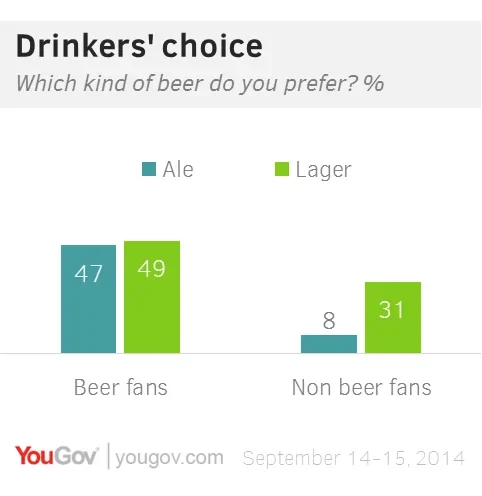 New YouGov research finds that while lager is still the preferred beer among British adults, this is only because people who don't really like beer can stomach it.
While 39% say they prefer lager and 27% ale, those who like beer a lot or a fair amount divide 49-47%. Those who aren't really into beer prefer lager by 31-8%.
Equal numbers of British men and women like lager (39%), but men are much more likely to prefer ale (42% compared to 14% of women).
Craft beers, usually highly hopped brews produced in a specific location on a small scale, are lauded as driving the non-lager resurgence. YouGov's research finds that there is significantly more awareness of them among younger Britons (39% of 18-24 and 25-39 year-olds compared to 25% of over 60s).
But among ale fans the old styles are still the best, and bitter is easily the most well-loved drink (74%). India pale ales, stouts and pale ales also have broad appeal, while craft beers occupy the mid-range, with 40% of ale fans enjoying them.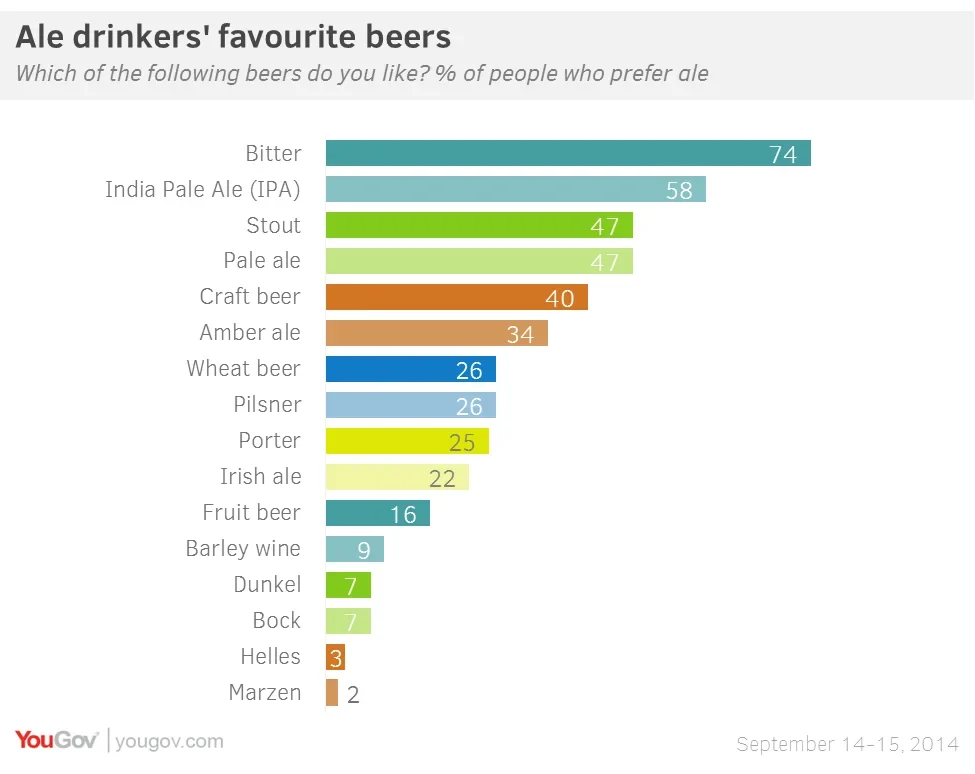 Data from the Office for National Statistics shows that while average weekly wages have risen just short of fifteen-fold since 1974, the price of a pint is now more than twenty times what it was four decades ago. As in 2013, on 24 September restaurants and pubs will be encouraged to lower their prices to reflect the lower level of VAT enjoyed by supermarkets, to demonstrate the advantages to the pub industry of tax parity.
Image: PA