Now in its second year, the badger cull still divides public opinion – and approval of the government's handling of the issue has dropped
The government confirmed yesterday that this year's badger cull in Somerset and Gloucester has begun, as the policy enters the second year of its four year life-span. Hundreds of volunteers for the Stop the Cull group are expected to be out in the area in the coming weeks to take direct action and look for injured badgers, however the environment secretary Elizabeth Truss defended the cull: "This is vital for the future of our beef and dairy industries, and our nation's food security. At present we have the highest rates of bovine TB in Europe".
YouGov has been polling on the issue since 2012, when the policy was supposed to come into effect but was postponed until the following year after widespread protests and bad weather.
There has been a slight increase in support for the badger cull, from 31% in 2012 to 35% in 2013 and 36% this year, however opposition remains steady, now standing at 42%.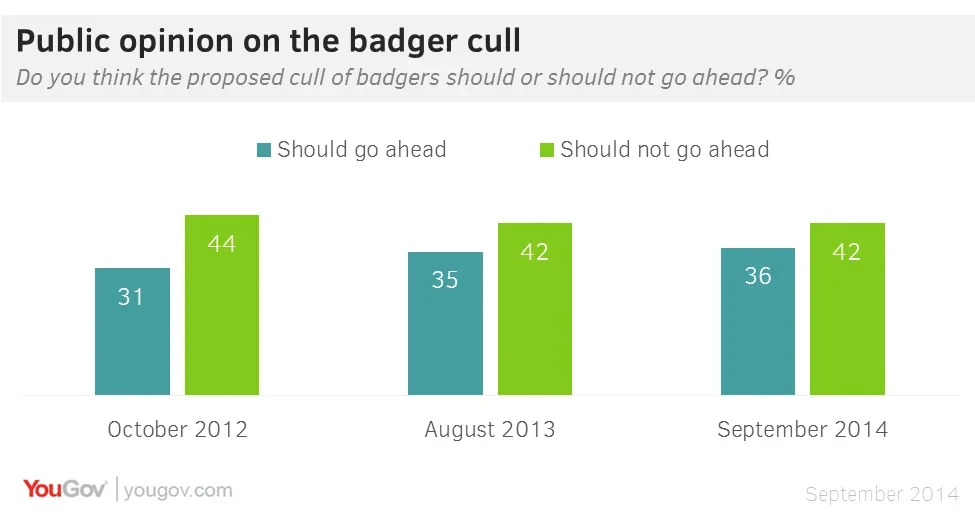 The cull has become increasingly favourable among Conservatives, with support now at 57% – up from 50% last year and 46% in 2012.
But while in the first year of the cull a quarter of British people (25%) thought the government were handling the issue of TB in badgers and cattle well, now only 15% do, while 57% say the government are handling the problem badly. This is roughly the same level of approval as in 2012 (13% well, 52% badly).
Last year, 1861 badgers were killed in Somerset and Gloucester, however the cull failed to kill 70% of the badger population; the target thought to make the cull effective at reducing TB in cattle herds. When asked why marksmen failed to meet the target, then-environment secretary Owen Paterson said: "the badgers moved the goalposts".
Image: PA