Since before the European Parliament election in May support for the Green Party among 18-24 year-olds has doubled – but they are still only 3 points ahead of UKIP among young Britons
Natalie Bennett opened the Green Party Conference in Birmingham yesterday with proposals for an increase in the minimum wage to £10 an hour by 2020. The party is positioning itself as the "real opposition" to the coalition, campaigning on an anti-austerity platform to the left of Labour, with railway renationalisation policies and new taxes on the super-rich.
If the party can gain ground in seats such as Manchester, Oxford, Bristol and Norwich, Labour will see its vote challenged, just as the Conservatives' vote is being challenged by UKIP.
YouGov's research, merging around 40,000 interviews per month to establish more reliable results for smaller demographics, finds that, since March, the steady climb in the polls suggested by the Green's leader has been minor. There has been, however, a doubling in support for the party among younger British people.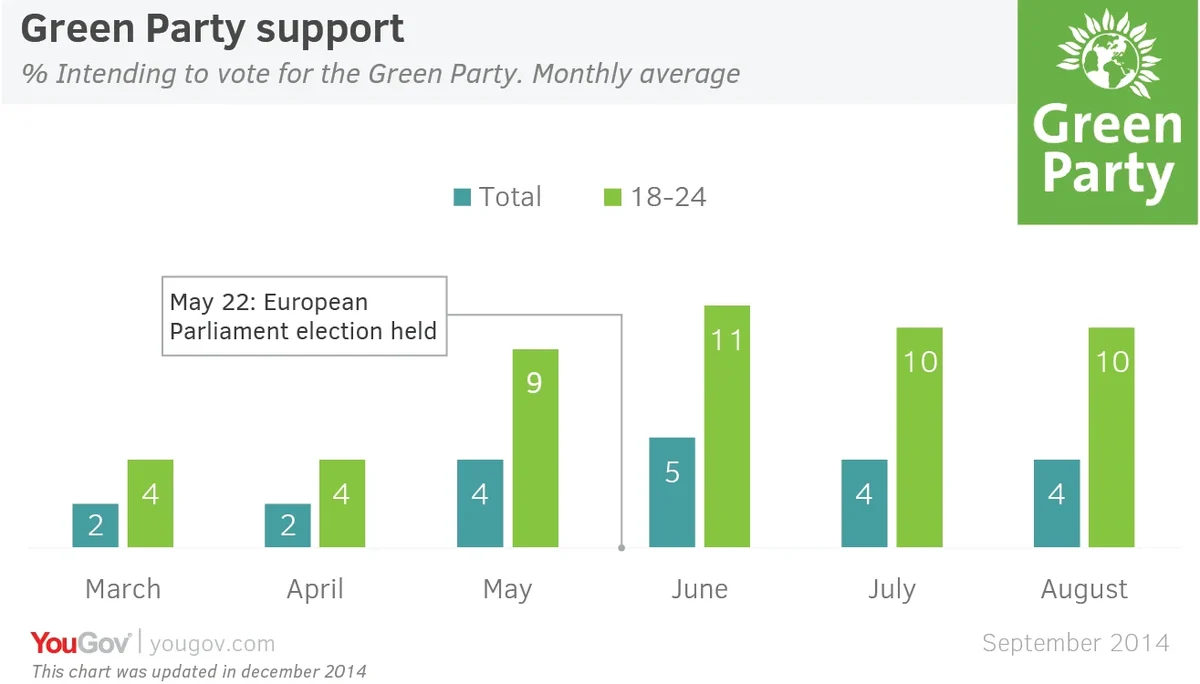 Compared to before the European Parliament elections in May, which UKIP won – attracting the majority of the media attention – support for the Green party among 18-24 year-olds increased from 4% to 11%. In July and August it persisted at 10%. The Greens had a 7.87% share of the vote in the European elections, putting them in fourth place in terms of the number of MEPs elected (3).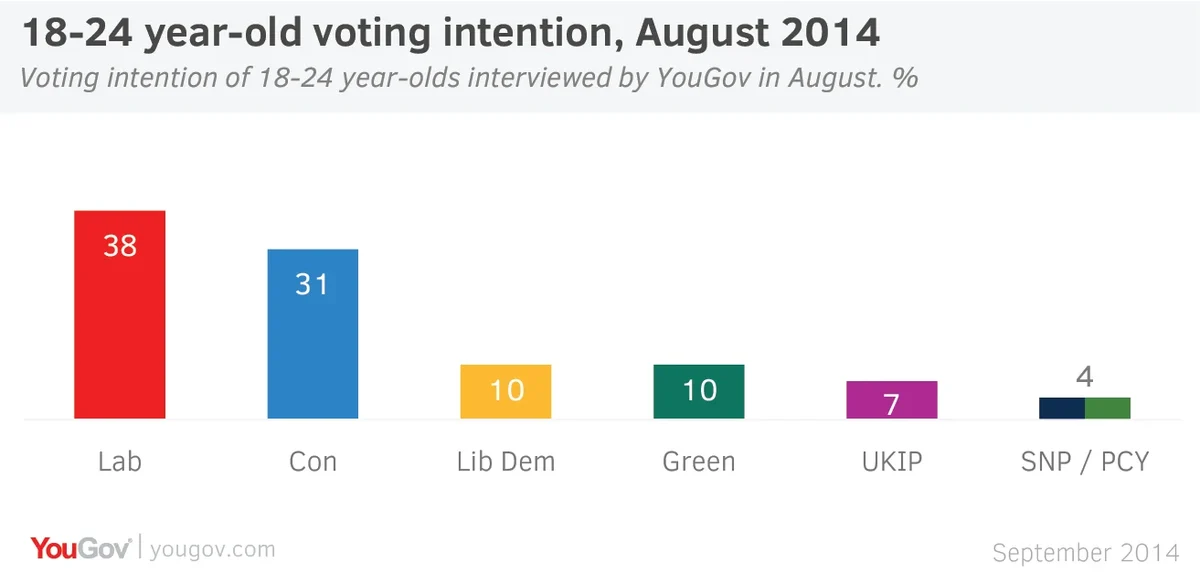 But while such gains for a small party are important, there is still a way to go. In August, among 18-24 year-olds support for the Green Party only equalled support for the Liberal Democrats (10%), who fell dramatically out of favour once tuition fees were raised. More surprisingly, UKIP, a party not known for its appeal to the young, only polled three points behind (7%) the Greens among 18-24 year-olds in August.
In Caroline Lucas's speech today, environmental issues will barely be mentioned. The Green's only MP, for Brighton Pavilion, will instead focus on social justice, inequality and civil liberties. Ms Lucas wants to "demonstrate that our result in Brighton in 2010 wasn't a one-off", and the party's leader will contest the Labour seat of Holborn and St Pancras in the hopes of a victory following the retirement of Labour MP Frank Dobson.