By 53-27% British people think it is unacceptable to recline a seat on a daytime flight – but Americans think the opposite
Between August 24th-27th arguments over reclining seats on planes lead to at least two US flights being diverted. In one of the disagreements, a man used a device called a 'Knee Defender' to prevent the woman in front from reclining. The woman became so angry that she stood up, turned around and threw a glass of water over him. Sales of the small plastic device have since spiralled, and dozens of the gadgets are thought to be on their way to Britain.
A new YouGov poll finds that although the flights happened in the US, annoyance with reclining seats on planes is actually higher in the UK.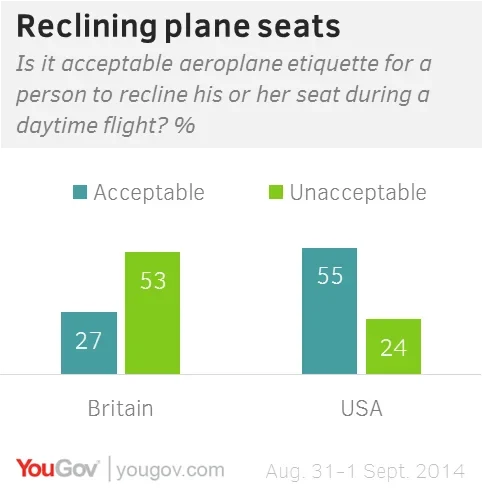 By 53-27% British people think it is unacceptable to recline a seat during a daytime flight.
In America, sentiment is the polar opposite: 55% think reclining on a daytime flight is acceptable while 24% view doing so as OK. Americans also say Knee Defenders are unacceptable by 65-16%.
Earlier this summer the Luton-based Monarch Airlines scrapped reclining seats throughout its whole fleet. Other budget airlines have also scrapped reclining seats, however this is unlikely to happen on overnight flights when people need to sleep in the reclining position; 78% of Americans and 72% of British people think this is acceptable.
Photo:
crazypete04/Flickr