Only 38% of the public have confidence in the police to take allegations of child sexual exploitation seriously
Following the release of a bombshell report revealed the sexual abuse of at least 1,400 children over a 16-year period in Rotherham, England, attention has quickly turned to the social workers, community leaders and police chiefs who failed to deal with the problem. Police and crime commissioner for South Yorkshire Shawn Wright has already resigned from the Labour Party, although he has said he does not plan on leaving his job.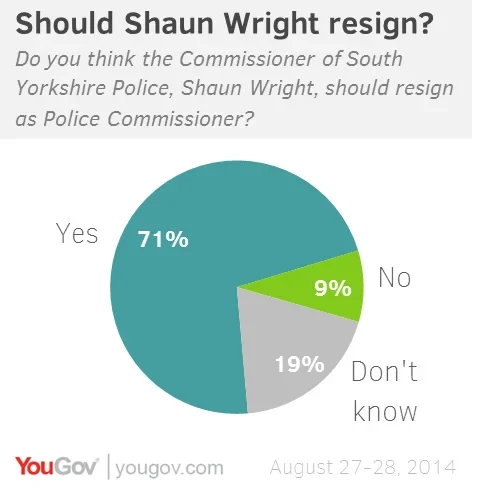 The latest YouGov poll for the Times Red Box finds the public think Mr Wright should resign by an overwhelming 71%-9% margin.
The finding comes at the same time as most voters are revealed to lack confidence in the willingness of the police outside Rotherham to take reports of child sexual exploitation seriously. 51% have little or no confidence in the police around the country, to 38% have at least a fair amount of confidence, leaving a confidence gap of -13 points. Only 11% have no confidence at all, but this far outweighs the mere 3% who have a lot of confidence.
The confidence gap varies somewhat across regions: Scottish voters narrowly tend to have confidence in the police to take the issue seriously, while there is a 20-point deficit in the Midlands and Wales, where only 34% have at least a fair amount of confidence.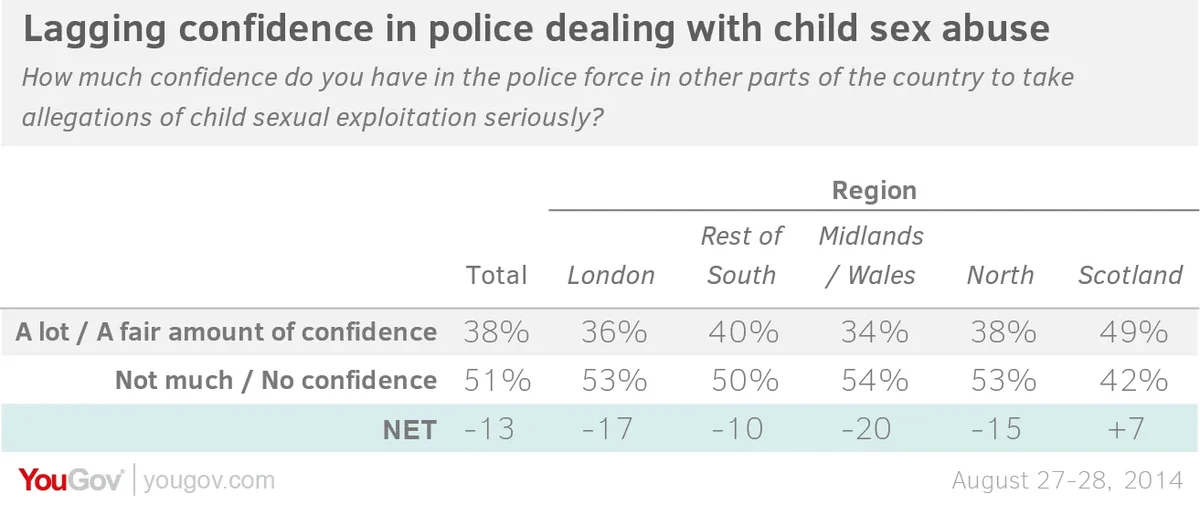 This contrasts with the levels of public confidence in the police relating to other issues. Another YouGov poll released on Thursday found nearly two thirds (65%) of the public who showed at least a fair amount of confidence in the police to "treat members of ethnic minorities fairly". In October 2013, the same number said they trusted local police officers in their area to tell the truth, and 49% also said they trusted senior police officers to do the same.
Race and Rotherham
Another issue that has arisen turns on the ethnicity of the gangs largely responsible for the abuse detailed in the report. The report found many reasons the problems were ignored, including because councillors and council staff were afraid of being labelled as racist for drawing attention to the men responsible, who were of predominantly Pakistani heritage.
YouGov's research finds the "political correctness" angle has got through to the public as the main explanation for why more wasn't done. 45% say the desire not to appear racist or cause racial tensions was the reason authorities failed to deal with the problem, against only 20% who blame "simple incompetence, inefficiency or laziness", and 14% who think the problem was ignored because the children were from broken homes and not seen as important. 21% still don't know which explanation to choose.
PA Image