Of the multiple current world conflicts, Islamic State in Iraq is seen as the greatest threat to world peace and to Britain – and the one the most people care about
This summer has been notable for the emergence of three major world conflicts at the same time: the rise of Islamic State militia in Iraq and Syria has drawn the West back into a struggle it only recently left; Israel's offensive on Gaza in response to rocket fire has shocked the world; and the spectre of Russian territorial ambitions that were thought to belong to history has emerged in Ukraine.
A new YouGov survey finds that of these three military conflicts, the situation in Iraq is seen as the most concerning by British people, on three different fronts.
Most people (52%) view the fighting between Islamic State and the government of Iraq as the greatest threat to world peace. In contrast, only 31% say Ukraine has the biggest potential to disrupt world peace and 18% say the same of Israel-Palestine.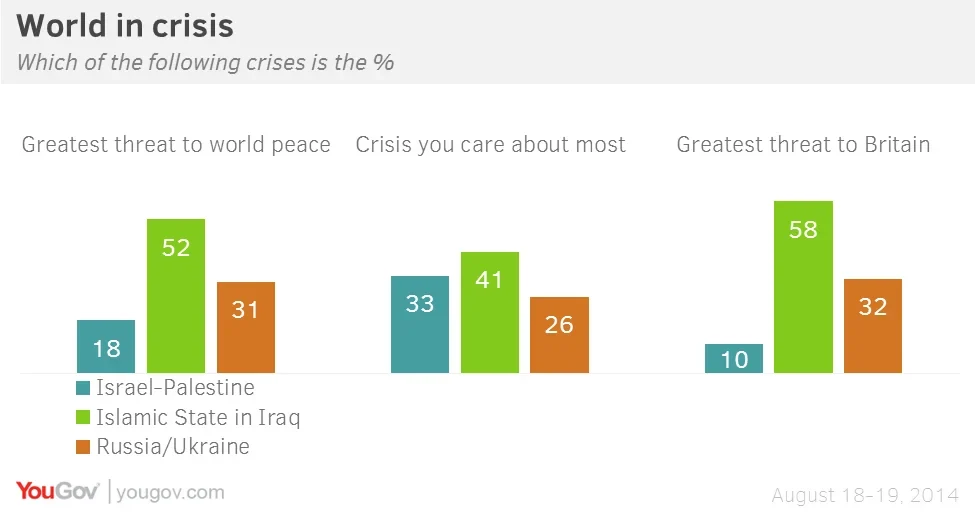 Public sentiment is similar in America, where 40% see Iraq as the greatest threat to world peace. However in the US the Israel-Palestine conflict is viewed as more threatening to global peace (31%) than in the UK.
58% say the conflict in Iraq is also the biggest threat to Britain, while 32% say Ukraine is and 10% choose Israel-Palestine.
One interesting feature is that younger people are much more likely to feel threatened by the unrest in Ukraine in comparison to older people, and much less likely to feel threatened by the conflict in Iraq.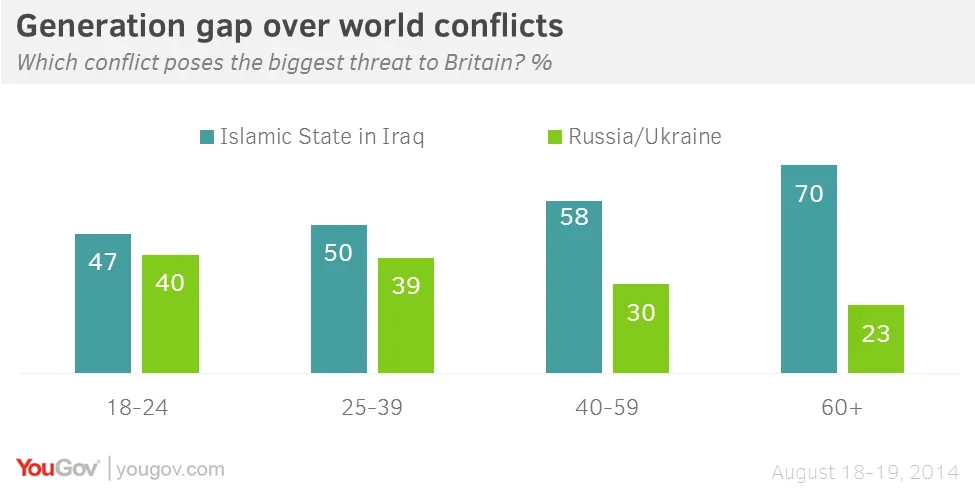 Labour (44%) and Liberal Democrat (38%) voters are also significantly more likely to say they care most about Israel-Palestine, compared to Conservative (24%) and UKIP (19%) voters.
Yesterday brought eight days of relative quiet to an end in Gaza, as Israel launched fresh air strikes in response to three rockets that were fired from Gaza. In Ukraine, 15 bodies were retrieved from the scene of an attack on a convoy of refugees. A video emerged last night appearing to show a US journalist being beheaded by a British Islamic State member with a London accent.