68% of British people say that Islamic State poses a threat to Britain – but support for RAF air strikes remains at 40%
David Cameron has today warned that Islamic State (IS) militants could pose a threat to people on the streets of Britain unless action is taken. Speaking of Britain's involvement in Iraq he said that "a humanitarian response alone is not enough" and that "we need a firm security response", adding that the Government has already removed 28,000 pieces of terrorist related material from the internet, including 46 IS videos. Downing Street also disclosed that 69 people had been arrested during an 18-month period in connection to Syria-related Jihadist activities.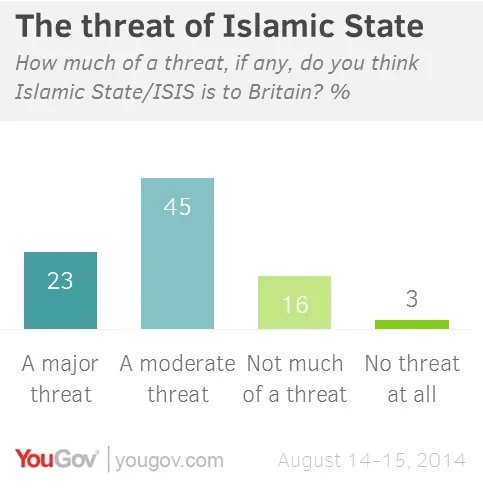 A new YouGov survey for the Sunday Times finds that 68% of British people believe IS poses a major (23%) or moderate (45%) threat to Britain. 16% believe IS poses little threat and 3% do not fear a threat at all.
49% say the present situation in northern Iraq is at least partly the fault of the USA, Britain and other Western countries. 31% say it is not.
The survey finds that approval for possible RAF participation in air strike operations against IS remains at 40%, however - unchanged from August 12th but slightly higher than August 11th (37%). 36% disapprove.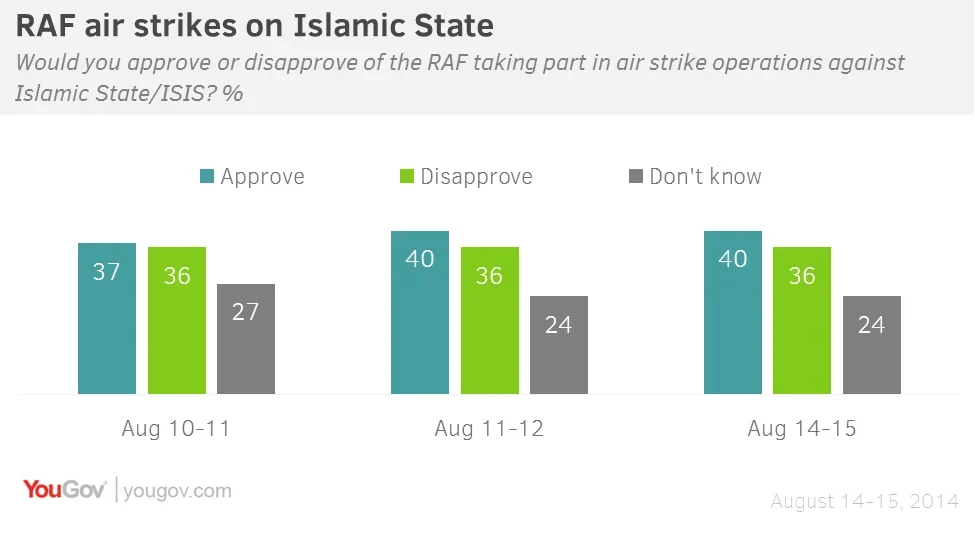 The Prime Minister says he has discussed the potential threat of IS with the police commissioner, Sir Bernard Hogan-Howe: "The position is clear. If people are walking around with Isil flags or trying to recruit people to their terrorist cause, they will be arrested and their materials will be seized. We are a tolerant people, but no tolerance should allow the room for this sort of poisonous extremism in our country."
Image: PA