By 51-29% the British public say the House of Commons should be recalled before September to discuss the crisis in Iraq
David Cameron returned early from his holiday yesterday to chair a meeting of the government's Cobra committee on the intensifying crisis in Iraq. The move came as France and the US stepped up their efforts by reportedly arming Kurdish forces battling Islamic State militants in the region. The Prime Minister has so far resisted calls to reconvene Parliament to discuss Britain's involvement before the end of the summer break, saying that "This is a humanitarian operation… so I do not think it is necessary to recall Parliament for that".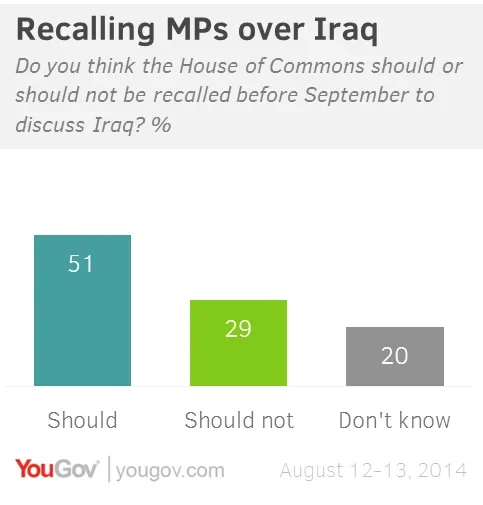 He has not ruled out the possibility however: "were things to change, then obviously [reconvening Parliament] is something that could be done".
A new YouGov poll finds that most British people (51%) say that the House of Commons should be recalled before it is due to reconvene on 1st September. 29% say it should not and 20% are unsure.
Some of those leading the charge to recall Parliament do not necessarily want British military intervention; they simply think the issue is grave enough to be debated by MPs.
In addition to its seven successful air drops of aid, Britain may now transport other countries' military supplies to Kurdish forces fighting Islamic State militants. It is possible that a rescue mission to airlift trapped Yazidis from a mountain in Iraq may now be called off, however, after the US reported overnight that the situation had improved.
Image: PA