YouGov's latest Scottish independence figures for the Sun, using an updated methodology, are YES at 35% (no change) and NO at 55% (+1)
With 37 days to go until September 18th's Scottish Independence referendum, YouGov's topline figures (including 'Don't knows' and 'Wouldn't votes') are YES at 35%, showing no change since our last poll (June 25-29), and NO at 55%, up one percentage point. With 'Don't knows' and 'Wouldn't votes' excluded, the results are YES at 39% (no change) and NO at 61% (also no change).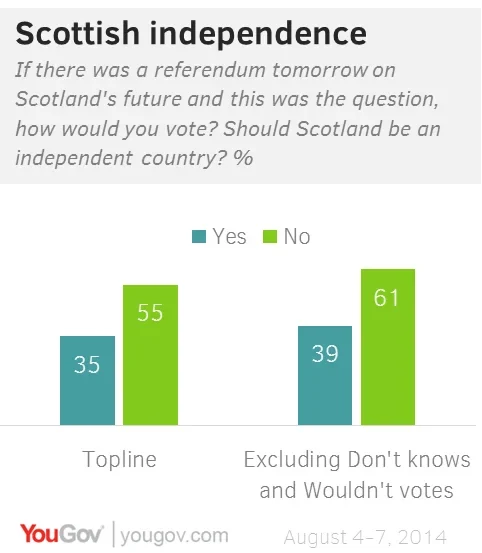 The results are not directly comparable, however, as there are two slight changes in our Scottish methodology since our previous poll. The first is that we extended the sample to include 16 and 17 year olds, who will be able to vote in next month's referendum. This made no difference to the overall results.
The second is that we have additionally started to weight according to people's country of birth. Looking at previous samples and comparing them to the 2011 census we found there were too many Scottish respondents who were born in England, and that English born respondents were more likely to say they would vote NO. This additional weight makes a slight difference to the final result - under our previous weighting scheme, excluding those who say they wouldn't vote or are unsure of how they would vote, the results would have been YES at 38% and NO at 62%, rather than YES at 39% and NO at 61%.
Image: PA