There's a strange but strong correlation between age and favourite crisp flavour
Foreigners balk at some of the United Kingdom's more creative crisp flavours, and wacky-tasting crisps have indeed been around in the country since the 1970s. Yet many people in Britain were born before the flavour bonanza – a fact that may provide a clue to understanding the meaning of some recent YouGov findings on crisps, which suggest a dramatic gap between young and old on the best "classic" flavour.
Respondents were asked whether they prefer Prawn Cocktail, Salt & Vinegar, Ready Salted or Cheese & Onion. Among the general population, Cheese & Onion is the most popular flavour, at 31%, but Ready Salted is essentially tied with 28%. Salt & Vinegar has 23% and Prawn Cocktail just 11%.
But those aged over 60 prefer the flavour that has been around the longest, Ready Salted, by a decisive margin. The next generation, those born between the mid-50s and the mid-70s, are most likely to go for Cheese & Onion, which was introduced by Golden Wonder in 1962. Looking among those younger still (born between the mid-70s and the late 80s) the most popular flavour is Salt & Vinegar, which was Smith's answer to Cheese & Onion. 18-24 year olds, meanwhile, very narrowly prefer Prawn Cocktail, which was invented around the same period as Salt & Vinegar. There is no decisive favourite amongst this youngest group, who were all born after each one was already widely available, but their least favourite flavour, interestingly, is the favourite of the eldest group – Ready Salted.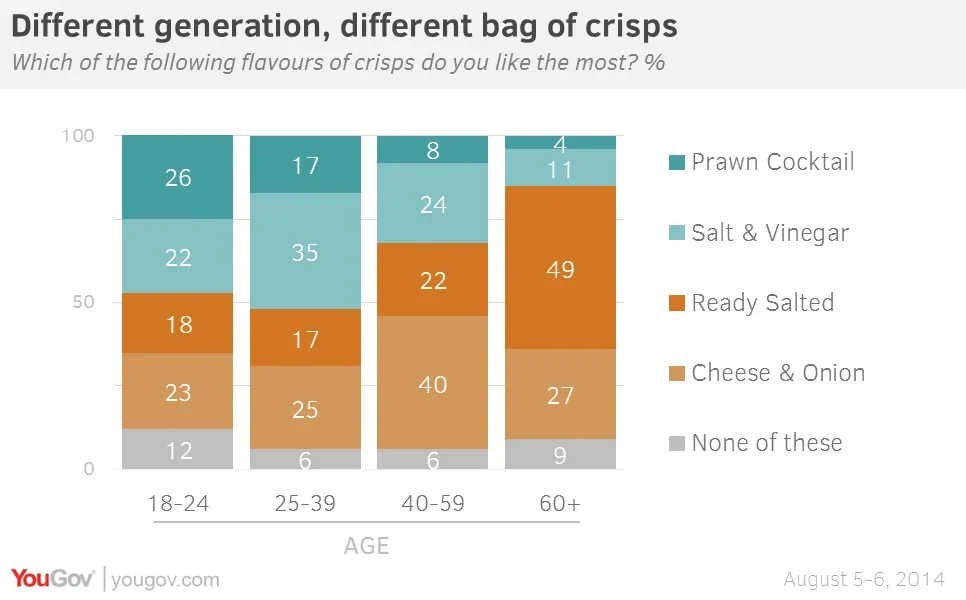 Invent a flavour
Despite reservations about new flavours in general, plenty of people have ideas of their own when asked what flavour they would invent for themselves.
Many of the suggestions had conventional components: nearly 100 of involved cheese in some form, and 76 mention chicken. Onion and curry-related flavours are also especially popular. 24 respondents independently suggested lamb & mint, while 18 suggested fish & chips. But the list also lends support to the idea that there is a market (if a small one) for pretty much anything – blueberry, anchovy, or vodka & lime-flavoured crisps? Someone, somewhere, would like them.