As many Scottish people took interest in the 2014 Commonwealth Games as the 2012 Olympics in London. In the eyes of the rest of Britain, however, Glasgow was far behind
The Commonwealth Games in Glasgow this summer were the "standout Games" the movement's 84-year history, according to Commonwealth Games Federation chief executive Mike Hooper. The New Zealander says the success of the 11-day event was achieved with the help of "incredible" enthusiasm from the people of Scotland and Glasgow.
Coming just two years after, it is tempting to draw comparisons between Glasgow 2014 and London 2012. Both were major international multi-sport events, although Olympics had athletes from 193 countries to the 71 Commonwealth nations represented in Glasgow, which naturally gives London an edge in worldwide prestige.
A new YouGov poll shows that Scottish people were just as interested in the Commonwealth Games as the London Olympics. At the end of both events, two-thirds of Scots said they were "interested".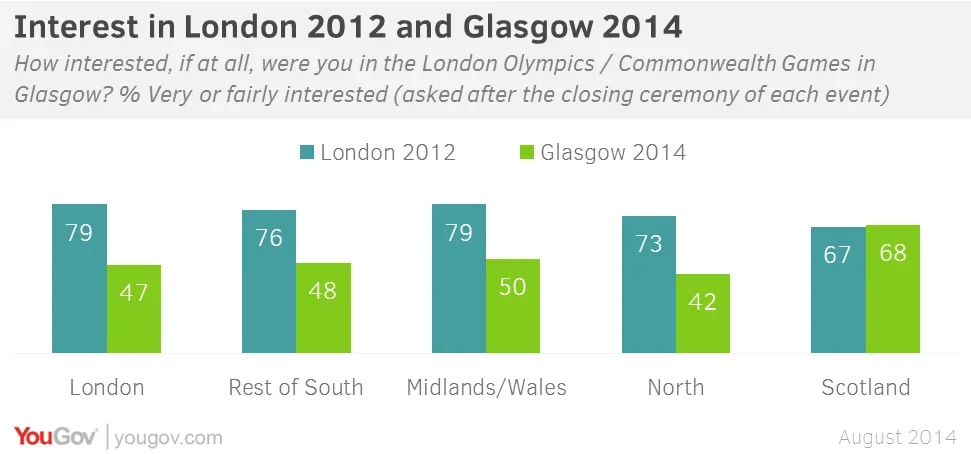 The Scottish public are also even more likely to call Glasgow 2014 a "success" (as 83% do) as they were about London 2012 (only 72% did).
Of course, by both measures people in Scotland had been slightly less positive about the London Olympics than the rest of Britain. People in England and Wales are significantly less likely (by margins of 20-30%) to have taken interest in Glasgow 2014 than London 2012 or people in Scotland this time around.
Similarly, people south of the Scottish border are less likely to call Glasgow 2014 a success – although even in London, the least enthusiastic region in the poll, six in ten (61%) think it went well and virtually no one (2%) thinks it was a failure.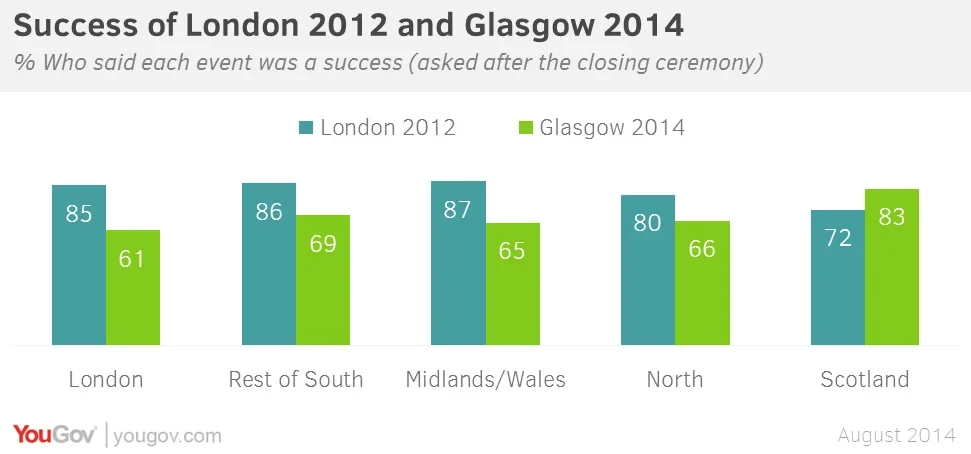 Athletes from Scotland, Wales, England and Northern Ireland all reaped impressive medal tallies. England even took enough to placed first on the medal tables for the first time in 28 years, while Scotland placed fourth.
The 2018 Commonwealth Games will take place in Gold Coast City, Australia.
Image: PA