Poland's contribution is widely praised
With millions of Ukrainians fleeing the destruction in their country, a political row has developed in Great Britain over the government's failure to offer sanctuary to many refugees.
As of 14 March the UK had offered 4,000 visas (a figure which has since risen to 16,000 by 22 March). This compared to mid-March estimates of 17,000 in France, 44,000 in Italy, and 147,000 in Germany by around the same time in each of those countries.
Britain's parsimoniousness has not gone unnoticed on the continent. In all European countries in a recent international YouGov survey – France, Germany, Spain and Italy – people are more likely to say that Britain has been making a weak contribution to taking in Ukrainian refugees rather than a strong one.
This opinion is particularly prevalent in Britain itself, where 53% said as of 14-15 March that the country was making a weak contribution, compared to only 25% who said a strong one, for a net score of -28.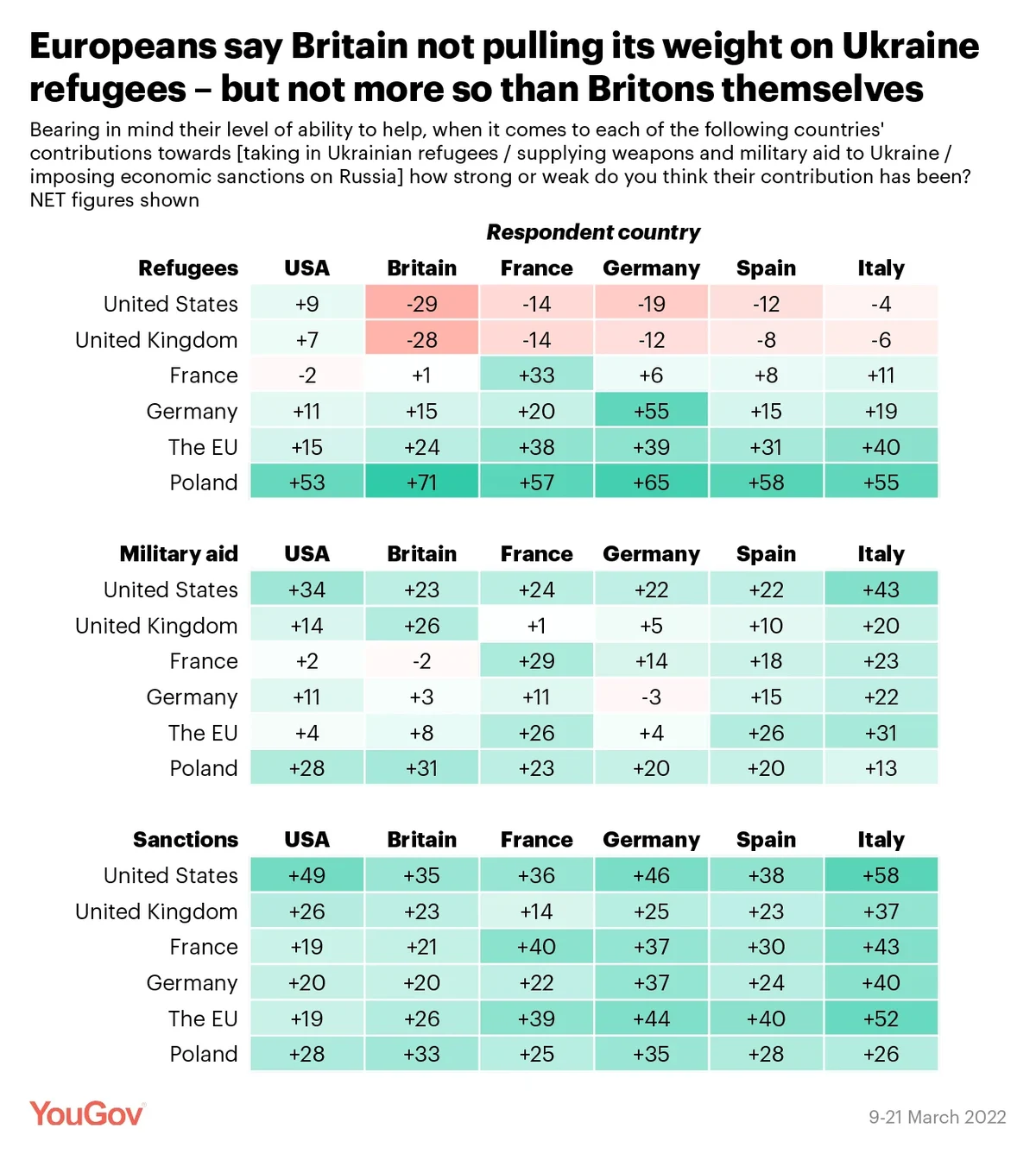 European opinions are similar when it comes to the US's contribution, which receives similarly poor net scores.
Poland, by contrast, is widely acknowledged on the refugee front. By mid-March an estimated 1.7 million Ukrainians had entered Poland, including 300,000 in Warsaw alone. A large majority of people in each country say that Poland has been making a strong contribution when it comes to taking in Ukrainian refugees.
Compared to the other countries surveyed, Germans are particularly pleased with their national work towards helping refugees. Two thirds (68%) think Germany has made a strong contribution to the refugee effort, vs 13% who think it has been a weak one. Neither Britons, Americans nor French people rate their own efforts nearly so highly.
When it comes to providing military aid to Ukraine, both the US and Poland receive consistently strong scores. America is providing much material aid to Ukraine, while Poland has famously been attempting to pass Ukraine its MiG-29 fighter jets, and is also the route by which much of the weapons needed by the country are flowing in.
Britain and France also tend to rate their own contributions highly (the former giving themselves a score of +26 and the latter +29, in both cases better scores than they gave the USA). The Ukrainian defence minister has previously praised Britain's efforts in being "the first to provide us with serious weapons that have increased our defence capabilities".
Germans, by contrast, are much more negative, giving themselves a score of -3. Prior to the invasion, Germany had been criticised for blocking the supply of NATO weapons to Ukraine, while the poor state of the German armed forces was exposed by the discovery that anti-air missiles Ukraine requested were stored in mouldy boxes and unlikely to work.
In terms of the economic sanctions on Russia itself, there are positive assessments across the board. American efforts in particular are regarded consistently well (although the French still rate their own contributions and those of the EU's slightly higher, while the Spanish also put those of the EU narrowly ahead).
Indeed, the EU's performance on sanctions is rated similarly highly as the US's among the four countries surveyed that are members.