Nearly half of Britons think that doing so is "off-loading" our responsibilities as a country.
Jack Letts, better known in the UK press as "Jihadi Jack", left Oxfordshire in 2014 aged just 18 to join the Islamic State in Iraq. He was later arrested by Kurdish YPG forces while trying to flee to Turkey. Now Letts, who held dual UK and Canadian nationality, has been stripped of his British citizenship.
Almost three quarters (73%) of Britons support the Home Office's decision, with just 11% thinking he should have been allowed to retain his passport. Conservatives are mostly likely to support the government's actions with 90% in favour of revoking citizenship, compared to 63% of Labour voters.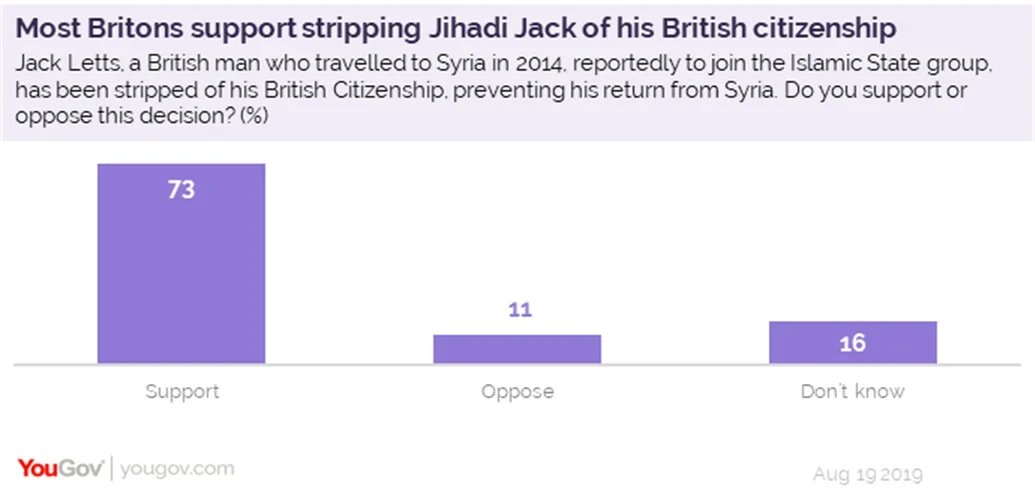 The government was only able to revoke Letts' British citizenship because he held dual nationality, as it's against the law to leave someone stateless.
Following the announcement, a Canadian minister accused the UK of "off-loading its responsibilities" in stripping Jack Letts of his British half of his citizenship, meaning that he is now the sole responsibility of Canada despite being born and raised in the UK.
However, despite the majority of Britons backing the move to strip Letts' citizenship, nearly half (45%) of the British public agreed that the Canadian minister's comments are a fair assessment of the UK's actions, compared with 36% who think the statement was unfair.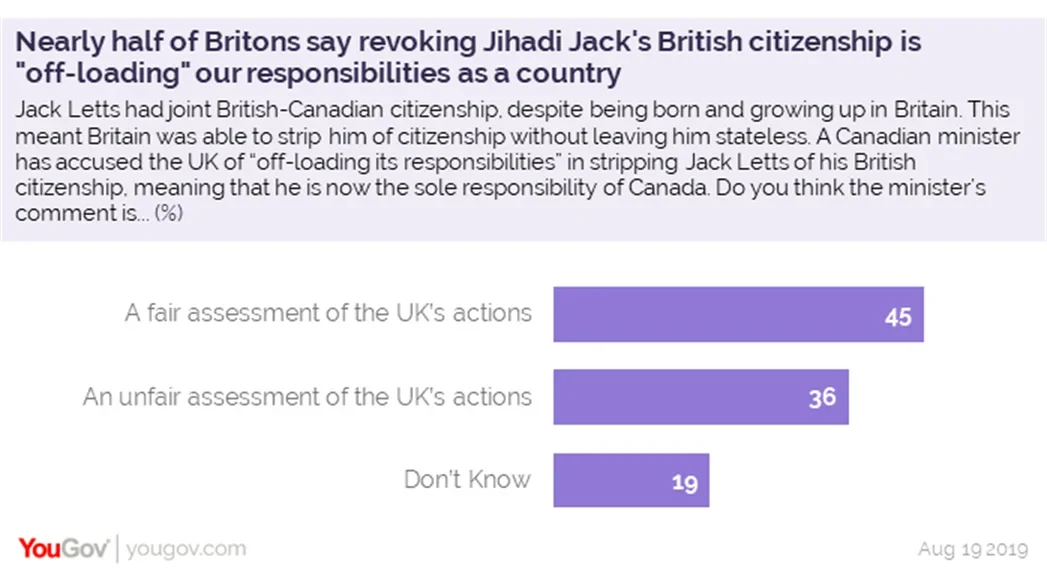 This latest poll shows the opinion of the British public remains largely unchanged following the debate around British-born jihadi's returning the UK after Shamima Begum was also stripped of her citizenship in February by then Home Secretary Sajid Javid.
In February 76% of Britons said they supported the government in revoking Begum's citizenship. A further 55% also agreed her child, born while Begum was still a British citizen, should also not be allowed to be brought to the UK.
Photo: Facebook