Four country YouGov study shows that Britain stands alone in thinking we did the most to bring down Hitler
In March of this year, while chastising Boris Johnson for comparing Vladimir Putin to Adolf Hitler, the Russian ambassador to Britain proclaimed that it was the Russian people who defeated Nazism.
A short while later YouGov asked Britons who they thought was primarily responsible for bringing down the Third Reich. Fully half of Brits (50%) believe that it was the British who played the most important role in defeating Hitler, compared to 13% who say the Russians and 9% the Americans. (A further 4% answered "other" and 24% answered "don't know").
Now newly released YouGov results from three further countries show that the British are alone in thinking that we were the most important nation in overpowering Hitler's Germany. The data from France, Germany and the USA reveals only 7-11% of people in these nations share the British public's view.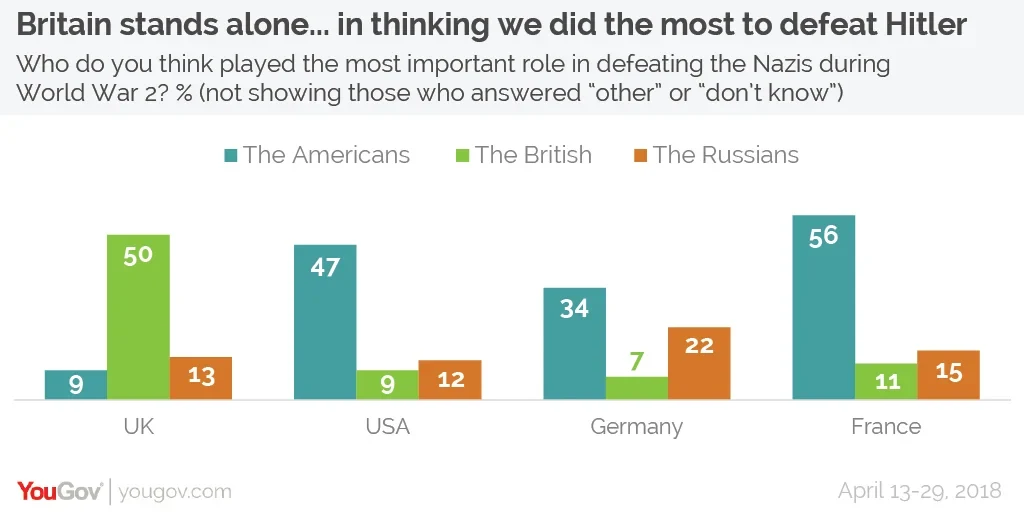 Instead citizens of these three nations are much more likely to attribute the largest amount of credit to the Americans. Such sentiment is strongest in France (56%) and the USA (47%), while Germany is much more split with 34% choosing the Americans and 22% the Russians.
Intriguingly, historical data shows that at the close of the Second World War the French public believed that it was the Russians, not the Americans, who had done the most to defeat the Nazis. A survey conducted by IFOP in May 1945 showed that 57% of French people credited the-then USSR with having made the greatest contribution to Nazi defeat, compared to just 20% backing the USA and 12% the UK.