Many Britons are yet to make up their minds, but few see it as unsafe
Earlier today the government announced that the Janssen COVID-19 vaccine (also known as the Johnson & Johnson vaccine) has been approved for use in the UK. This brings the list of vaccines that can be used in the UK up to four, including the Pfizer-BioNtech, Oxford-AstraZeneca and Moderna vaccines.
The Janssen vaccine has been subject to blood clot scares in recent months, resulting in a pause in the drug's use in the USA and its discontinuation altogether in Denmark, Finland and Norway.
Britons seem to be largely unaware of such issues, for now at least. Currently 34% of Britons think the Janssen vaccine is safe, compared to 10% who think it is unsafe. This does represent a seven point drop in safety from the prior survey in late April, conducted before the Janssen blood clotting stories in the media, when Britons thought the vaccine was safe by 41% to 11%.
It is clear, however, that Britons are not more likely to think the vaccine is actively unsafe, with the difference being a large proportion of people answering "don't know" (57%, up from 49%). It is also possible that the shift is unconnected to the blood clotting stories altogether – a similar change happened with perceptions of the Moderna vaccine between February and March (both prior to its approval by UK regulators) in the absence of any widespread negative news stories about the drug.
International perceptions of the Janssen COVID-19 vaccine safety
An examination of attitudes to the vaccine among other countries where it has already been used shows mixed results. In the US the Janssen vaccine is narrowly seen as being more safe (41%) than unsafe (35%). Of the European countries studied, Germans are the most positive (45% safe, 32% unsafe), while Danes are unsurprisingly the least (given that the country has now banned its use over blood clot fears) at 25% safe, 56% unsafe.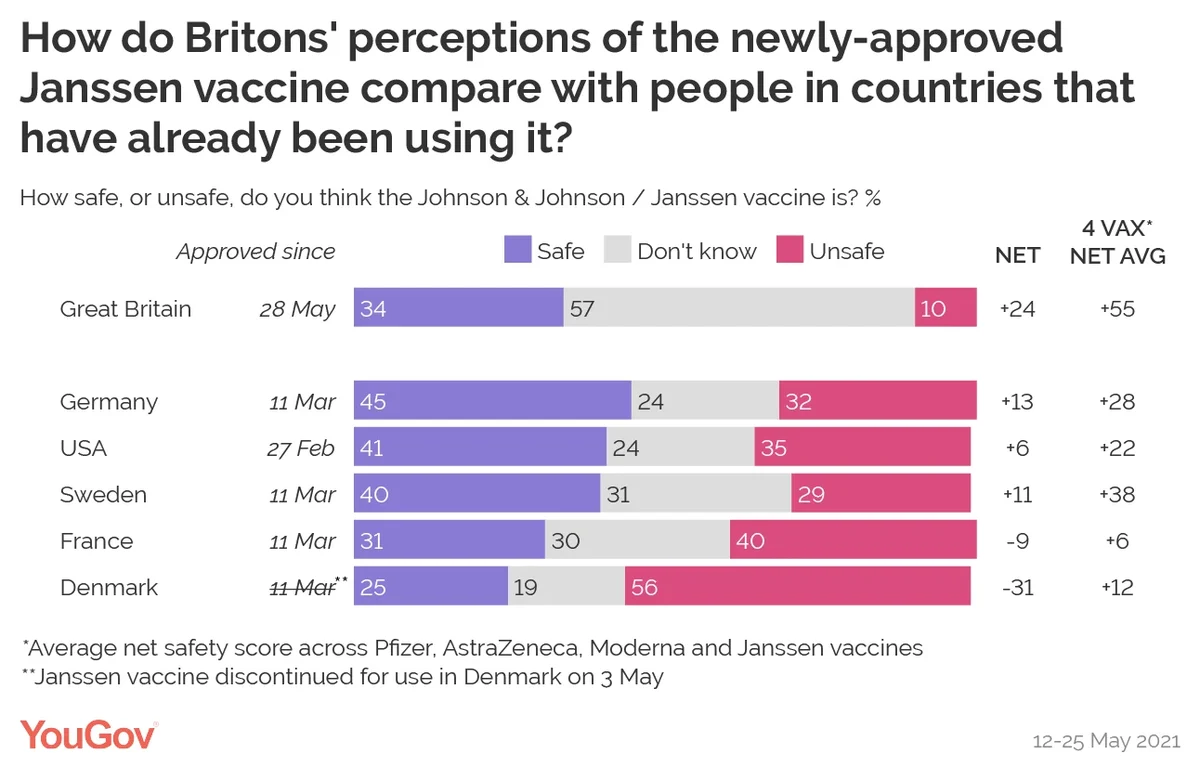 It is worth noting that, in all countries, the perceived net safety score for the Janssen vaccine sits some way below the four-vaccine average score for Pfizer, AstraZeneca, Moderna and Janssen, indicating that the vaccine's reputation for safety is notably lower than that of some of its rivals.