News of the Indian variant does not appear to have made people in England less comfortable returning to public places
The Indian variant of COVID-19 continues to spread, with B.1.617.2 now detected in 151 local authorities across England, and now makes up nearly half of new cases analysed for variants. Cases of the variant began to rise earlier this month, just before the easing of lockdown rules scheduled for 17 May, but the government decided to press on with relaxing the rules. Newly released YouGov research shows that despite some concerns over the variant, it had not put people off getting back to normal by the time of fieldwork on 20-21 May.
In fact, the proportion of people feeling comfortable in public spaces had risen in all of the spaces YouGov asked about compared to March, and was higher in late May than any previous editions of this survey in November, June, and April of last year.
As in previous versions of this survey, outdoor spaces proved to be the places people felt most comfortable visiting including 89% who were comfortable visiting garden centres (+4 versus March 2021) and 86% (+6) feeling the same about pub gardens.
High street retailers are also close to the top of the list, with some eight in ten people (81%) comfortable returning to shops in late May, an increase of eight percentage points since March,
One of the major relaxations to the COVID-19 rules on 17 May was the reopening of indoor seating in pubs, restaurants and cafes, and this survey shows most people in England who visited these places normally and felt comfortable doing so again.
With regards to coffee shops, some three quarters of normal patrons (78%) were comfortable visiting them again in late May – a rise of nine points versus March. A similar proportion of people (75%) feel the same about dining out in restaurants again (+7).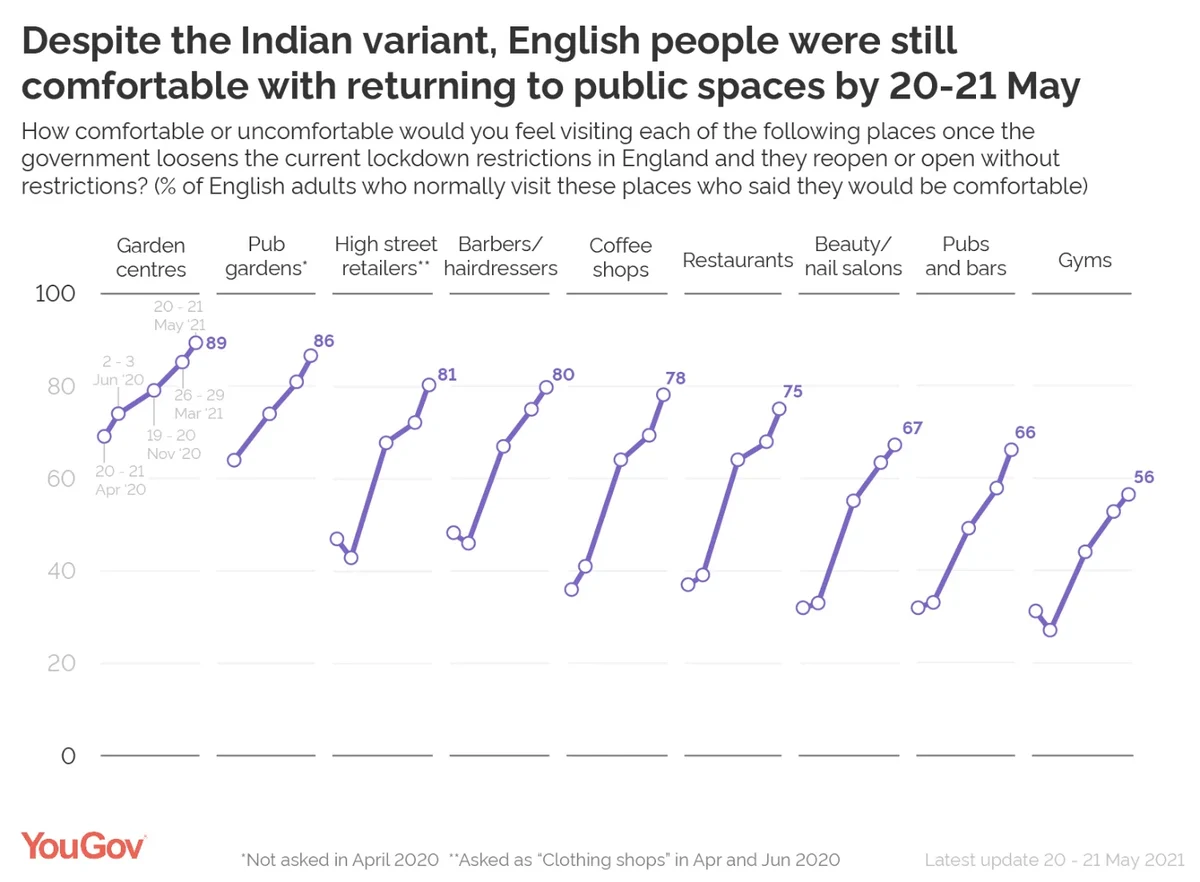 Two thirds of people who normally visit pubs (66%) were also comfortable returning to their local, eight percentage points more than in March. This includes 73% of 25 to 34-year olds who are the most likely to feel comfortable sitting indoors at the pub, as well as some six in ten (62%) of the over-55s. Men (71%) were also more comfortable visiting the pub than women (61%).
Elsewhere, another two thirds of people (66%) were comfortable returning large indoor shopping centres, up six points on March,
While just over half (56%) felt comfortable visiting gyms (+4) and cinemas (+7) again, these are the places people said they were most likely to feel uncomfortable (40% and 41% respectively).
See full results for May 2021 here
See full results for March 2021 here
See full results for November 2020 here
See full results for June 2020 here