Britons overwhelmingly believe that frontline NHS workers and staff and residents in care homes should be first in line for the vaccine
With the possibility that coronavirus vaccination could begin as early as next week, the government has published a list showing in what order nine priority groups of people will get the jab.
A new YouGov survey shows nine out of ten Britons (90%) say that frontline healthcare workers should be one of the top priority groups. This is the highest of any group in the survey. But frontline healthcare workers, who are second on the government's list, will have to wait until elderly people in care homes and care home staff have had their jabs. Public support for giving priority vaccinations to care home staff and residents stands at 80% and 78% respectively, placing them second and third overall.
Social care workers – who the government includes with frontline doctors and nurses on their list of priority groups – see less public support, with only half of Britons (50%) saying they should be among the top priority groups.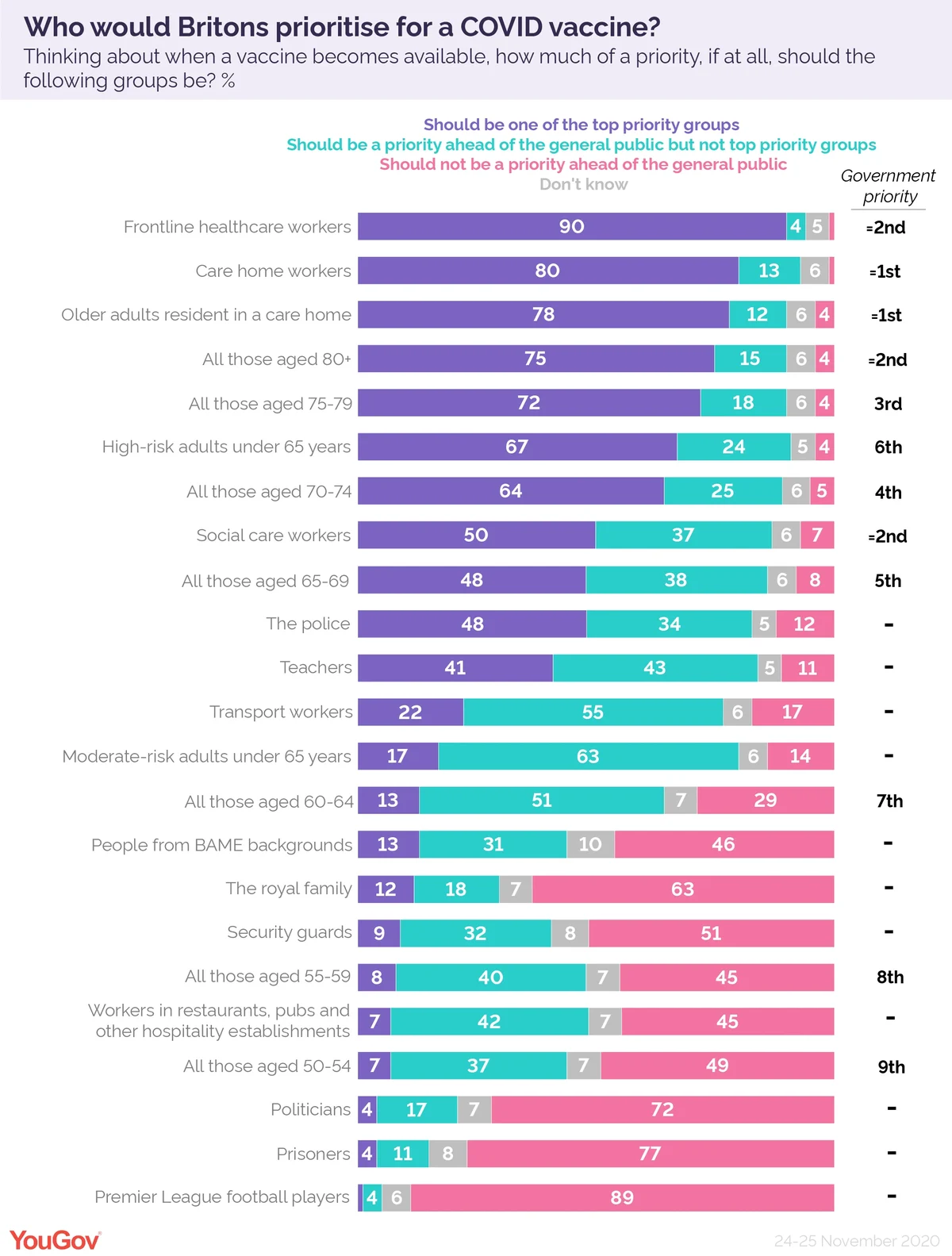 Like the government, Britons give high priority to older people. But there is broader support for including high-risk adults below 65 among the most important groups (67%) than people aged 70-74 (64%) and 65-69 (48%) who the government considers a higher priority on their list.
While the Government includes people aged 50 and over on their list, there is limited belief that those in their 50s should be a 'top' priority (7-8%), although a number of Britons still think they should be prioritised ahead of the wider public (37-40%).
One in eight (13%) support including people from Black, Asian and Minority Ethnic communities among the top priority groups, which London mayor Sadiq Khan has called for.