Approaching half of Britons now have a favourable view of the industry
Britons are feeling increasingly positive about pharmaceutical and biotech companies, with 47% of the public now saying they have a favourable view of the industry, YouGov tracker data shows.
The latest figures were recorded on 12 Nov – three days after Pfizer and BioTech announced that their COVID-19 vaccine was 90% effective. The news appears to have prompted a six-point jump in positive opinion, up from 41% in mid-October.
The same movement is reflected in the proportion of people with an unfavourable view of pharmaceuticals dropping from a fifth (19%) to about one in seven (14%). About three in ten people (31%) have neither favourable nor unfavourable feelings.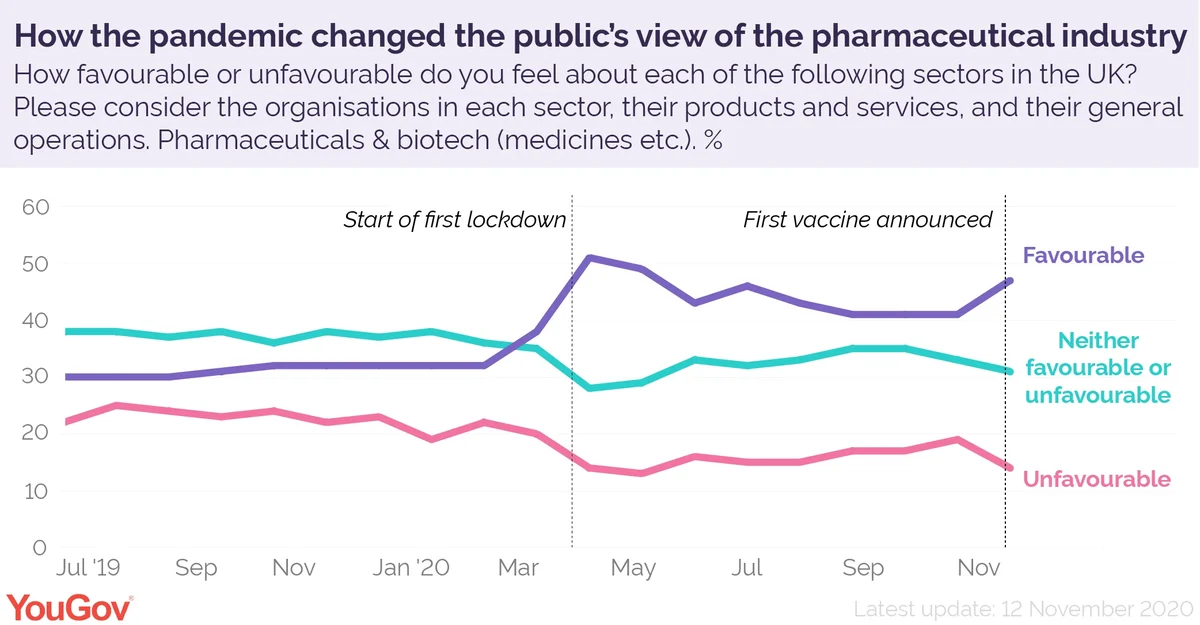 Older people generally have more favourable views of pharmaceutical companies than the wider population. Among this group three in five (58%) now see them positively, eight points higher than last month.
While the vaccine new has provided a boost in public perceptions, the start of the pandemic prompted the largest leap in positive opinion, from 32% in February to 51% in April. This remains the highest level of positivity the industry has received, having receded slowly over the course of the crisis. But with the roll-out of coronavirus vaccines imminent, the pharmaceutical industry's reputation may have further to rise.