Nearly nine out of ten also report normal services being disrupted and an even higher proportion are anxious about the impact on non-COVID patients
The latest YouGov polling of NHS workers – undertaken before the second national lockdown was announced – finds that nearly two thirds (64%) say their workplace has been affected by staff shortages because of lacking access to coronavirus tests.
The figures include one in nine (11%) who report being affected to a great extent, one in three to some extent (29%) and a quarter to a small extent (24%). One in five (19%) have not experienced any shortages.
Nearly half (47%) of NHS employees who work with admitted patients also say that access to COVID tests has delayed the discharge of patients. This comprises 7% who report it impacting to a great extent, a quarter (26%) to some and one in seven (14%) to a small extent. Just under a quarter (23%) say there's not been any delay to discharges, while three in ten are unsure (30%).
The data also shows that about a quarter of NHS workers (23%) have requested a coronavirus test. Of these, most say it was either very (43%) or fairly (36%) easy to get one but about a fifth said it was either very (8%) or fairly (11%) hard to access a test.
More than four out of five report disruption to normal services
Most NHS workers (86%) say the normal services their workplace offers are currently disrupted. Four out of five say they're either somewhat (41%) or heavily hampered (41%), while another 4% say they're not running at all.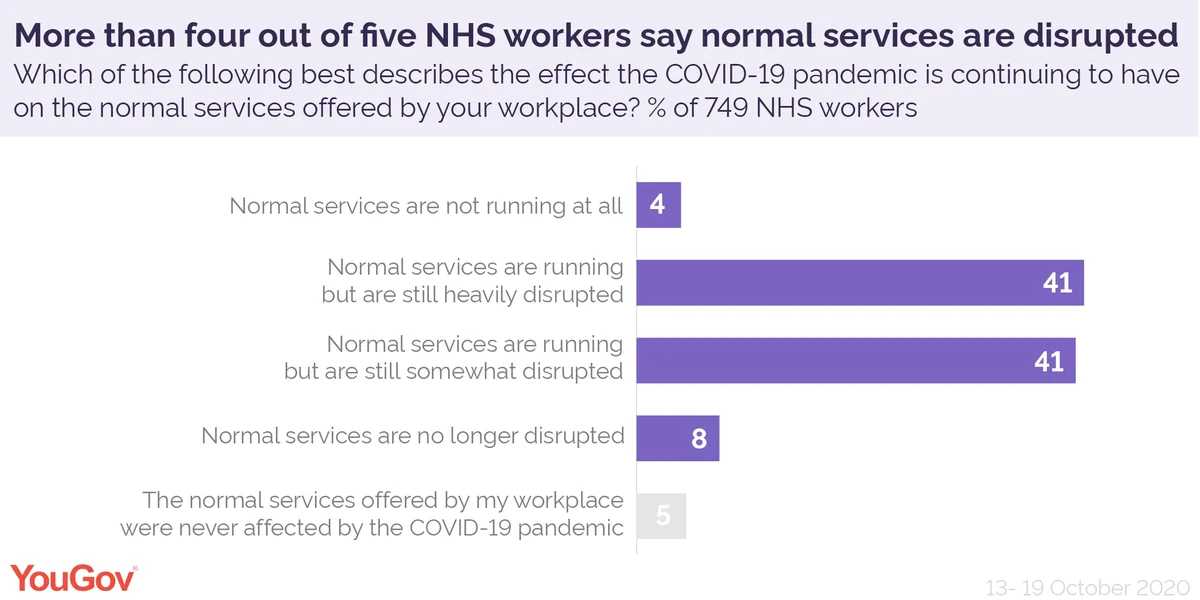 Only a small proportion of NHS workers say the services their workplace offers haven't been affected (5%) or are no longer disrupted (8%) by the pandemic.
The ongoing coronavirus outbreak also contributes to heightened anxiety about patients with other conditions such as cancer. Half of NHS workers (49%) say they're very worried about how the current COVID outbreak will impact these patients, while another two in five (43%) are fairly worried.
Only 6% say they're not very worried while the NHS workers who are not at all worried make up less than 1%.