Large majority of Britons would support the Government if it advised parents not to participate this year, while the numbers expecting to partake drops 94%
Although shops are festooned with Halloween merchandise as usual, new YouGov research shows that the celebration will likely be a muted affair this year.
The study, run in collaboration with Sarah P. Jones from Imperial College London, shows that the numbers of trick-or-treaters are set to plummet. Just 1% of adults say they are planning on taking a child trick-or-treating this year. Another 12% say they would normally, but won't do so this year because of coronavirus, and 4% say they would normally but won't for other reasons.
This implies that 17% of adults would be taking a child tricking or treating were this a normal year. The fact that just 1% still intend to do so represents a 94% reduction in participation.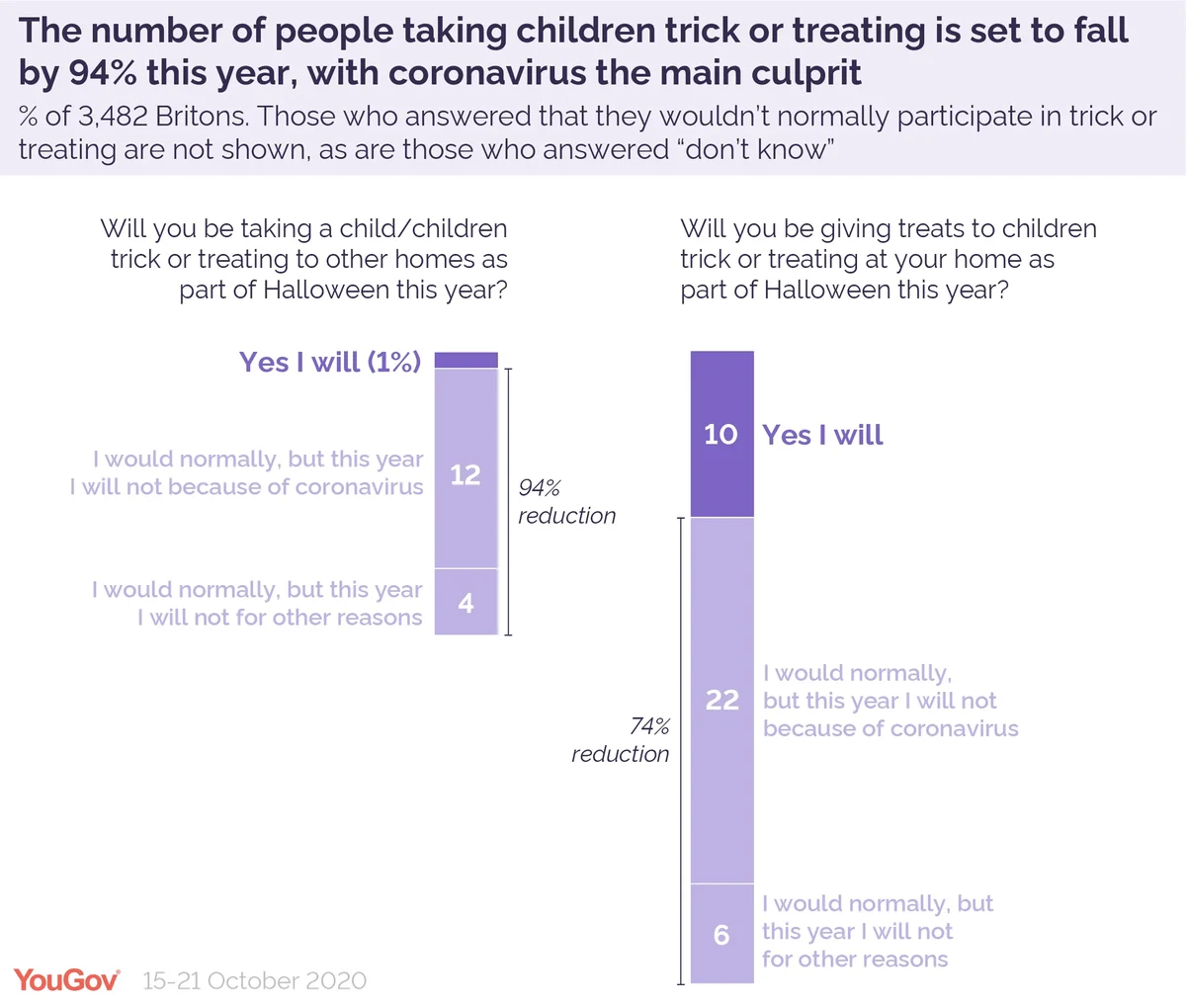 Britons are similarly less likely to be enticing children to their doors with jack-o'-lanterns this year. While 10% say they will still give out treats to costumed callers, a further 22% say they usually would, but are put off by COVID-19, and another 6% would usually do but won't this year for other reasons.
This implies that 38% of Britons would normally take part in the giving of treats (or the receiving of tricks). The fact that only 10% plan on doing so represents a 74% reduction in participation.
The majority of those still participating in the festivities plan to do so in ways that mitigate the spread of COVID-19. The results below refer only to those who will be giving treats to children, as the sample size of people planning to go trick-or-treating is so small this year that their actions cannot be reliably reported.
The largest number intend to practice social distancing measures (67%), while 48% are going to wear a mask that covers the mouth and nose – perhaps less of an encumbrance for Halloween than it would be for other occasions.
Around half (56%) say they will be sanitising their hands, while 31% told us they will be doing the same to the treats the hand out to children. Many others told us that they would be leaving treats outside for kids to help themselves, or otherwise doling them out via some sort of long device like a fishing pole.
Most Britons happy to cancel Halloween
What precautions people intend to take will be moot if Halloween this year were to be cancelled, something that the large majority of Britons seem to want to see.
As many as 81% say they would support the Government advising families not to go trick-or-treating this year because of coronavirus, including 59% who would "strongly support" it. Just one in nine (11%) would oppose such advice being given, with the remaining 8% unsure.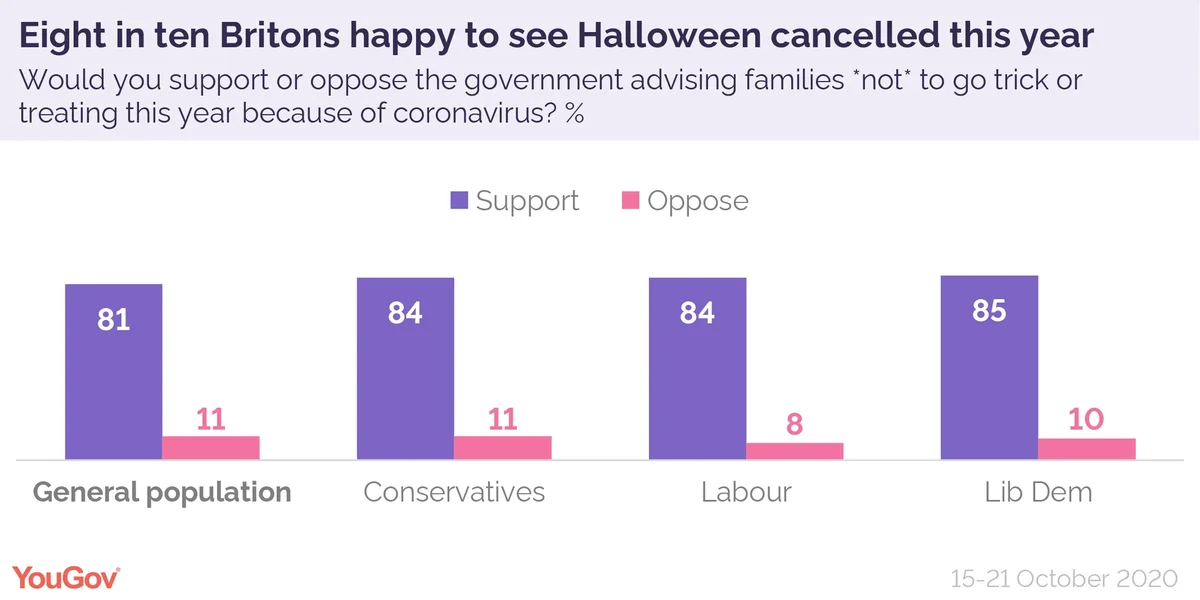 The move would be consistently popular across the political divide, with 84% to 85% of Conservative, Labour and Lib Dem voters all in favour.