The coronavirus outbreak has made consumers more open to buying toiletries online and has impacted personal grooming habits
The pandemic has made increasing numbers of shoppers adapt to buying toiletries online – and some will continue to do so permanently, YouGov data suggests.
The research shows that the number of people only buying toiletries in-store dropped from 61% before the pandemic to 50% during the national lockdown in the spring. At the same time, the proportion of consumers only shopping online rose from 6% to 30%, while those purchasing both online and offline fell from 33% to 21%.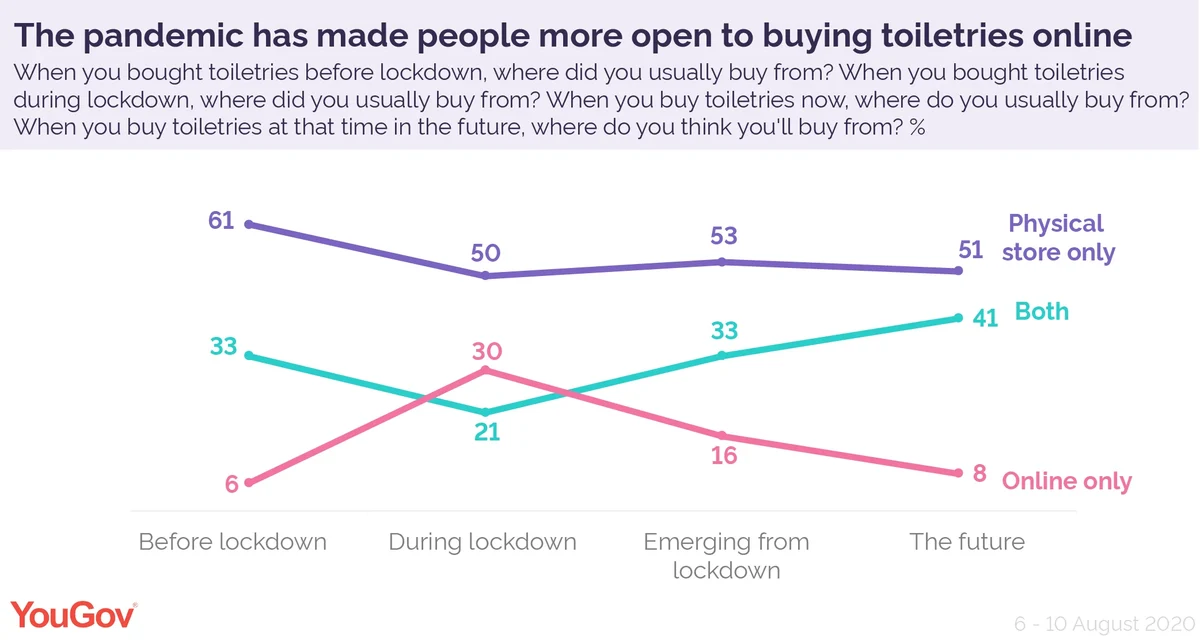 As the nation emerged from lockdown this summer, these habits persisted. About half were still only buying toiletries in-store (53%), while one in six (16%) kept purchasing exclusively online and a third (33%) did both.
When comparing pre-lockdown buying habits with future purchasing intent there is no significant change in the proportion of consumers expecting only to buy toiletries over the internet (6% vs 8%). However, there is an increase when it comes to buying both online and offline (33% vs 41%). This is almost mirrored by a decline in the proportion planning only to buy toiletries from physical shops (61% vs 51%).
The research shows that most people still prefer buying in-store (62%) because they find it easier to browse and compare prices and products, as well as being more convenient. However, approaching three in ten consumers (28%) favour web-based purchases, driven by online delivery and a dislike of wearing masks.
Changes to personal grooming habits in lockdown are unlikely to be permanent
While 6% of consumers spent more time on personal grooming during lockdown, two in five people (39%) spent less. With less grooming taking place, the research finds that about a quarter of consumers (27%) bought fewer toiletries.
Those who didn't buy as many products during lockdown said it was because they were not going outside much (69%) and used up products more slowly (50%). Another two in five (38%) said that not going out to work made them buy fewer toiletries.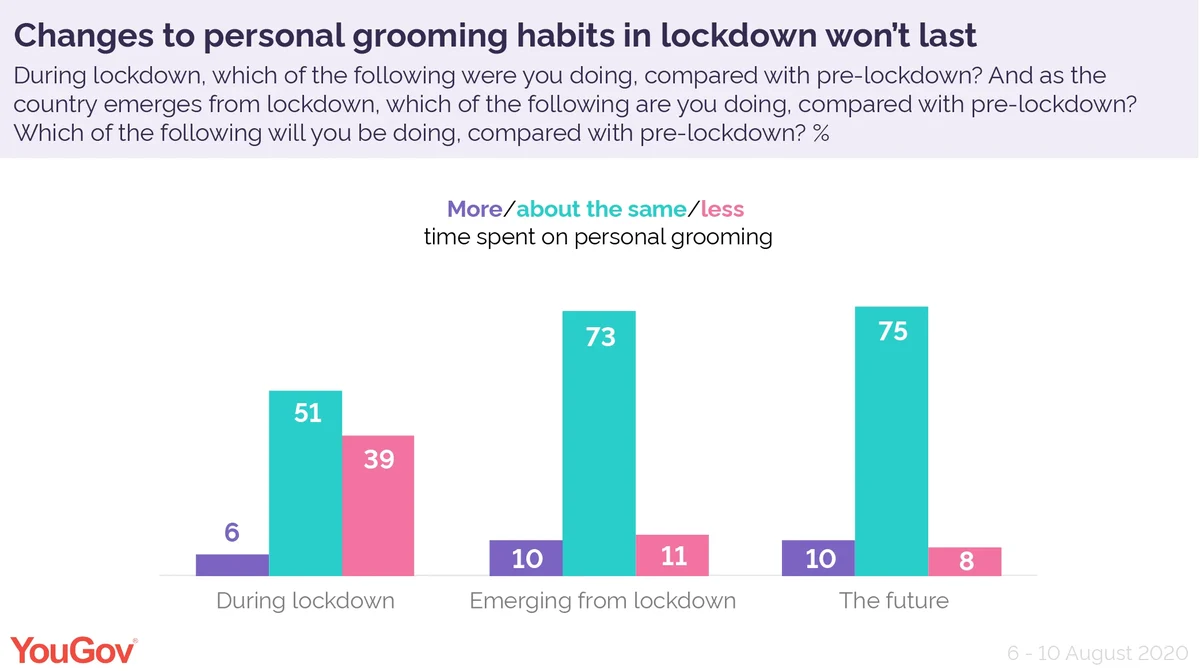 The data suggests that, once the pandemic is over, people are likely to go back to their old habits. Three quarters (75%) expect to spend the same amount of time grooming in the future as they did before the pandemic. One in ten (10%) think they will spend more time doing it, while 8% think they will spend less.
Similarly, eight in ten (81%) believe they will buy the same amount of toiletries in the future than they did before the pandemic hit, while 6% think they will buy fewer products and 6% reckon they will purchase more.
Consumers who expect to buy toiletries online are equally likely to buy from Amazon (34%), online grocery stores (33%) and pharmacy websites (31%). This balance suggests there is a decent opportunity for all industry-players to grow their customer base.