The British public would prioritise giving life-saving treatment to doctors, nurses and other key workers ahead of members of the royal family, Cabinet Ministers, or MPs, according to new research by the YouGov-Cambridge Centre, together with the Intellectual Forum at Jesus College.
A representative sample of 1667 British adults were asked whether various groups should or should not be prioritised before the general public, if they needed access to a ventilator as a result of Coronavirus. Fortunately, this is not a scenario that has happened in reality, but it was a serious risk at the start of the Pandemic.
The public were very supportive of prioritising doctors and nurses above the general public, with net support of +68% for prioritisation. This reflects the high esteem they and the NHS are held in, and perhaps some instrumentalist value in ensuring they are able to help others.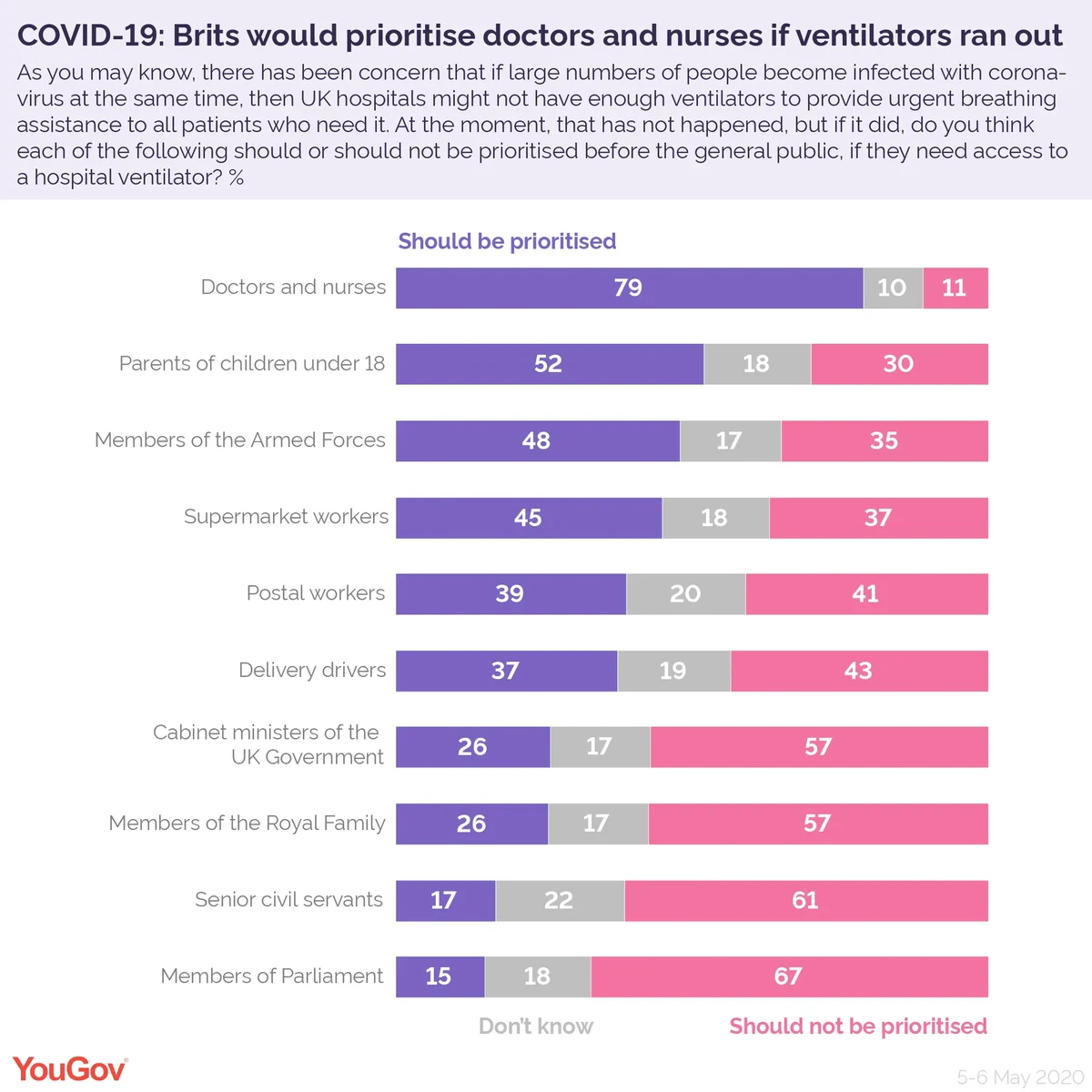 The next most supported group was parents of children under 18 (+22), where a majority would prioritise them over the general public, presumably to ensure they can continue to care for their children.
There were strong cases made for prioritising members of the armed forces (+13) and supermarket workers (+8), with rather more tepid support for postal workers (-2) and delivery drivers (-6). Clearly many do not give all key workers the same priority.
However, all these workers were seen as more deserving of priority than Cabinet Ministers (-31) or the Royal Family (-32) – fortunately neither the Prime Minister nor the Queen have been in need of ventilation.
The public were more sceptical about prioritising either senior civil servants (-45) or MPs (-52). In other words, many think that Members of the Commons should be duly treated as commoners.
See results here.
---
Methodology: Fieldwork was conducted online between 5-6 May 2020, with a total sample size of 1667 British adults. Results have been weighted and are representative of all British adults aged 18+.
Graphics by Eir Nolsoe, YouGov Data Journalist
Image: Getty