Britons are far less likely to don protective facial coverings than almost all other countries
With the UK lockdown set to be loosened shortly, Britain's public places are set to become much busier.
This could prove a particular problem when compared the British population's unique reluctance to wear face masks.
Despite the wearing of facial coverings now being recommended advice from the British government as of 11 May, YouGov's most recent COVID-19 tracker survey shows a mere 21% of Britons saying they are donning a protective mask when they go out in public. This figure does represent a very small improvement, although it has only grown 7pts in a month.
We are far behind our neighbours when it comes to this practice. Over the last month, face mask usage in France has skyrocketed from 56% to 79%. As many as 86% of Spaniards are covering their faces, as are 85% of Italians and 64% of Germans.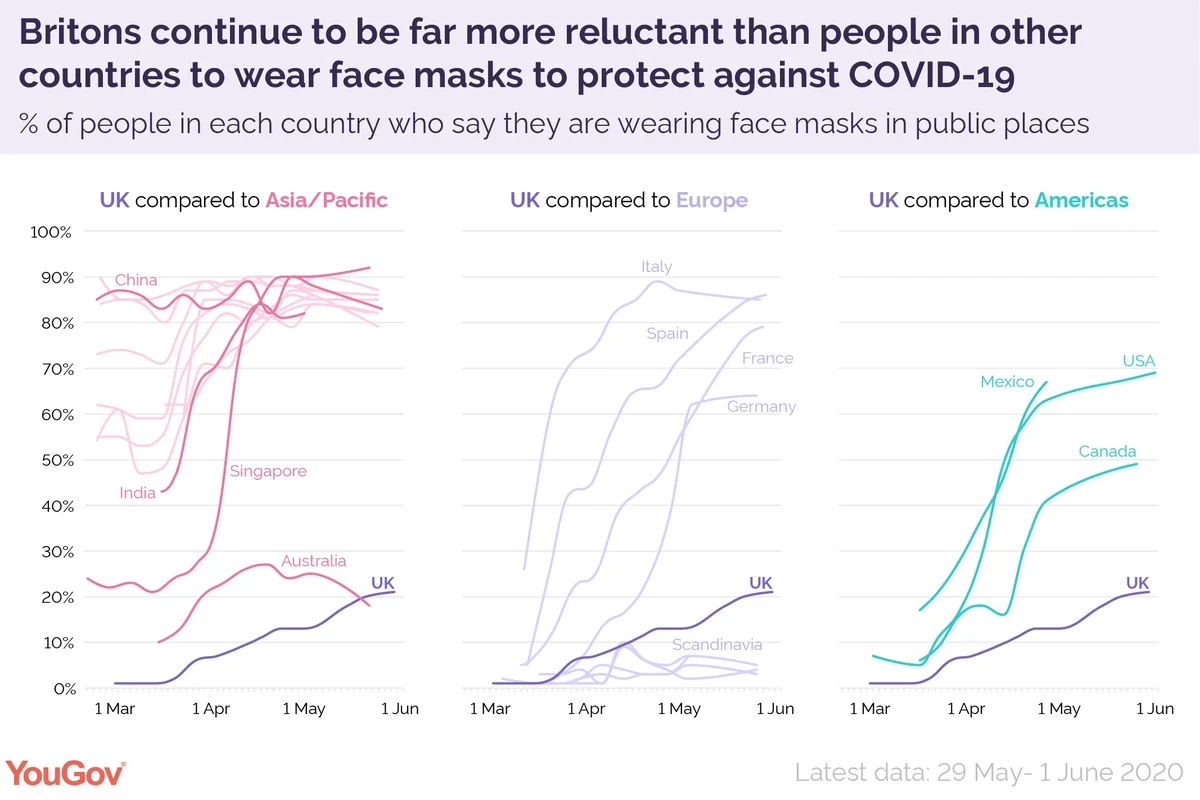 Over in North America, 69% of Americans and 49% of Canadians are sporting masks when out and about, as are 79-92% of people in the Asian nations in our survey.
Only in Scandinavia and Australia are people less likely to wear masks – and in the case of the latter that's because the number doing so has declined as the country has successfully tackled the disease.
Many Britons seem more worried about face masks than they need to be
As part of our partnership with Imperial College, a YouGov study in mid-May looked at attitudes towards face masks.
When it comes to the most common types of facial coverings being worn, medical masks that Britons have purchased claim the top spot at 30%. This is followed by home-made cloth masks (26%), then cloth masks that people have bought (23%), and then improvised coverings using a scarf or similar (17%).
Mask wearers are more likely to have felt good rather than bad about themselves for covering their face. More than eight in ten (83%) said they felt better protected; 71% said they felt they were setting a good example to others; and 69% said they were proud of contributing to stopping the spread of the disease.
Fears that people might give up wearing masks because they find the experience offputting are proving to be unfounded. Fully 77% of mask wearers said they felt normal despite covering half of their face. By contrast, only 40% felt self-conscious; 35% felt silly; and 34% felt embarrassed.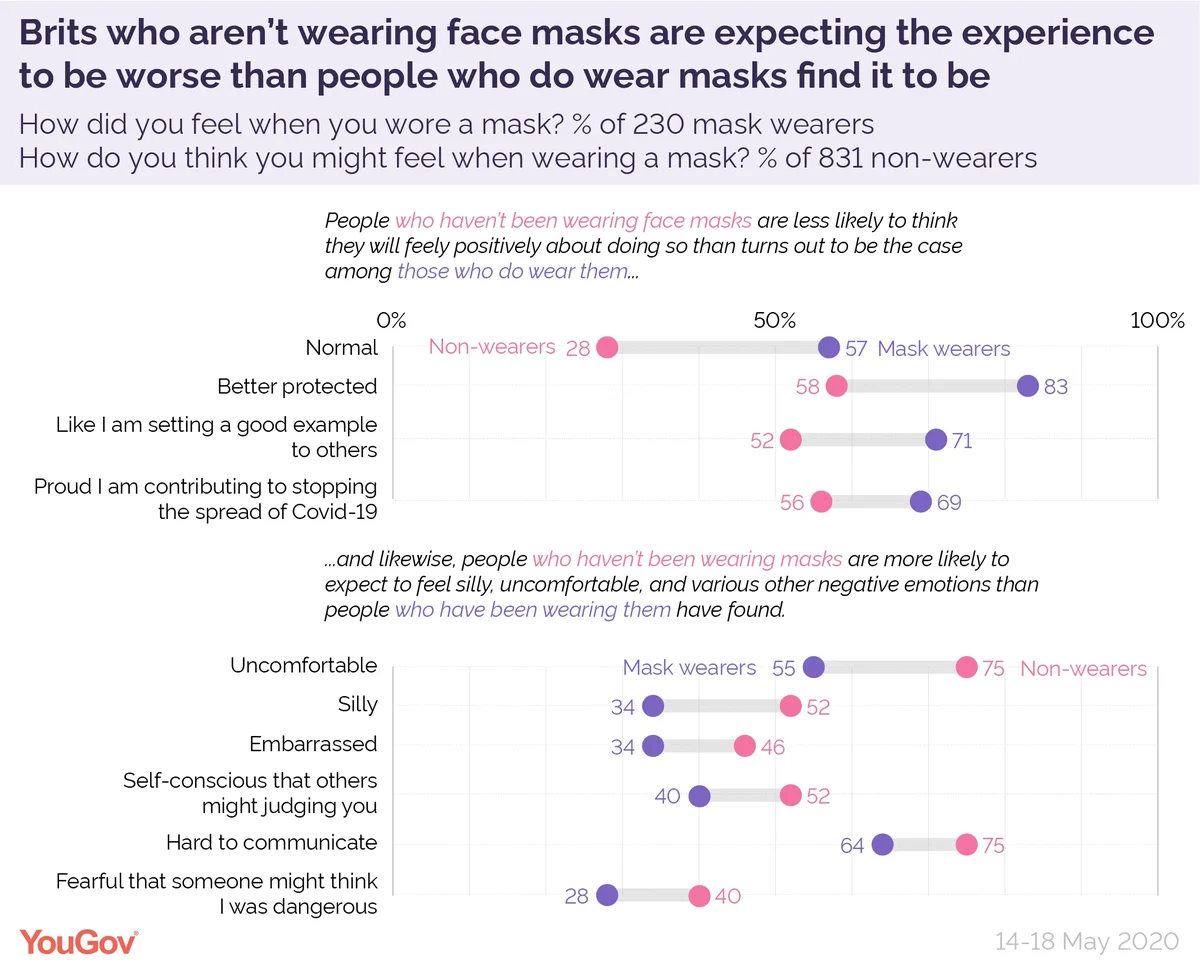 It does appear, however, that concerns about how people would feel in masks are putting them off putting them on in the first place. Among those not wearing a mask, people are more likely to report expecting to feel uncomfortable (76%), self conscious (52%), silly (52%) and embarrassed (47%) than turns out to be the reality among people who do wear masks.
Those who haven't put on a mask are likewise less likely to expect to feel normal (27%) or better protected (58%).
While most mask wearers do seem to feel benefits to wearing their covering, a majority also report feeling uncomfortable in their mask. The most common physical complaints among mask wearers have been feeling too hot (39%), steamed-up glasses (39%), and difficulty communicating (38%).