Polling has already shown the political consequences of Dominic Cummings' trip to Durham, with both the Conservative lead and the PM's popularity dropping. But given the current crisis there is potentially a more important question – what impact has it had on attitudes towards the lockdown?
The latest YouGov poll shows that one in five (21%) are now following the lockdown rules less strictly than previously. Meanwhile 2% are now following them more strictly and 73% say nothing has changed.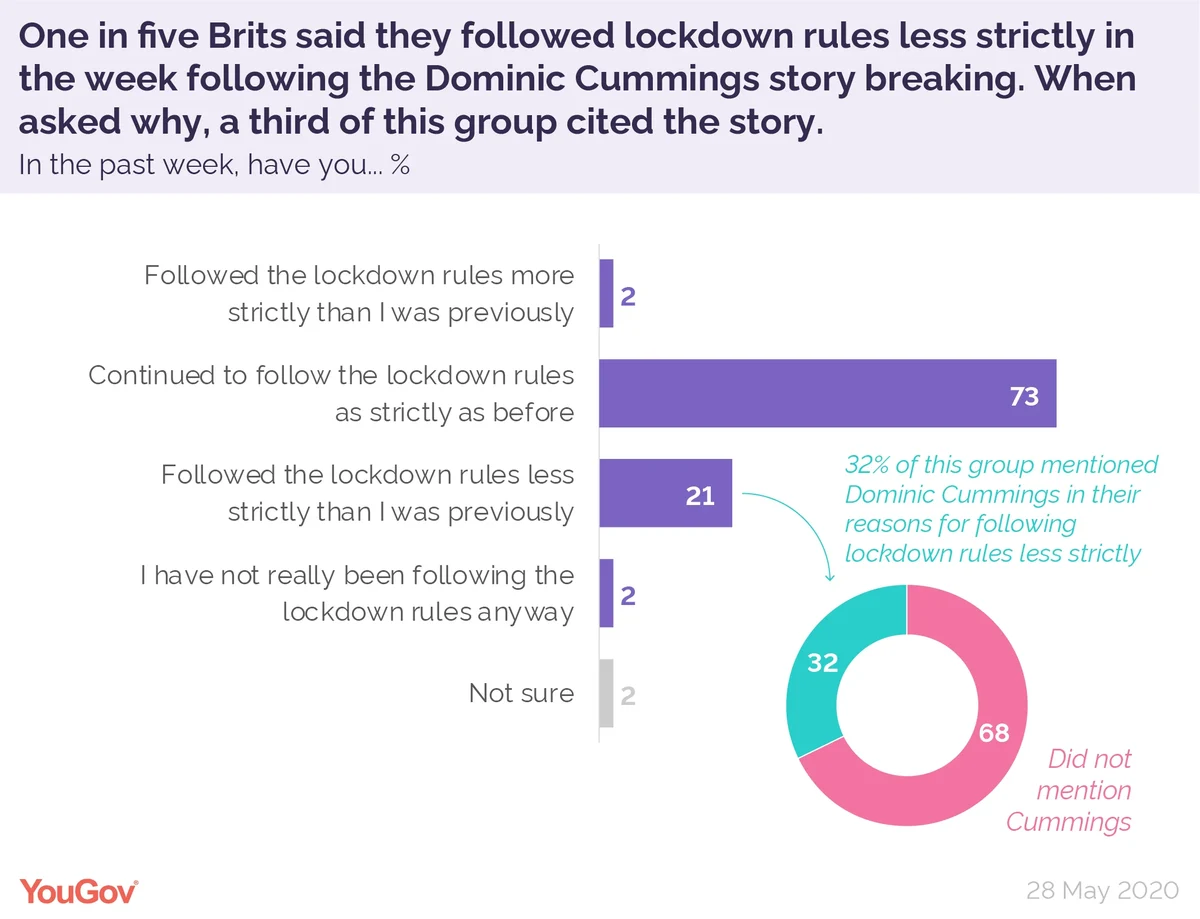 The drop has been even more dramatic among the young, with 29% of 18 to 24 year olds and 25% of 25 to 49 year olds saying they are now following the rules less strictly.
Of course, not all of this is going to be down to Cummings' coverage. Those advising the government had always suggested that people would become less observant of the rules as time goes on, which was one of the reasons for delaying lockdown in the first place.
We have also seen an increase in the proportion of the public who think the situation is getting better, from 58% to 76% in two weeks, which might also be making some less cautious
In order to attempt to quantify this we also asked those who said they were breaking the rules more what the main reason was. Around a third (32%) mentioned the Cummings story in their answer, which works out at around 7% of the public.
In better news for the government, the number who think there restrictions should be more severe have dropped from 42% two weeks ago to 36%, while the number thinking they are about right has increased from 42% to 47%.
It isn't clear whether this is tangentially related to the Cummings story, or was the general direction of travel anyway. Regardless, one of the reasons the government's popularity was dropping off before this story broke was because the public thought it was moving too fast, so there will be some comfort in the public coming around on this.
Given this, and the fact that the government has continued loosening lockdown restrictions anyway, they might not be too worried at this stage about the small increase in rule breaking. But none of us know what the future holds, and there could still be a second peak of the virus, with lockdown restrictions subsequently being reimposed. If there is, the British public will likely be much less willing to comply with the government's instructions.