Brits are split on whether they could handle staying isolated until August, however
This Sunday Boris Johnson will reportedly announce a loosening of the coronavirus lockdown conditions that have been in place since late March.
Yet with previous research showing that the public are much more concerned about lifting the lockdown too early than too late, if the prime minister is considering taking this action because he believes the public are at breaking point, he should know Brits have more stamina than the thinks.
New YouGov research finds that most Brits think they can handle the current lockdown conditions for a couple more months.
Eight in ten Brits (82%) think they could very easily or fairly easily cope with the current state of affairs until June. Only 13% say they would find it hard – a figure not much higher than the 11% a recent YouGov survey found saying they are currently finding the going hard.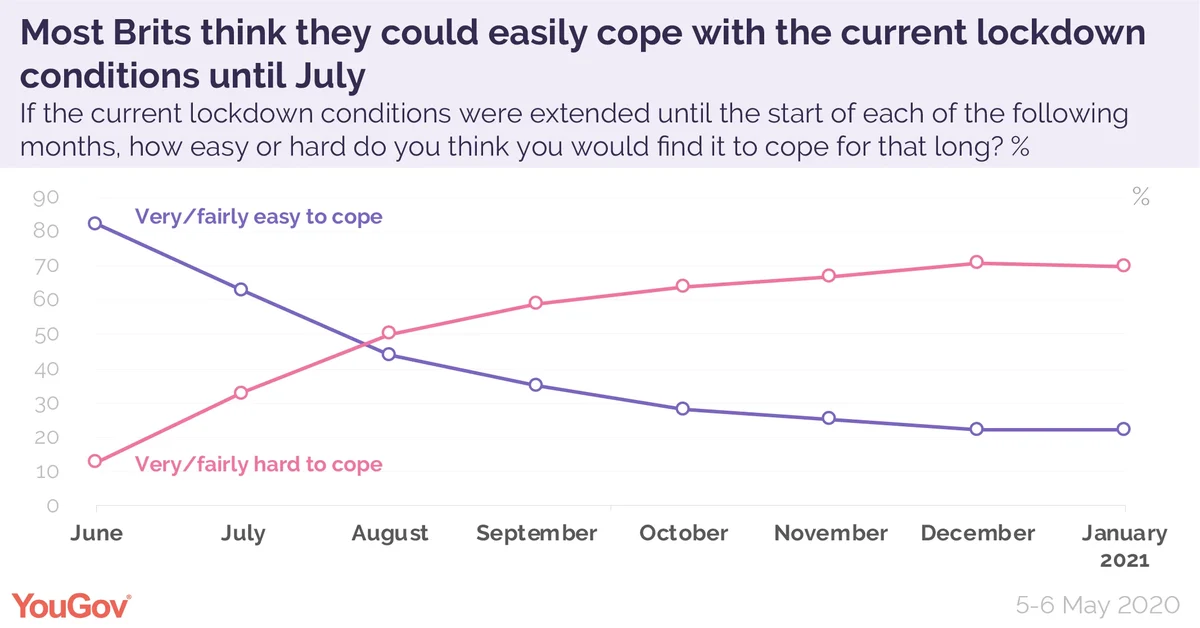 If the lockdown were to last in its current form until July most Brits still say they could handle it. More than six in ten (63%) say they would find it very or fairly easy to do so, but a third of Britons think it would be very or fairly hard to cope that long.
Faced with the prospect of lockdown lasting until early August, fewer than half of people (44%) believe they will find it easy to cope for that long. Half of Britons (50%) think they will have a hard job doing so.
This gap widens significant in the event that current conditions lasted until September. Almost six in ten Britons (59%) anticipate having a hard time coping being cooped up for that long, with only 35% expecting to find the going easy.
The figures level off from November onwards, with the last month we asked about being January 2021. Only 22-25% of Brits think they will easily manage to stay sane for that length of time under lockdown, while fully 67-71% expect to find it hard.
The fact that figures level off at this point could simply reflect the limits of how far into the future Britons are able to imagine their emotional state, rather than representing the bedrock figure for how many people could effectively cope indefinitely.
Photo: Getty