Despite working extra hours and experiencing high and rising levels of anxiety, the vast majority say they won't quit the NHS after the outbreak ends
The UK is relying on the protection of the NHS now perhaps more than ever before. Frontline staff continue to risk their own health by treating those infected with COVID-19, while the majority of the country remains on lockdown to slow the spread of the virus and ease the pressure as much as possible. But how well are the staff themselves coping?
YouGov polling of NHS staff has already revealed concerns for personal health and a lack of protective equipment, but what toll is the outbreak having on NHS staff, and are they thinking about leaving the sector after the coronavirus pandemic subsides?
Most are pulling extra shifts
With all units and wards working around the clock to care for COVID-19 patients, over half (57%) of working NHS staff say they have been working additional hours since the outbreak began.
One in five (20%) say they are working much more than usual, and other 37% are working a bit more than usual. In NHS hospitals, 50% of staff are working more than normal, and six in ten (65%) of staff at GP's and health surgeries are also doing longer hours than normal.
Its not just patient-facing roles that are putting in additional hours either, 48% of healthcare scientists and technical and scientific staff working in NHS testing labs and blood banks are also working overtime.
A quarter of NHS say they are feeling highly anxious
Before the COVID-19 outbreak, YouGov polling of NHS staff showed that 8% had taken five or more days off work in the last year due to anxiety. Following this, our latest research reveals that 27% of NHS staff rate their current feelings of anxiety as eight out of ten or higher (with ten being completely anxious). This is compared to 9% who rated their feelings of anxiety the same level in late February and March.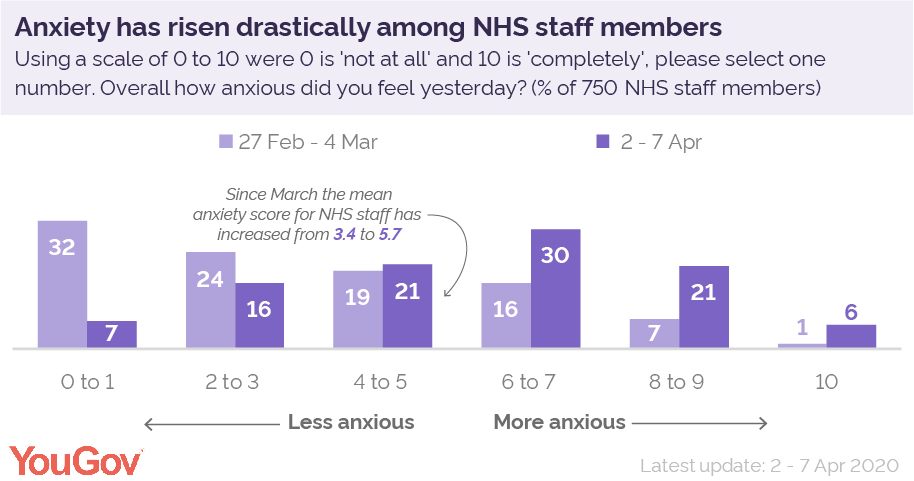 Click to enlarge
Almost seven in ten (69%) of NHS staff now rate their anxiety as five or above, an increase of 33 percentage points in four weeks. Befoe the outbreak, 32% of staff did not feel anxious at all, but this has now fallen to just 7% of staff.
But the majority will stay in the healthcare profession after the outbreak
Despite all the concerns NHS staff have, and the increased demand of extra hours and pressure on mental health, most say they won't consider leaving the profession when the outbreak is over, and more see their work as more important.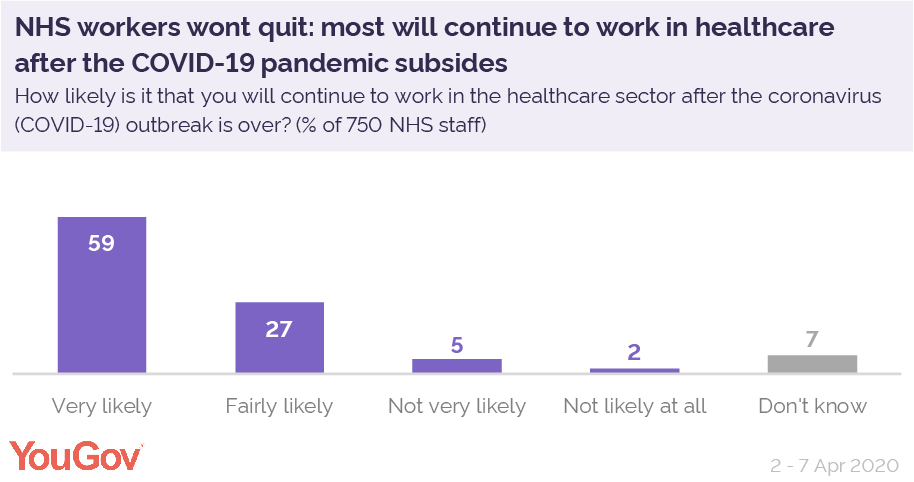 Click to enlarge
The vast majority (86%) say it is likely they will continue to work in the healthcare sector after the outbreak, with 59% saying it's very likely. Only 7% of NHS staff say it's unlikely they will continue to work for the NHS after the outbreak.
Alongside this NHS workers now, more than ever, see what they do as worthwhile. The number of NHS now rating what they do as worthwhile eight out of ten or above (with ten being completely worthwhile) has risen from 43% in late February to 52%.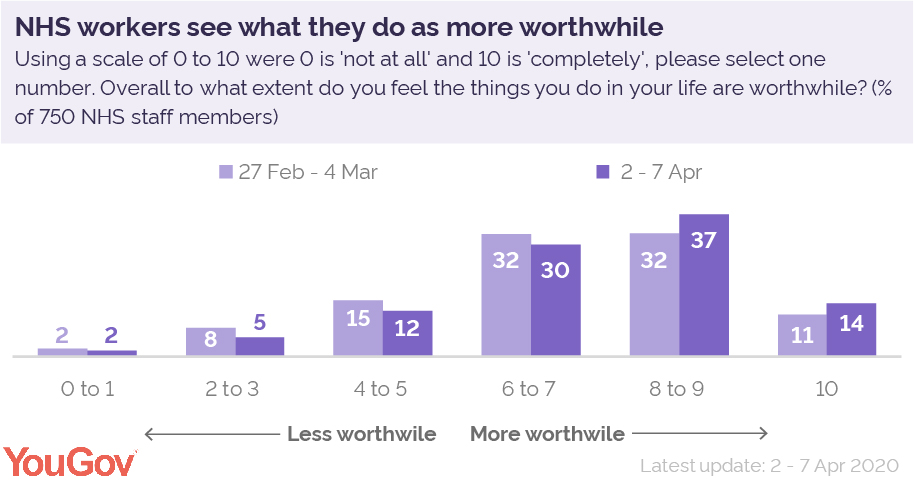 Click to enlarge
The mean score of whether they do is worthwhile has also risen among NHS staff, from 6.8, to 7.2.
To learn more about our Healthcare Professionals Surveys, please email Laura.Piggott@yougov.com