In less than a week there has been a 12 point increase in the proportion of people who want to firm up the rules
With the UK entering its third week under lockdown, YouGov's daily coronavirus tracker finds that the public increasingly believe the restrictions imposed on the populace need to become more severe.
On Thursday last week 38% of Brits believed that measures needed to get tougher. By Sunday that figure had risen to 46%.
The number of people who think that stricter action must be taken is now the same as the number who think the measures are about right – 46%. This figure has fallen from 52% on Thursday.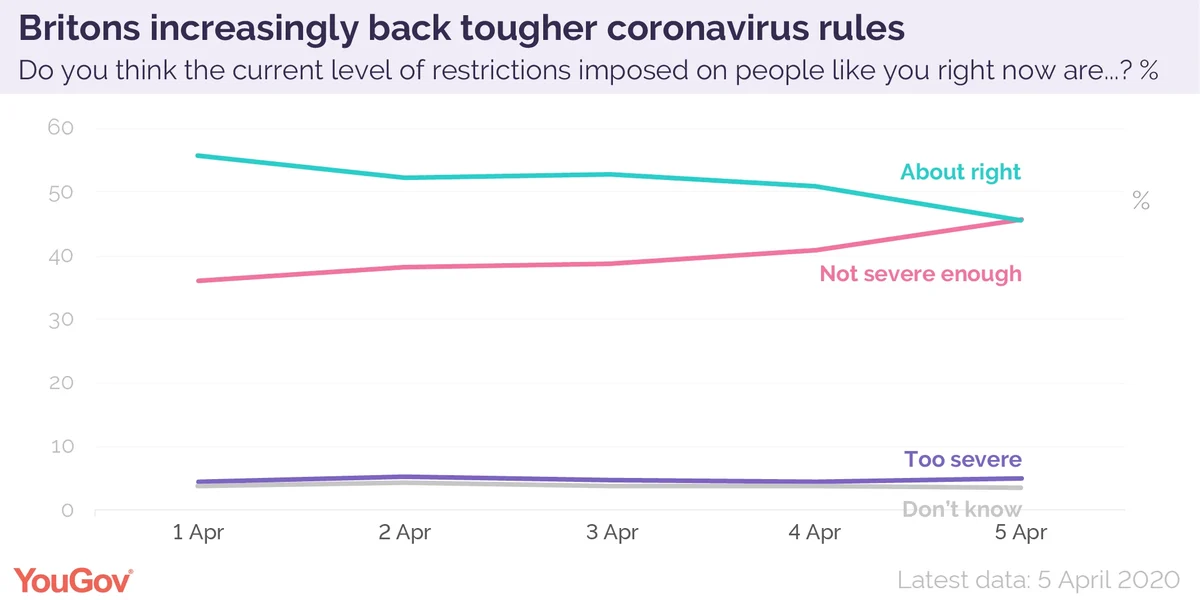 This shift has occurred across age groups and genders, although women remain more likely than men to think the rules need tightening (51% vs 41%), and Brits aged 65 and above continue to be much less likely than everyone else to think they should be firmer (35%, compared to 46-53% in all other age groups).
The results follow many news outlets reporting Britons flouting the coronavirus rules over the weekend.
The tracker data does not bear this out, however. The proportion of Britons who had not left their home the previous day has remained pretty much constant, at around 60% (although this dipped to around 50% for the weekend of 28-29 March).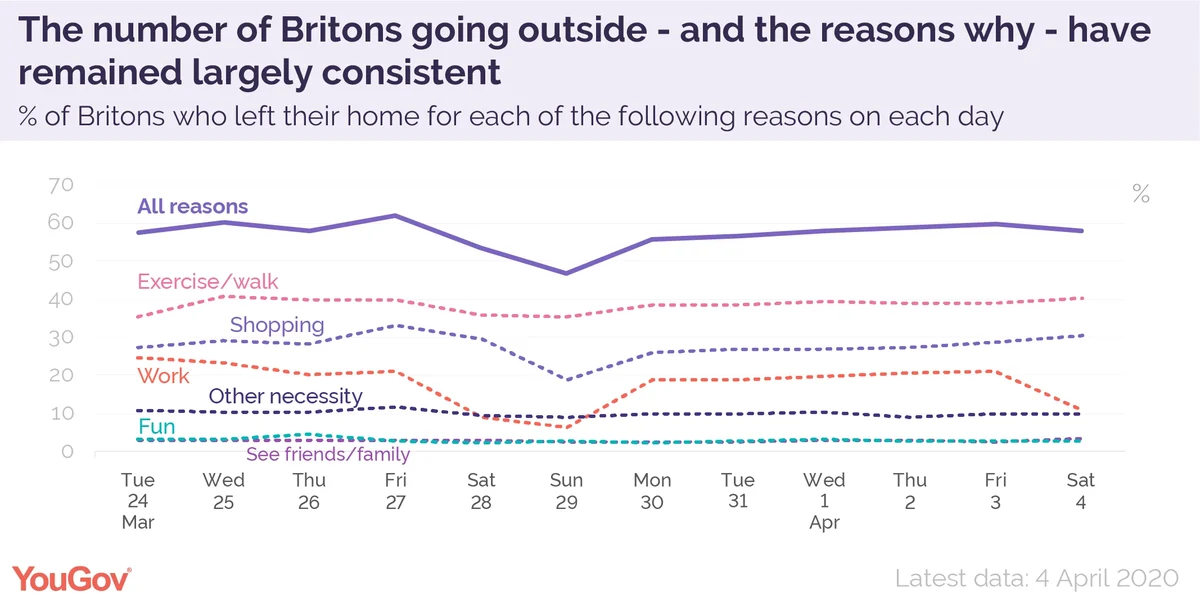 Likewise, when asked why they went outside, there has been no shift in the trend. The proportion of Britons going out for exercise or a walk has been around 40%.
The number of Britons going shopping has hovered around 30%, except on Sunday 29 March when it dipped below 20%.
The proportion of people reporting going to work has been around 20%, apart from at weekends.
About 10% of people say they've left their home for some other necessary reason, and only around 3-5% of Brits say (or admit) they have been going out for fun, or to visit friends or family.
While the number of Britons going outside remains consistent, it could prove alarming for the government that the level remains so high. A decision on any changes to the lockdown is due on Monday 13th April – it may be that the public will get their wish and find the state clamping down harder.
Photo: Getty