A small number of Brits have found themselves searching for toilet paper alternatives
Nothing in living memory has changed daily life in Britain faster than the COVID-19 (also known as coronavirus) outbreak. With most of us now cooped up inside for at least the next two and a half weeks, YouGov takes a look at the impact the pandemic has had on some of our daily habits.
Most people who didn't usually pay attention to the news are now doing so
With journalists the world over having been scratching their heads as to how to reverse declining audience numbers, it turns out the solution has been staring them in the face all along: start a global pandemic. Three in ten Brits say they are now paying attention to the news because of coronavirus. When you take into account that 61% of Britons say they normally pay attention to the news anyway, this means that the vast majority of people who don't usually engage with the news are now doing so.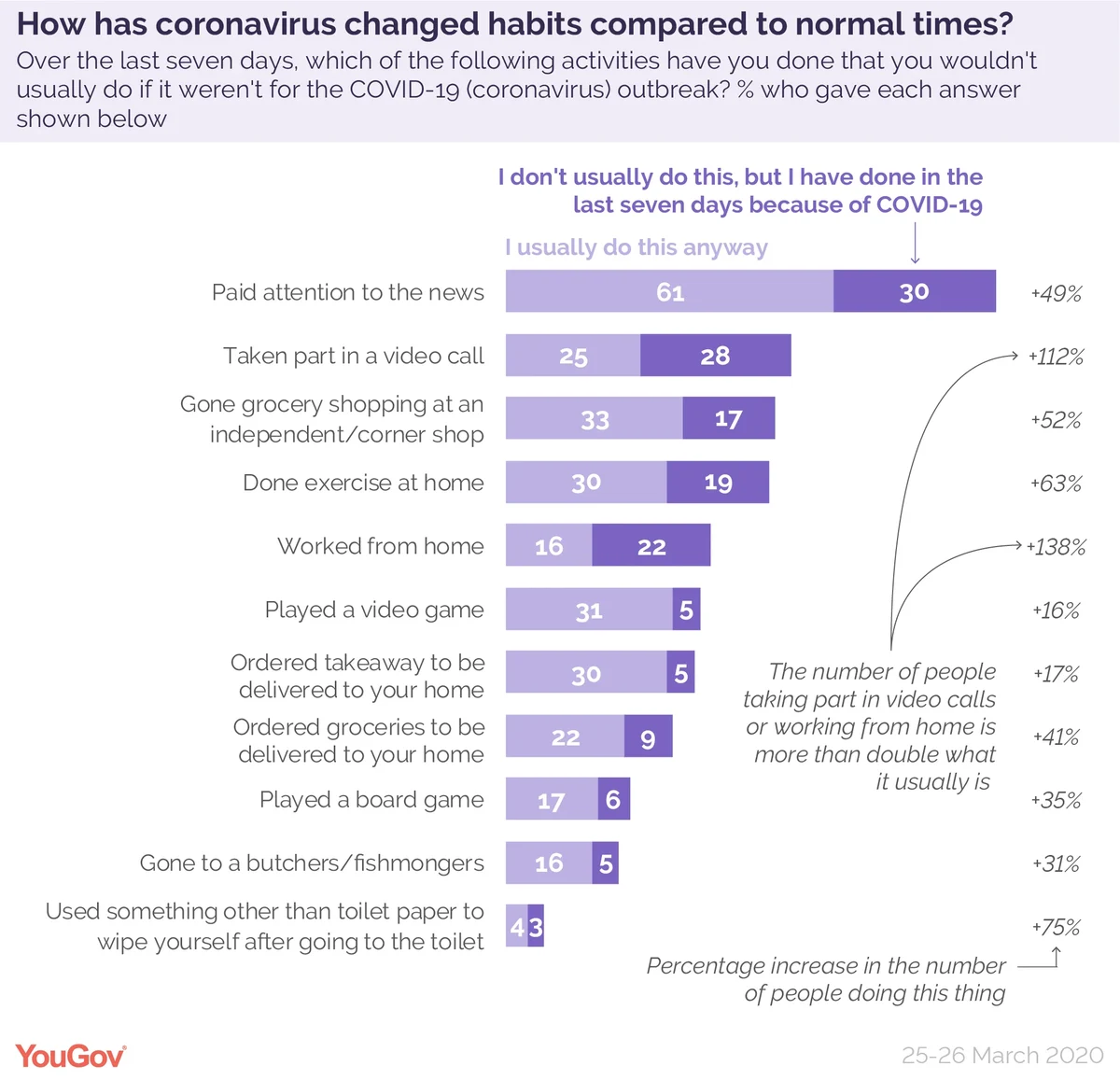 COVID-19 has also encouraged 28% of Brits who wouldn't usually to take part in a video call. With 25% of Brits saying they usually participate in video calls, this means that the number of people utilising this technology has more than doubled in the last week.
Women are more likely than men to be taking up the technology as a result of coronavirus (33% vs 24%), and unsurprisingly the young are adopting faster than the old (37% of 18-24 year olds compared to 24% of 65+ year olds).
Although Britons are allowed to leave their homes to exercise under current government rules, many aren't willing to take the chance and are seeking ways to keep fit from home. Fitness coach Joe Wicks has shot to prominence as a result of this need; a half hour fitness class he live streamed on Monday has been viewed almost 5 million times.
Our research finds that almost one in five Britons (19%) don't usually exercise at home but say they have done so because of coronavirus.
One in six Brits have started turning to corner shops for their groceries
With supermarkets quickly running out of stocks of key essentials, many Britons found independent stores and corner shops to be treasure troves of toilet paper and pasta. The data shows that one in six of us (17%) went grocery shopping in such a store despite not being willing to do so normally.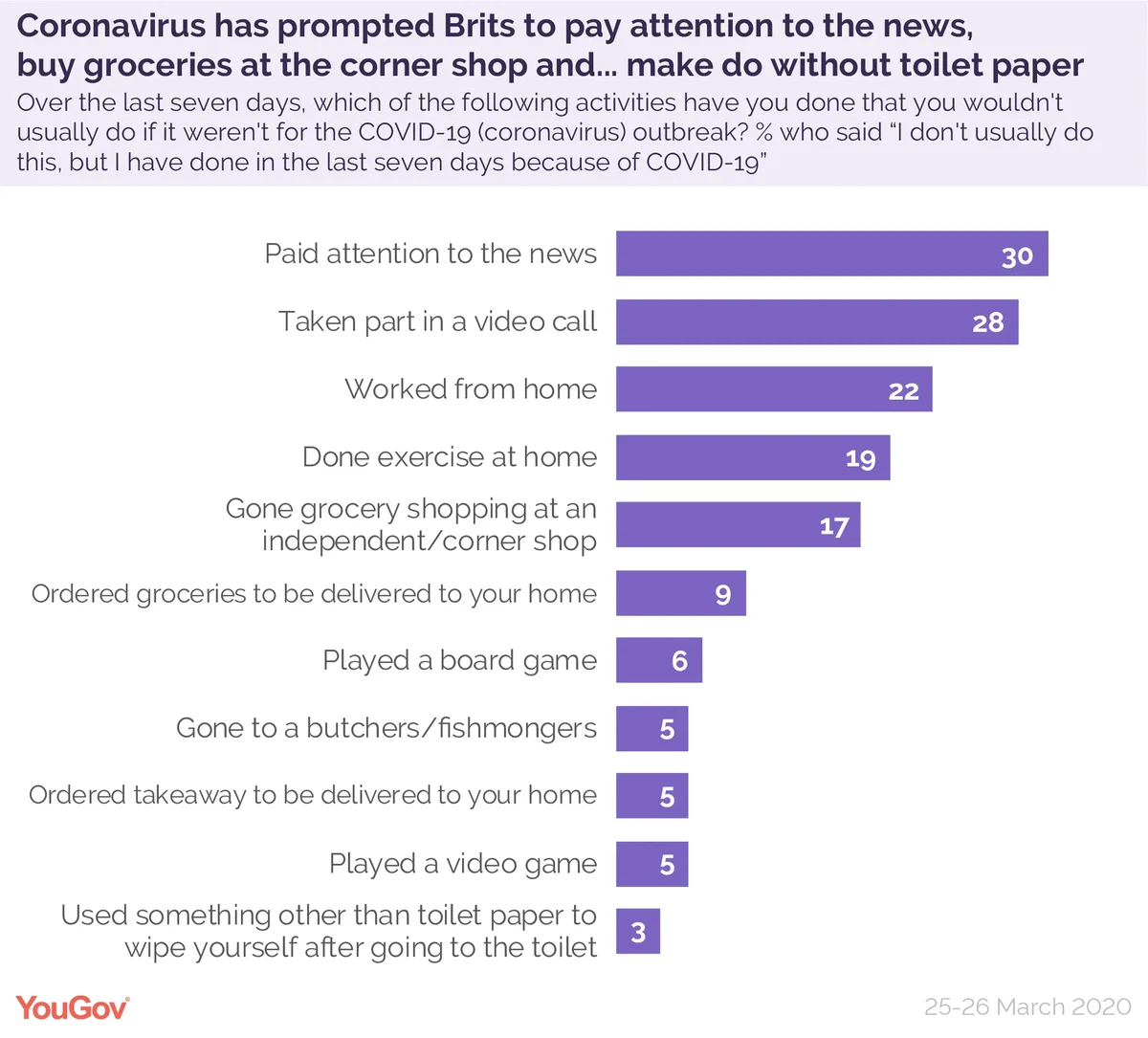 Butchers and fishmongers weren't so lucky, with only 5% of Brits saying they paid a visit when they wouldn't normally have done so.
A similar proportion of Brits (5%) say they broke with their normal habits and ordered takeaway food to be delivered to their home because of the outbreak. One in eleven (9%) also switched things up by ordering their groceries online for delivery.
With the lockdown only just beginning, it is perhaps unsurprising that so far few Brits have turned to board games (6%) and video games (5%) if they usually wouldn't do so. Future waves of this survey will find out how many families crack and dust off their copy of Monopoly…
And finally, with supermarket stocks of toilet paper having been ransacked, the survey finds that small numbers of Brits had to resort to… other means of keeping themselves clean as a result of the shortages.
The results show 3% of Brits say they had to use something other than toilet roll to wipe themselves after going to the toilet. Intriguingly, another 4% of Britons say that this is usually the case for them anyway.
Photo: Getty