Public opinion is fairly relaxed about the outbreak, but significant numbers want to see the government implement strong quarantine measures
There are now 40 confirmed cases of coronavirus in the UK, and Health Secretary Matt Hancock says it's "inevitable" that it will continue to spread. Now new YouGov research reveals how Britons are reacting to the rising number of infections.
It's little surprise, given the blank media coverage, but virtually everyone in the country is aware of the outbreak; 97% have heard of either 'Coronavirus', 'Wuhan virus' or 'COVID-19'.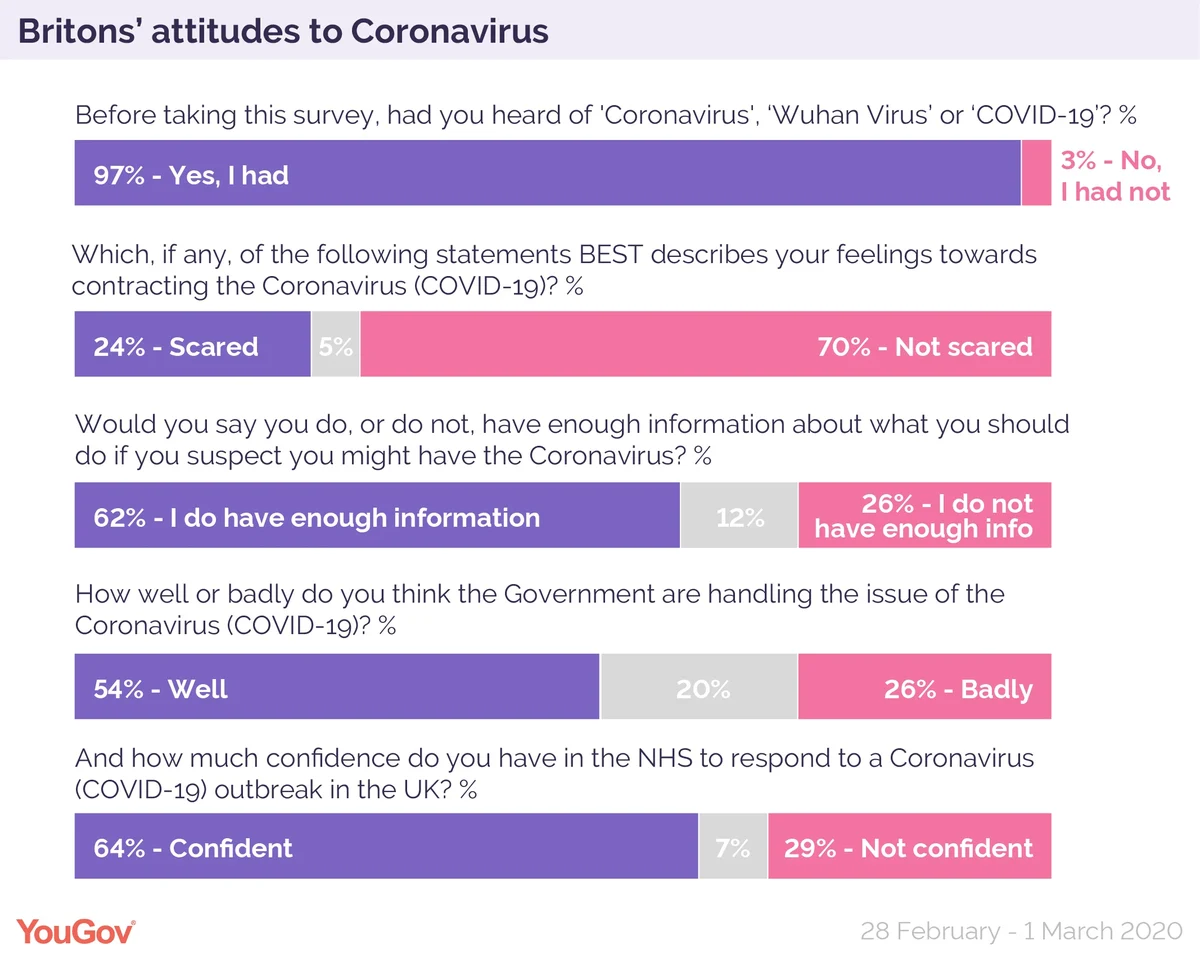 Currently one in four Britons (24%) say they are "very" or "fairly" scared of contracting the disease. Nevertheless, the vast majority of the public remain relaxed: 70% say they are "not very scared" or "not scared at all".
This would explain why relatively few Britons have been taking steps to protect themselves; the majority (54%) have taken no preventative measures at all.
The most common precaution has been to improve personal hygiene, such as washing hands more frequently or using sanitiser, which one in three (35%) are doing.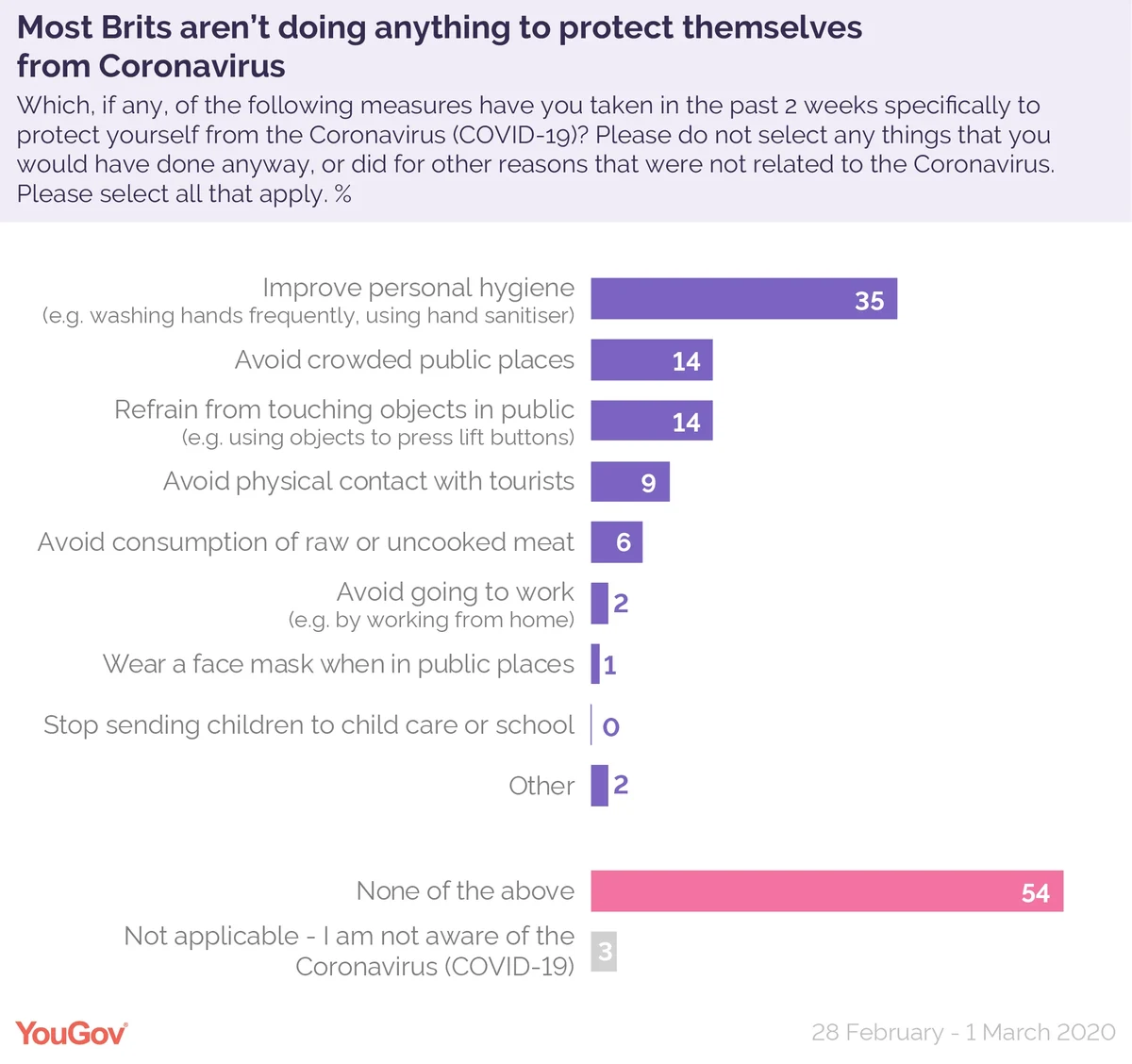 One in seven (14%) are avoiding crowded spaces, while an identical number are refraining from touching any objects in public. Just 1% of Brits say they've taken to wearing a face mask.
Most (62%) feel well-informed about what to do if they suspect they have coronavirus. But one in four are not sure, with young Britons being especially unlikely to feel this way (37% of 18 to 24 year olds).
Britons are confident in the government and NHS handling of the outbreak
With Boris Johnson chairing a COBRA meeting about coronavirus today, the majority of Brits (54%) believe the government has been handling the issue well thus far.
While Conservative voters are more likely to think this than Labour and Lib Dem voters, people who backed both left-of-centre parties are still more likely to think the government has been doing well than badly.
Britons are also confident that the NHS will be able to effectively respond to an outbreak of COVID-19 in the UK. Close to two thirds (64%) say they have a lot or a fair amount of confidence in the health service's ability to handle such a situation, compared to only 29% who do not.
What do Britons think the government should be doing about coronavirus?
The most common action Britons want the government to take is to quarantine those who've had contact with a contaminated patient, supported by almost two thirds of Britons.
Half of Brits (50%) want to quarantine anyone coming in on a flight from mainland China, while 43% want to do the same for flights from any country with confirmed COVID-19 cases. Some would go even further, wanting to ban flights from mainland China (46%) or affected countries (36%) entirely.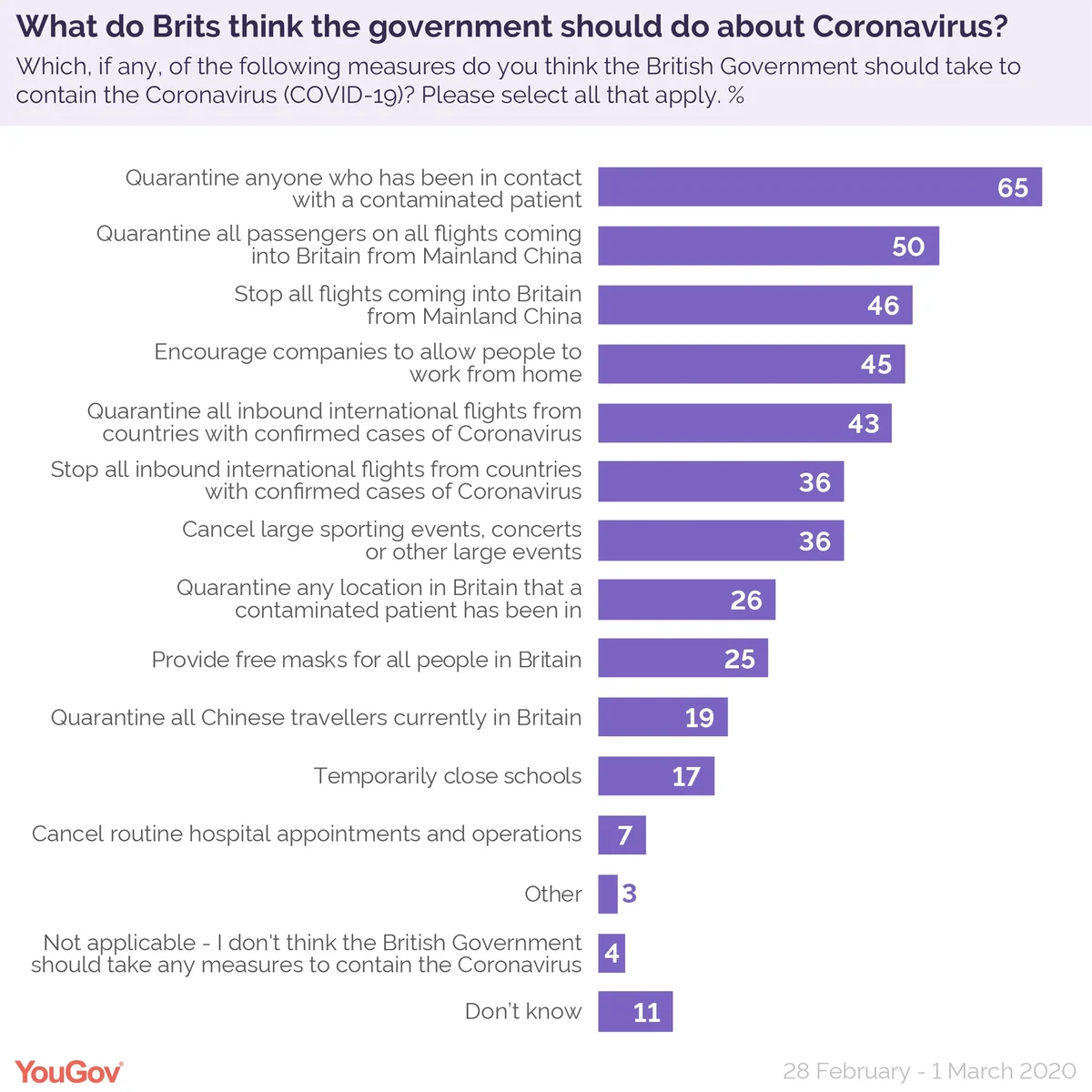 In fact, 26% want to quarantine any location an infected person has been, and one in five (19%) want to quarantine all Chinese visitors to Britain.
Encouraging companies to have people work from home is supported by 45% of Britons, while another 36% want to see all large events like sports games or concerts cancelled – a move the government has said they might have to make.
A quarter want to see the government distribute face masks and 17% want to temporarily close all schools (another measure the government has said it will consider).
YouGov is conducting research into public opinion on the Coronavirus across the globe. We will be publishing the results of this international data later this week.
Photo: Getty