A quarter believe the process of leaving the EU has already made it harder to get their hands on supplies and equipment, and one in five know a colleague who is considering quitting
With Brexit now an almost certainty, a new YouGov survey of more than 1,000 healthcare professionals finds that one in five (19%) know a colleague who is thinking of leaving their job as a result of Britain leaving the EU.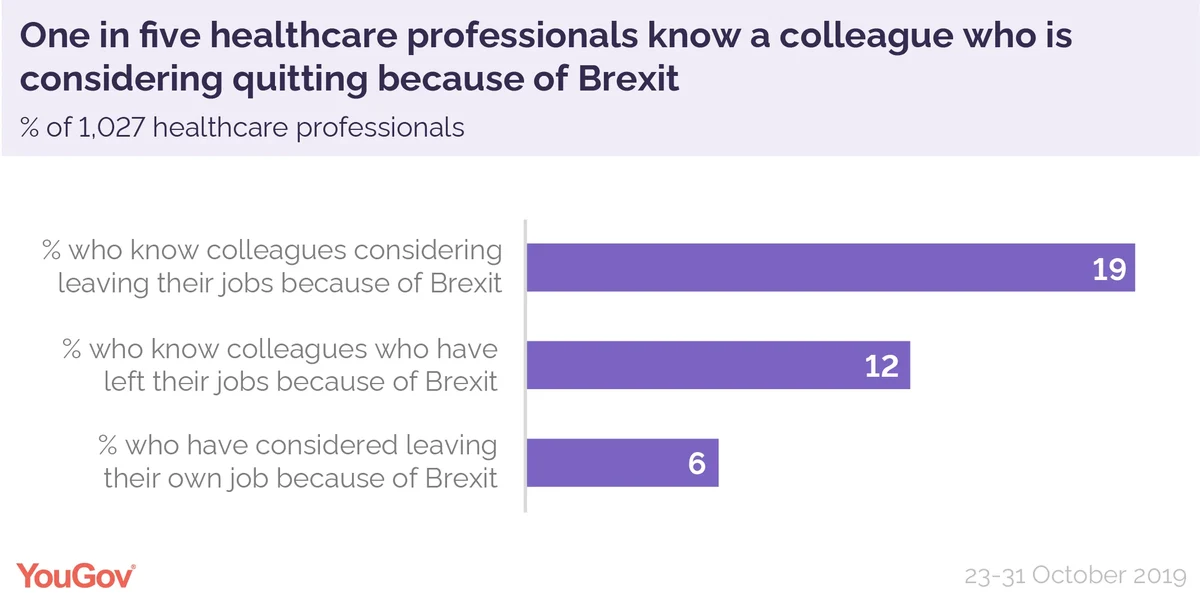 With recent ONS figures showing that 12% of people in Britain's healthcare sector are non-British nationals (around half of whom are EU nationals), the sector is particularly vulnerable to Brexit-related impacts.
On top of the 19% who know a colleague thinking of leaving their job due to Brexit, 6% of sector professionals say they themselves are considering quitting. One in eight (12%) also say they know former colleagues who have already left their jobs due to Brexit concerns.
Most believe Brexit will have a negative effect on the NHS
Professionals in the sector are split over how big an impact they think Brexit is going to have on their own jobs. More than four in ten (44%) think it will have a great deal or moderate amount of impact, while a similar proportion (42%) think it will have little to no impact.
The majority do, however, think leaving the EU will have a negative impact on the NHS. A third (32%) expect Britain's break from the continent will have very negative implications for the service, with another 24% thinking it will have fairly negative ones. Only 11% think Brexit will have a positive impact, while 23% think it won't make much difference either way.
Following anecdotal reports in the media claiming that Brexit has already made it harder to get hold of some types of medicine, the study finds almost a quarter (24%) of healthcare professionals think they have experienced situations where the Brexit process has made it more difficult to procure medical supplies or equipment.
Photo: Getty