Eight in ten Brits think women and men should share responsibility for contraception
A 'male pill' which lowers sperm production has proved successful in early trials. It could, if approved, allow men and women in heterosexual relationships to share responsibility for contraception. But how would it work in practice?
New YouGov Political research explores how men and women feel about 'the pill', why some are reluctant to take it, and whether both genders see eye to eye on who should take more responsibility.
Half of sexually active women either take the pill or would consider doing so
A third of sexually active women (33%) currently use hormonal contraception, and a fifth (21%) of those who don't say they would consider it. So, in total, half of women (47%) are open to the concept.

It's by far the most common form of contraception among young women. Two thirds (71%) of 18 to 24 year old sexually active women use it, compared to four in ten (43%) 25 to 49 year olds.
Just under one in twenty (4%) sexually active women aged between 50 and 64 use hormonal contraception, although it's worth noting the effect menopause will have on results from this age bracket.
A third of men would be willing to take a 'male pill'
One in three (33%) sexually active men would consider taking a male version of the pill; exactly the same percentage of women who currently use hormonal contraception.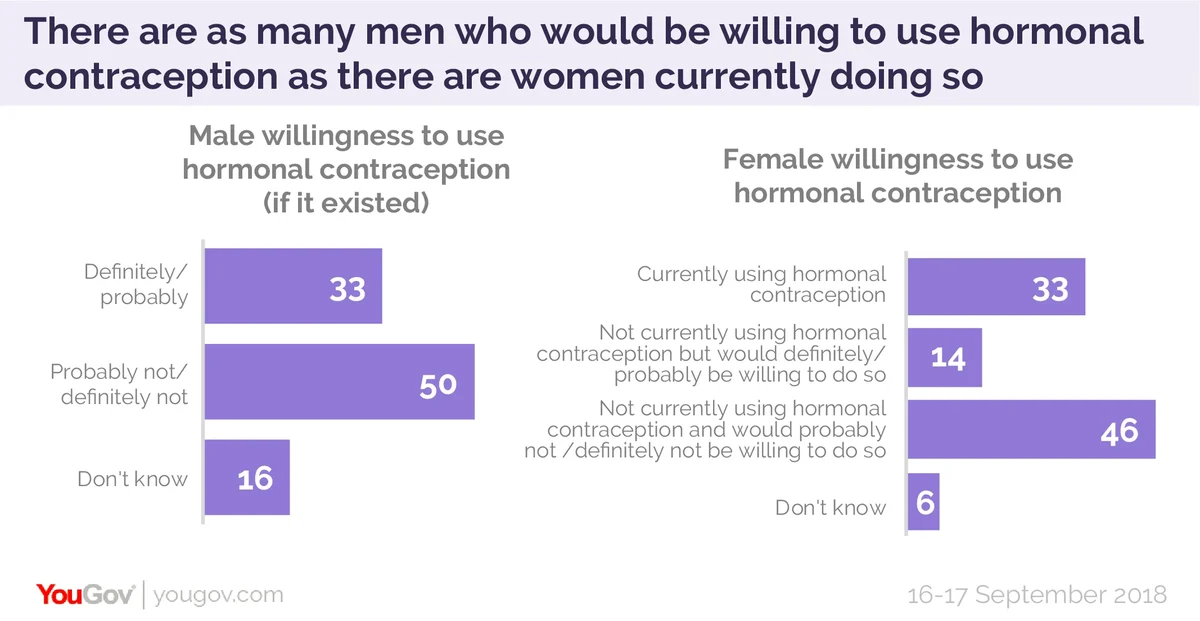 Among 25 to 49 year olds - the group most likely to be sexually active (64% vs 52% of the population as a whole) - this figure rises to four in ten (40%), which is again a near exact match to the proportion of women in this age group currently using it.
Still, a quarter (27%) say they would "definitely not" be willing to take it, with another quarter (23%) saying they would "probably" not.
Both genders concerned over side effects
Among men and women who would not take hormonal contraception, but who are in a relationship where the woman is able to get pregnant, the most common reason is concern over side effects (31% of men and 33% of women).
One in six of both sexes (16%) currently use condoms for contraception and see this as sufficient. And one in twenty (6%) worry that they would forget to take the pill.
Among men, one in three (32%) are simply uncomfortable with the concept of hormonal contraception, and one in six (17%) have never heard of it. By contrast, just one in eleven women (9%) feel uncomfortable with it, and almost all are aware, with only 2% saying they hadn't heard of it before.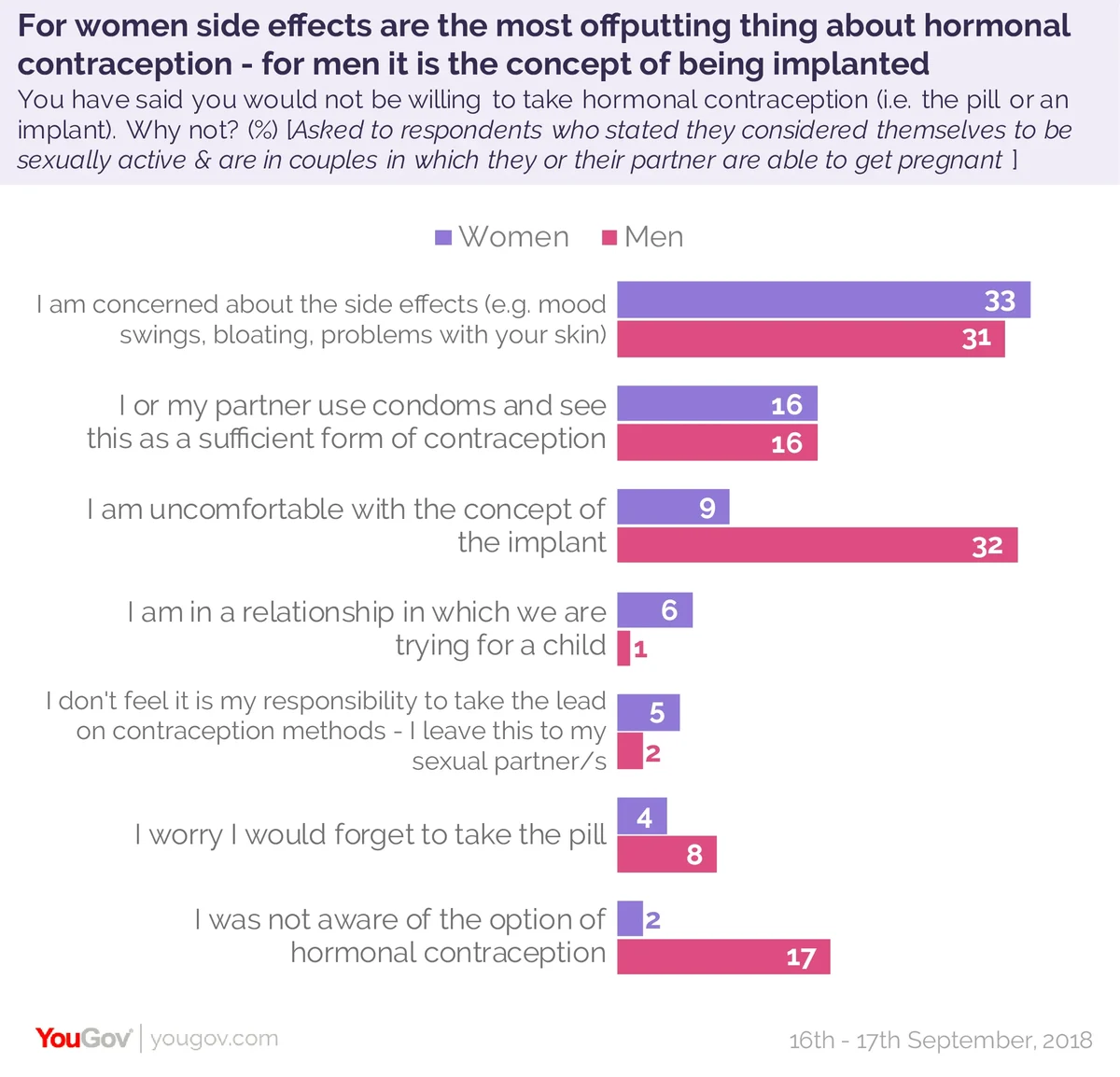 Whose responsibility is contraception: the man's, or the woman's?
The existence of a male pill could tip the balance of responsibility for contraception in heterosexual relationships.
Eight in ten Brits (79%) see this as a positive development, saying men and women should take equal responsibility for making sure appropriate contraception methods are used. Men and women are almost equally likely (76% vs 82%) to take this view.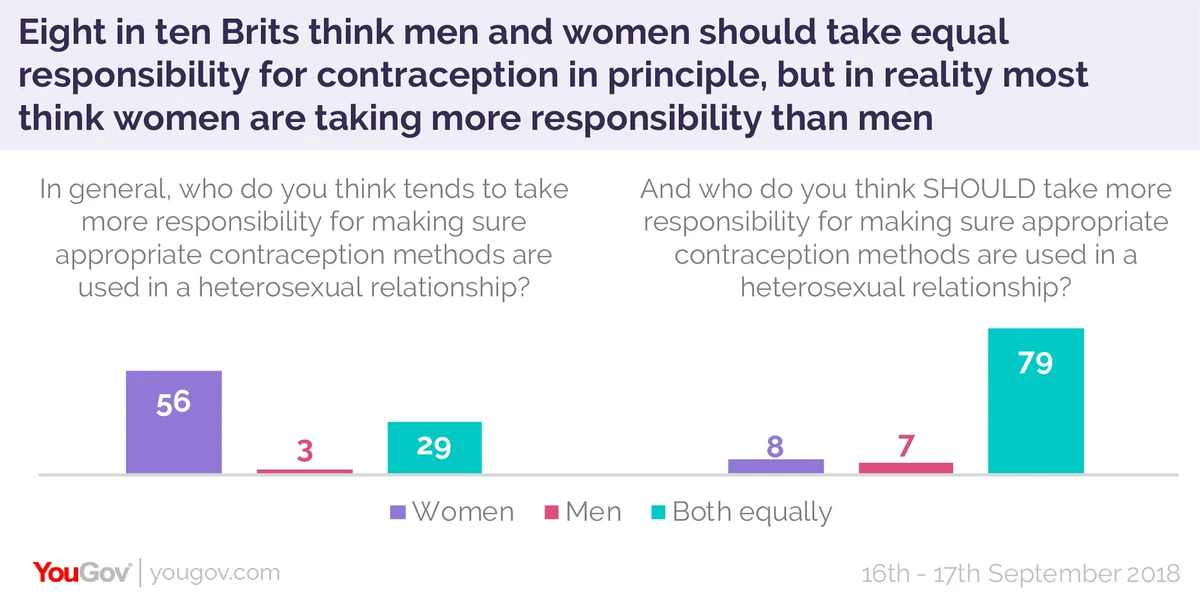 However, when it comes to who does take more responsibility in practice at present, men and women hold differing views. Seven in ten women (70%) think women tend to take more responsibility, but just 40% of men agree.
Just one in five women (20%) think men and women tend to take equal levels of responsibility at present, compared to four in ten (39%) men.
Photo: Getty
See the full results here