Dermatologists say too many showers are bad for your skin. But most of us shower at least once a day
It goes without saying that establishing how many showers you should be taking to stay clean depends on your day to day habits.
However, dermatologists are in broad agreement that showering every day isn't strictly necessary unless you are doing physical exercise or exposing yourself to a dirty or dangerous substance.
Majority of Brits shower at least once a day
Yet according to new YouGov survey run in collaboration with Yahoo for the latest episode of "Britain is A Nation Of ... ", the majority of Brits insist on having a shower or bath at least once a day. One in twenty (6%) have a shower or bath several times in a day.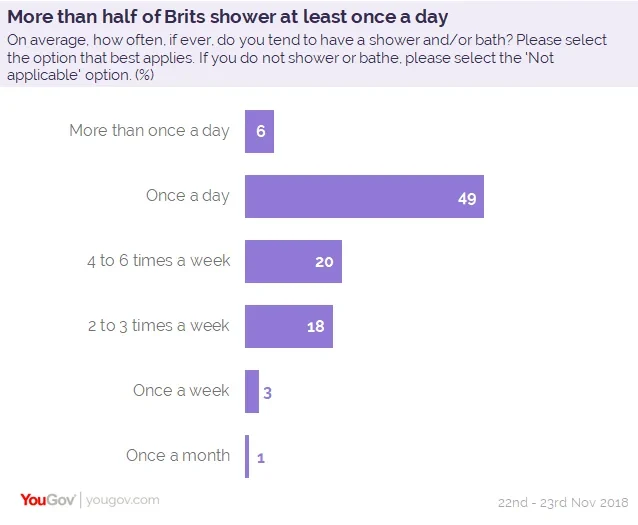 Half (49%) do so once a day, and one in five (20%) go for 4 to 6 times a week – leading to a total of three quarters of Britons who are showering at least once every other day.
Just under a fifth (18%) shower two to three times a week, and three out of a hundred (3%) shower once a week.
Get out the shower, Londoners
Women and men are almost identical in their showering habits, as are different age groups.
It is Londoners who stand out as the most hygiene-obsessive region in the nation - they are ten percentage points more likely than the national average to shower or bathe at least once a day (64% vs 54%).

Listen to "Britain Is A Nation Of..." on iTunes, Spotify or Acast

Photo: Getty

See the full results here