Festival-goers and abstainers alike keep things traditional as they imagine their perfect festival

Going by the amount of media coverage devoted to broadcasting summer festivals, anyone could be forgiven for thinking that a sizeable chunk of the British public had been among this year's festival crowds.

But not everyone was, with many of the panellists we asked citing cost, both of tickets and other festival necessities, as a barrier to their decision to attend. But that didn't stop respondents from imagining their very own fantasy festival vision…
Music: Calling all guitarists
Your dream festival line-up just wouldn't be complete without cherished guitarists taking centre-stage, as you made clear: Rock and Classic Rock took first and second place as the genres you'd most want to have play, while Indie just pipped a Folk and Pop presence to the third place post.
Those of you who did go to a summer 2011 festival, however, wanted to see a good mix of talent, with crowd-pleasers and unsigned artists almost matched in their appeal. As you can see from the results chart, any hope for a Hardcore and Rap theme flailed at the other end of the scale, barely ranking amongst your top three fantasy genres.
Atmosphere: Keeping it conventional
The beauty of fantasy is that there is no budget – yet on the whole it seems you would shy away from aping the big festivals' high spends. There was little desire for Glastonbury-esque crowds of 200,000 plus people, with more of you favouring a far more downsized version of between 4,000 - 6,000, following in the footsteps of smaller festivals such as 2000Trees and Larmer Tree.
You kept it conventional in your choice of festival site and accommodation, too. Woodland and farmland took the top spots respectively, and 53% of those who took part in our survey would choose to set up camp, whether in caravan, tipi, or a trusty tent (glamorous or otherwise).

The lavish among you did take the opportunity to imagine splashing out, however, with 14% choosing an island as your perfect destination – was that Ibiza or the Isle of Man you had in mind? – and 19% would retire to a hotel at the end of each day, while others would take their own apartment.

A green sheen
While the vogue for all things 'green' may have dimmed in recent months, for many of you, being environmentally-conscious was crucial. Of the 23 possible choices, 34% of you would make having locally-sourced food and drink on offer a top priority, while 31% of you would go so far as to make being environmentally-friendly your festival policy, with on-site recycling for starters. For some of you, this appeared to make up for those times when real-world festivals hadn't met your green expectations. One of you even declared that you had been 'horrified by the amount of rubbish lying around', at your chosen summer event, which was, you said, 'certainly not part of a festival ethos, and certainly not promoting green values'.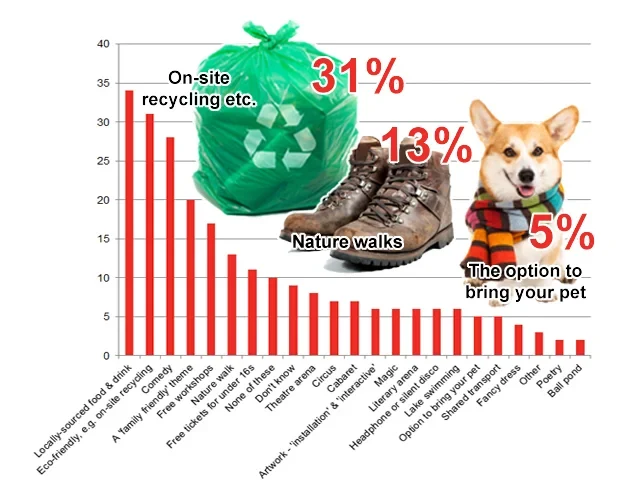 Price is paramount
Although only a small proportion of those of you who took our survey made it to a festival site this year, two things were clear: what really matters to festival-goers is that you like the outlook or ethos of your festival, and to festival-abstainers, that the tickets are budget-friendly. Together, your proposed fantasy ticket prices were relatively kind, with most of you charging up to £20 for a visitor day ticket, and 43% of you charging between £21 and £100 for a fully-comprehensive, accommodation-inclusive ticket (as you can see on the chart to the right). Not bad, I'm sure you'll agree.
Expensive ticket prices were cited as festival-abstainers' top reason for not going, and many of those among you who didn't brave the festival scene said you'd been put off because you felt things were just too pricey once you'd arrived.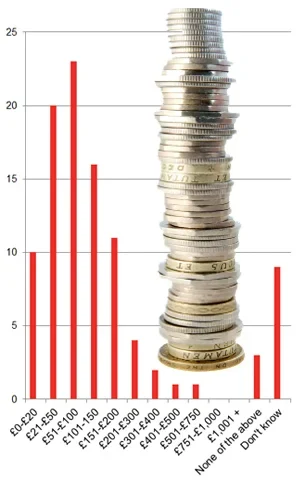 Obviously, things have changed a great deal since 1970, in which Glastonbury charged just £1 per ticket for its very first festival, which included free milk from the farm. This summer, a Glastonbury ticket cost £200, and even then that was without ticket insurance/car parking/'survival' cost. The change hasn't gone unnoticed.
In July this year, Glastonbury founder Michael Eavis said that 'Glastonbury [was] on the way out', and in fact, one of you who made it to Glastonbury this summer agreed that: 'Something was definitely missing this year. I think it's all about the material and money making now. The spirit of the festival is lost.' Another of you remarked that Glastonbury had 'all gone corporate and way overcrowded'. Countering this, however, one devotee said: 'Glasto is always a friendly festival with a brilliant atmosphere, and there was some great stuff going on this year'. It seems what it comes down to is this – what price for a great experience?
Whether Michael Eavis is right in his predictions for Glastonbury or not, it's clear from our 'fantasy festival' results that many people seek something different from the festival scene, whether that's fewer people, lower costs, green ethics, or even a little more luxury.