More fans of the show are rooting for the White Wolf than the Mother of Dragons
The eighth and final season of Game of Thrones begins on April 14th and new YouGov research finds that a quarter of the population (28%) plan to tune in.
One third of the British public (33%) have watched Game of Thrones, including nearly half (47%) of 18 to 24 year olds. Of those who've seen the show, 88% say they like it, and fans highlight season 7 as their favourite to date.
With this final series set to reveal who will find themselves assuming the Iron Throne, the seat of the monarch of Westeros, fans of the show are most hopeful that it will be Jon Snow. Almost a third (31%) say they want to see the former King in the North reign the whole nation.
As a proud inhabitant of Westeros' northern region, Jon Snow has clearly won the hearts of England's own Northerners, with 35% saying they want him to win, compared to 26% of Londoners.
The character played by actor Kit Harrington has a greater female support base, as 36% of women want to see him on the Iron Throne, compared to just 27% of men.
Daenerys Targaryen comes in second place, with 21% of fans hoping that she will reclaim her ancestors' throne, followed by Tyrion Lannister on 10% and Arya Stark on 9%. Current inhabitant of the Red Keep – Cersei Lannister – is backed by a mere 1% of fans.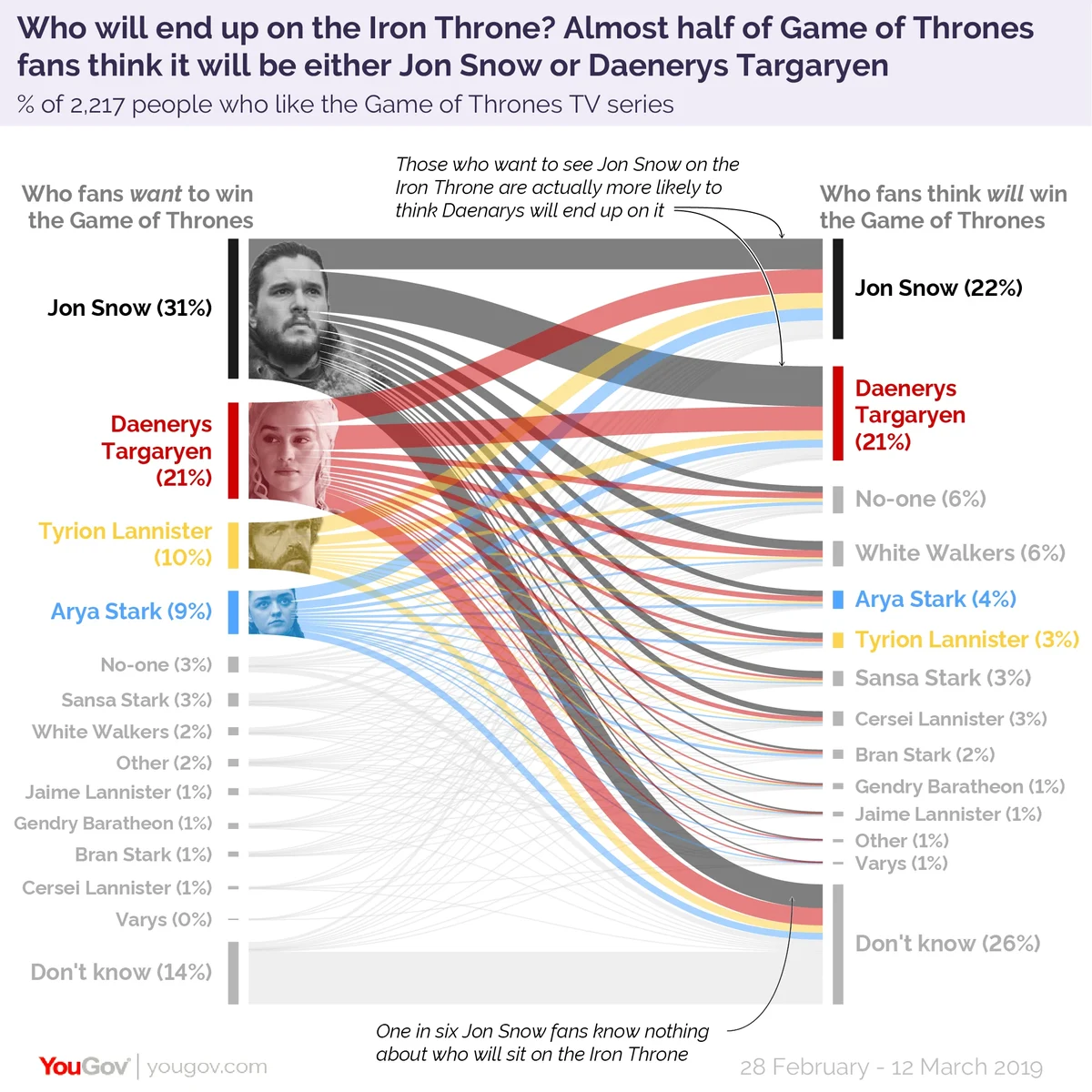 However, when asked who they think will actually win the Iron Throne, fans are far less sure of Jon Snow's chances. While 31% want him to win, only 22% of those think he will do so – putting him on almost level pegging with Jon Snow fans who think Daenerys will win (21%).
In fact, there's a great deal of turmoil between who fans want to win and who they think will win.
Only around a quarter of those who specifically want Jon Snow to win think he will actually do so, and the same is true of those who want a Daenerys victory. This confusion is doubtless a testament to George R. R. Martin's willingness to kill off main characters without warning or ceremony and dash happy storylines mercilessly, keeping fans guessing until the very last.
With the fan favourite to win the series being one of multiple characters in the show to have literally returned from the dead, we also asked fans who among the huge heap of corpses of former main characters they would most like to see resurrected.
By a large margin, fans would choose Ned Stark – whose execution at the end of the first series is the catalyst for the rest of the show. Despite the joke that all characters played by Sean Bean end up dead, 30% of all fans (and 55% of fans who expressed an opinion) would see him brought back to life.
By contrast, the second most popular choice for reincarnation – Robb Stark – was only favoured by 5% of fans (and 9% of those who gave an answer).
While fans may mourn the conclusion of the series, they will have the comfort of knowing that a prequel series – set thousands of years prior to the events of Game of Thrones – is in the works. The show's creators will doubtless be heartened to hear that 74% of British fans say they intend to tune in.
Photo: Helen Sloan / HBO