The majority of Brits and the biggest James Bond fans are happy to see an actor from an ethnic minority cast in the role
With Daniel Craig set to retire as James Bond after next year's instalment of the franchise, speculation has mounted over who will be cast to take over the role.
Now a new YouGov survey reveals that Idris Elba is by far the British public's favourite to play the next Bond. Of those who expressed an opinion, 28% chose Elba. In a distant second place is Tom Hardy on 11%, followed by Tom Hiddleston on 5%.
Richard Madden, who recently shot up the rankings with the bookies after his successful turn in BBC drama The Bodyguard, was chosen by 2% of those with a view.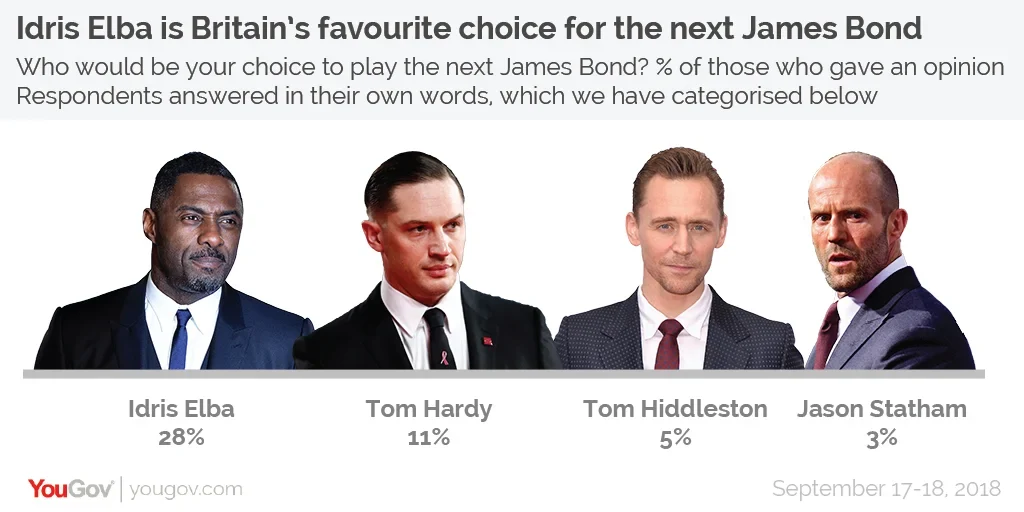 The possibility of a Bond played by Idris Elba has already been subject to much excitement in the media, prompting discussion over whether or not James Bond can be depicted by someone other than a white man.
YouGov has compared the views of the general public with those of the biggest James Bond fans – the 14% of Brits who say they love James Bond movies.
The majority of both Britons (58%) and those who love James Bond movies (52%) believe that it is acceptable for James Bond to be from an ethnic minority. Bond lovers are noticeably more likely to say it is unacceptable, however, at 41% compared to 29% of Britons as a whole.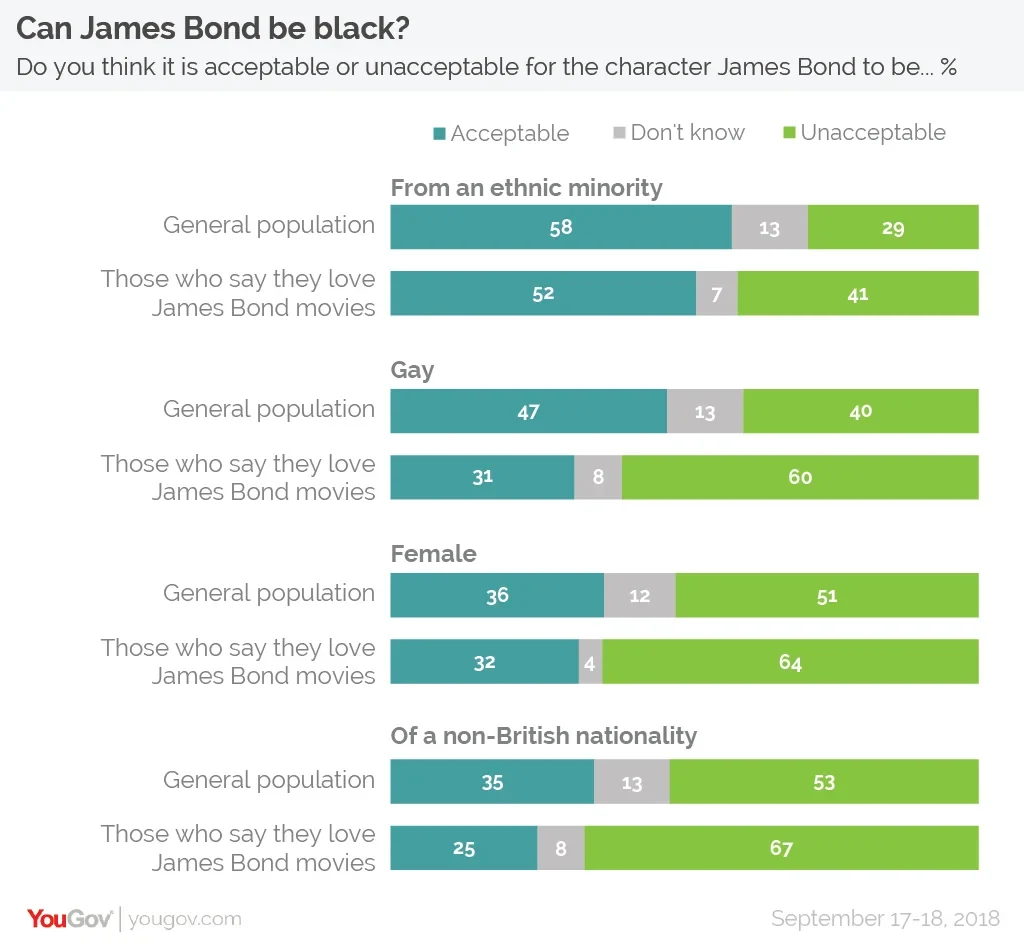 A similar story plays out on the other characteristics we asked about, with the biggest Bond movie fans being more conservative about the character than the public at large. While the general public support the prospect of a gay James Bond by 47% to 40%, those who feel most strongly about the films are opposed by 60% to 31%.
Likewise, Bond lovers are bigger opponents of a female Bond than the public, with 64% opposed and 32% supportive compared to 51% and 36% respectively among the nation as a whole.
They are least impressed by the prospect of a non-British Bond, with only 25% saying James Bond can have a foreign origin and 67% believing he has to remain made in Britain. Among the general public these figures were 35% and 53%, respectively.
Sean Connery is Britain's favourite Bond
In a survey last year YouGov found that Sean Connery is both the original and the best Bond. A quarter of Britons (27%) said that Connery was their favourite Bond, followed by Daniel Craig on 18% and Roger Moore on 13%.