The British public now back the BBC's decision to sack the Top Gear host by two to one
The BBC will not be renewing Jeremy Clarkson's contract to host Top Gear, they confirmed this week, citing an "unprovoked physical attack" on a producer on the show. The BBC had already suspended Clarkson immediately following initial reports of the "fracas" on the set of the hit show.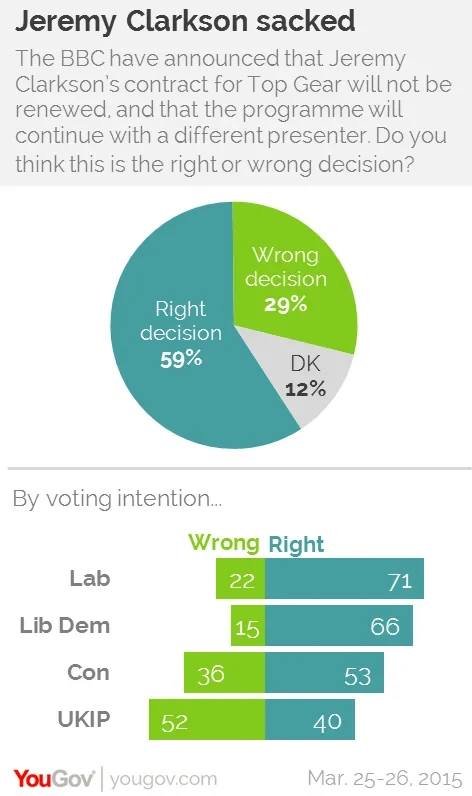 At the time, YouGov found the public slightly in favour of firing the long-time host – though not by a majority, and opinion was divided along political lines. Now that the decision has been made, there is much wider approval: fully six in ten British adults (59%) support the BBC's decision to sack Clarkson, twice the number who say it is wrong.
Conservative voters, most of whom had opposed ousting Clarkson last week, now join Labour voters and Liberal Democrats in believing the BBC was right to do so. UKIP voters, however, are holding out – a bare majority (52%) of them think the BBC has made a mistake in firing the Top Gear host.
The BBC has left the door open to letting Clarkson return to Top Gear, but that's unlikely to happen any time soon. It's not clear who will replace him, and speculation has ranged from model and former racing driver Jodie Kidd to Steve Coogan – who has derided the show in the past.
When YouGov asked respondents to write-in a replacement, the results were similarly wide-ranging: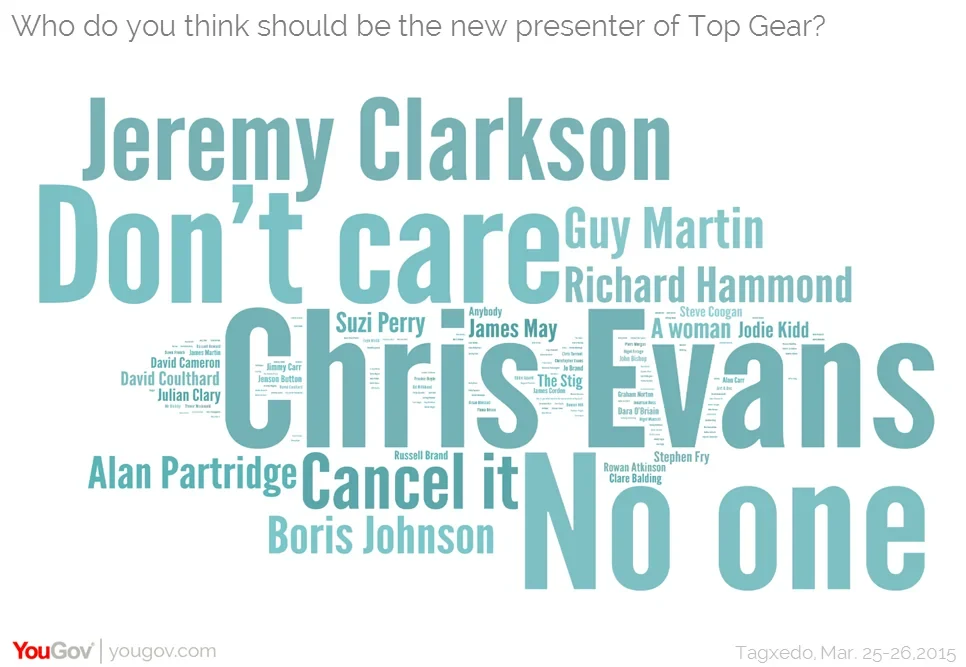 BBC Radio 2 presenter Chris Evans is the clear winner, though he has technically ruled himself out of hosting. Boris Johnson, who (perhaps jokingly) threw his own hat in the ring, also makes a decent showing.
Many people couldn't imagine the show without Jeremy Clarkson, who has hosted alongside James May and Richard Hammond since 2003. Many others simply do not care.
PA image