American Sniper is the most popular choice for the Best Picture Oscar – but compared to the number of people who've actually seen it, Selma is the stand-out winner in both the US and Great Britain
Selma almost certainly won't win Best Picture, and neither will American Sniper. Based on betting markets and other awards won by the nominees, the top prize of Sunday's Academy Awards ceremony, Best Picture, will probably go to Boyhood, or maybe Birdman.
It's also clear Selma wouldn't win if Oscar voters were based on a nationwide vote of Americans. If they were, the winner would be box office smash American Sniper, and, if the voters were representative of British people, the winner would be The Theory of Everything, a biopic about the most admired man in Britain.
As you'd expect, there is a strong correlation between who people think should win and box office receipts (i.e. the number of people who've seen a movie in cinemas). American Sniper has sold more tickets in the U.S. than the other nominees combined. Similarly, though it is less dominant, The Theory of Everything is the best performing nominee in the UK box office.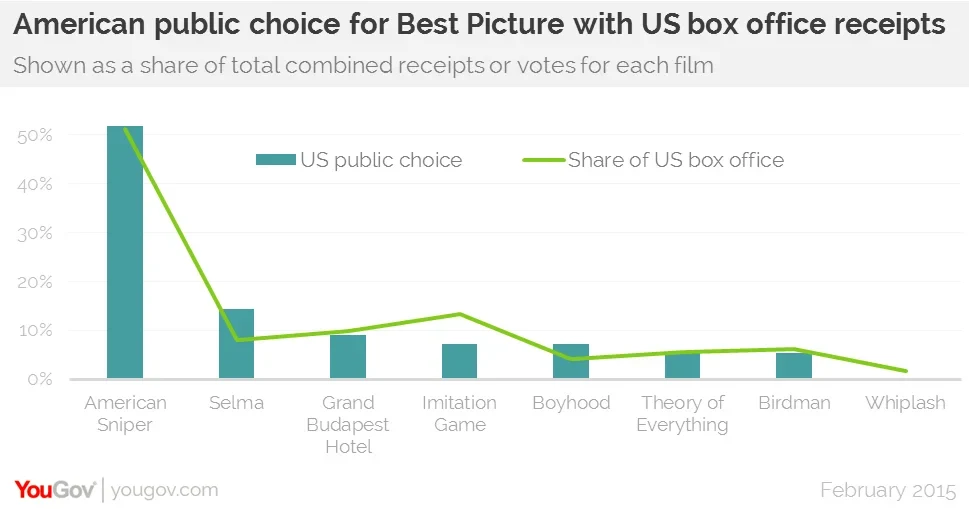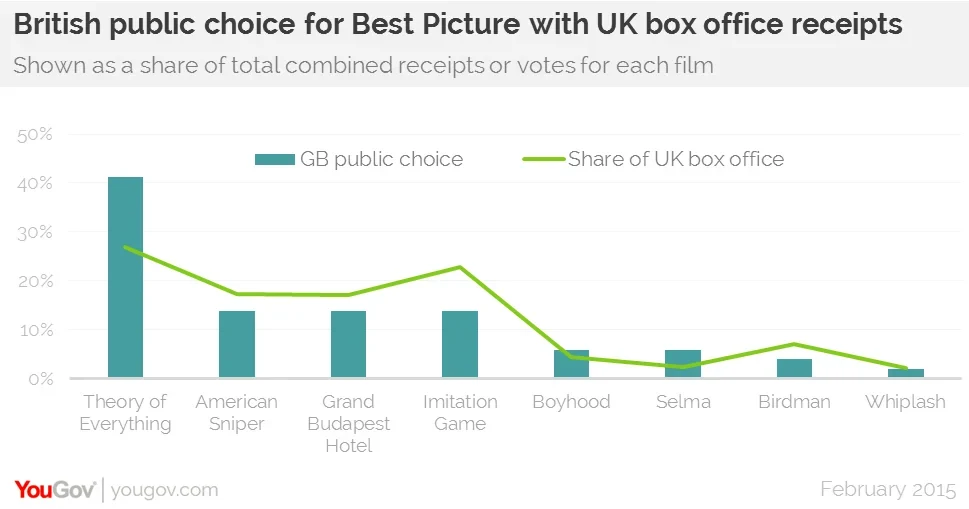 However, comparing overall box office receipts to the number of votes the different movies received in our poll reveals a different, perhaps better, measure of audience impression. If a movie scores better in the poll than it should as a share of box office, it's outperforming its expected success rate.
The Imitation Game, a film about WWII code breakers, took in a much smaller share of Best Picture votes than would be expected from the box office. It's the underperforming movie of the group.
On the flipside, Selma is the standout winner in these terms, winning 137% more votes than box office share in the U.S. and 77% more in Britain. This suggests that, if the nominees had been seen by equal numbers, Selma might even have led in the public vote for Best Picture.
See the full poll for the US and GB