Italians are being hit hardest by the cost of living crisis
With the cost of living rising across Europe, and different governments taking very different approaches to try and tackle these increases, a new YouGov European cost of living tracker will monitor attitudes on this issue across seven European countries: Britain, France, Germany, Spain, Italy, Sweden and Denmark.
Our inaugural survey shows that the public across Western Europe are very negative about their governments' respective approaches, and that the large majority have had to make cuts to their household spending.
There is widespread dissatisfaction across Western Europe with governments' handling of the cost of living
Overwhelmingly, Europeans are unhappy with how their government is managing the cost of living - across all countries polled at least six in ten say the government is doing badly. The picture is particularly stark in Italy (82%), where Italians will be keen to see how Giorgio Meloni's new government will address this issue, and Britain (82%), where new prime minister Liz Truss's attempts to deal with the situation are proving hugely unpopular.
There is slightly more satisfaction with the government's approach to the rising cost of living in the Nordics, but even here, just a quarter (27%) of Danes and Swedes say the government is doing a good job.
The large majority of Europeans surveyed have had to cut their household spending, and most expect to have to cut it still further
While different governments have taken very different approaches to the rising cost of living, it seems that none of these approaches have quite had the desired impact yet – a majority of adults polled across all seven countries say that they have already had to make cuts to their usual spending as a result of the rising cost of living. Italians are most likely to be feeling the pinch, with 69% saying they have already made cuts.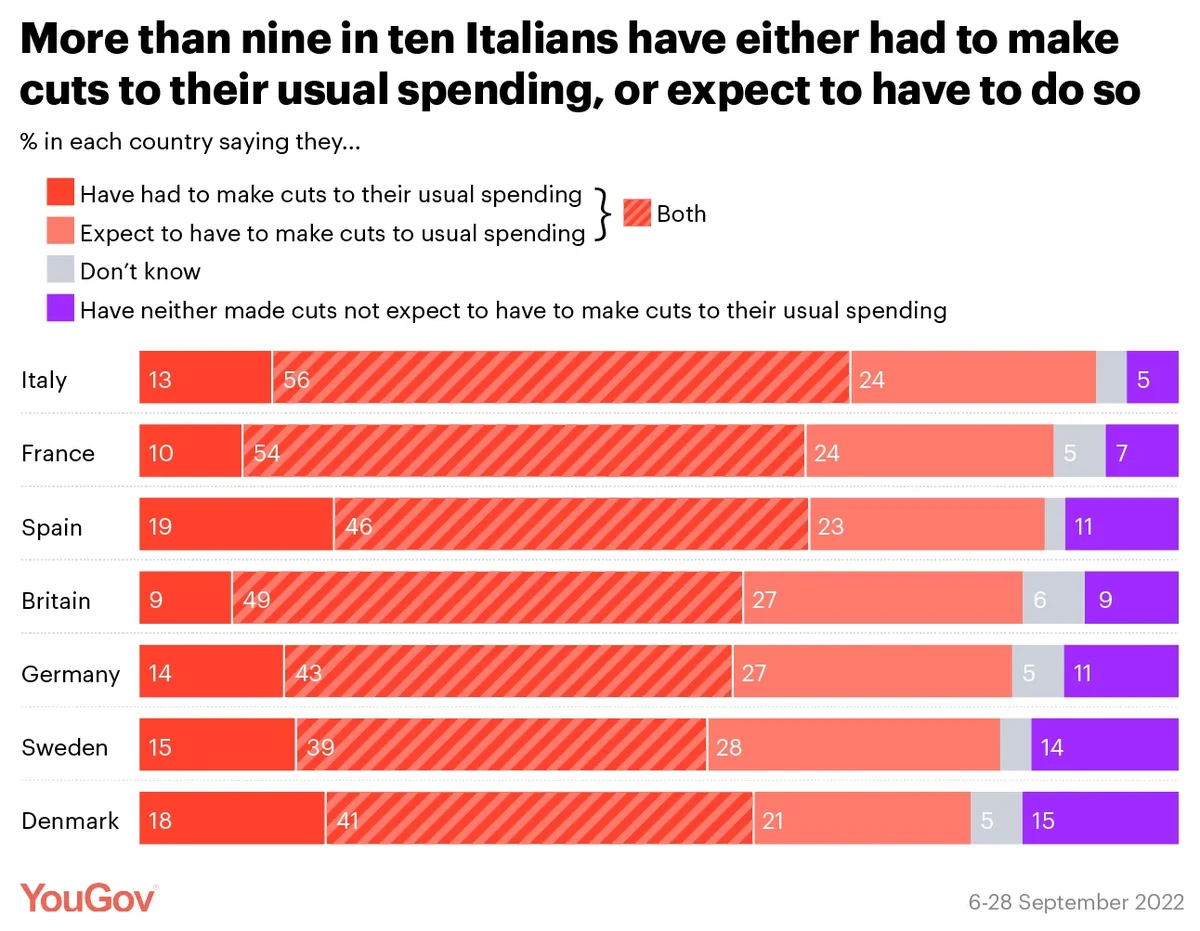 In fact, most of those who have made cuts already expect that they will need to make further reductions in time. There is a further quarter or so of people in each country who have yet to make cuts, but anticipate having to do so. All told, no fewer than 80% of people in each country have either made cuts or believe they will have to do so, rising as high as 93% in Italy.
Italians are particularly likely to be struggling with the rising cost of energy bills
Italy's new Prime Minister, Giorgio Meloni, has largely been out of view since winning the election last weekend, but she will need to act quickly on the rising cost of living when she does take office.
Energy bills and vehicle fuel costs appear to be big drivers for Italians, with 41% saying they have always or often struggled to pay their energy bills in the last three months, and a third (32%) saying the same of vehicle fuel costs. These energy bill figures in particular are significantly higher than any of the other countries polled, despite energy prices rising across the continent.