One in four say they are struggling or failing to make ends meet
YouGov's new cost of living tracker finds that the British public are overwhelmingly pessimistic about the government's handling of this issue. Eight in ten (82%) say the government managing the issue badly, including 55% who say they are doing "very badly".
A similar proportion (83%) say that the economy is in a bad state at the moment, and there is very little faith in the government to be able to turn things around – when asked how they think the economy will fare over the next 12 months, three quarters (73%) of Britons expect it to get worse.
For many Britons, they expect the situation get worse to a point of economic crisis - 72% expect the economy to be in a depression, or recession in a year's time, with just 4% anticipating a growing economy.
Most Conservative voters also take a negative view of the government's stewardship of the economy: 70% think the government is doing a bad job handling the cost of living, 80% say the economy is currently bad and 63% expect it to get worse still.
The vast majority of Britons have already made cuts to spending, or expect to do so soon
More than eight in ten Britons (85%) say that they have already had to make cuts to their usual spending, or expect to do so soon, in response to the rising cost of living. This includes half (49%) who have already made cuts and expect to have to do so again, as the government struggles to contain inflation. This figure rises to 53% amongst those with a gross household income of less than £40,000.
One in eleven (9%) have made cuts but do not expect to have to make more, while a quarter (27%) have not yet made any changes to their spending, but expect to have to make cuts soon. Only 9% of Britons say that they have neither cut their spending nor expect to have to do so in future.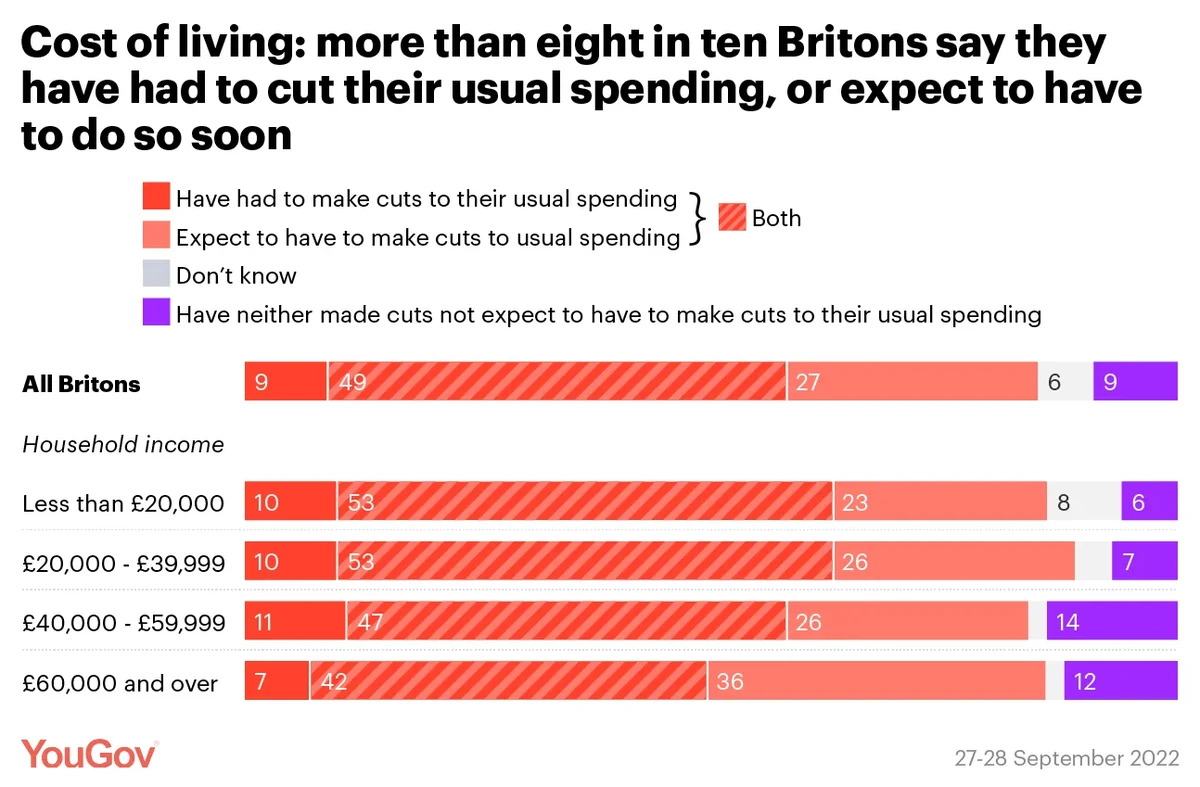 Britons are increasingly struggling with bills, particularly energy bills
Asked to describe the state of their finances, more than a quarter say either that they can only just afford their essential costs and often struggle to make ends meet (21%), or that they cannot afford essential costs in the first place and often go without things like food and heating (6%). These figures have been steadily rising over the year, having started at 16% in January.
Over the same time period, the proportion of people saying they are "relatively comfortable" financially – the second highest category – has dropped, with just a quarter (25%) of adults saying this now, compared to 38% at the start of the year.
In terms of those bills that Britons are struggling to pay, energy bills top the list. One in five (20%) say that they have always or often struggled to pay their energy bills in the last three months, while 15% say the same of both food and vehicle fuel bills. Although petrol prices have started falling, energy prices remain high as the energy price cap was lifted this week.
Photo: Getty