Britons are planning on spending £200 less than they did last year
YouGov's latest debt tracking research explores how the pressure of the festive season is impacting people who are financially distressed (i.e. struggling to keep up with financial commitments or worried they're going to fall behind) or over-indebted (three months behind on their bills/financial commitments or more).
Presents and gifts dominate the Christmas budget
This year the average spend on Christmas still adds up to a hefty £883 pounds, but down £233 compared to 2019 (£1,116) with total spending also falling this year among those struggling. Financially distressed Britons report their total festive spend as £607 (down £212 from £819 in 2019) while over-indebted Britons intend to spend more than the average Brit at £1,015 (down £28 from £1,044 in 2019).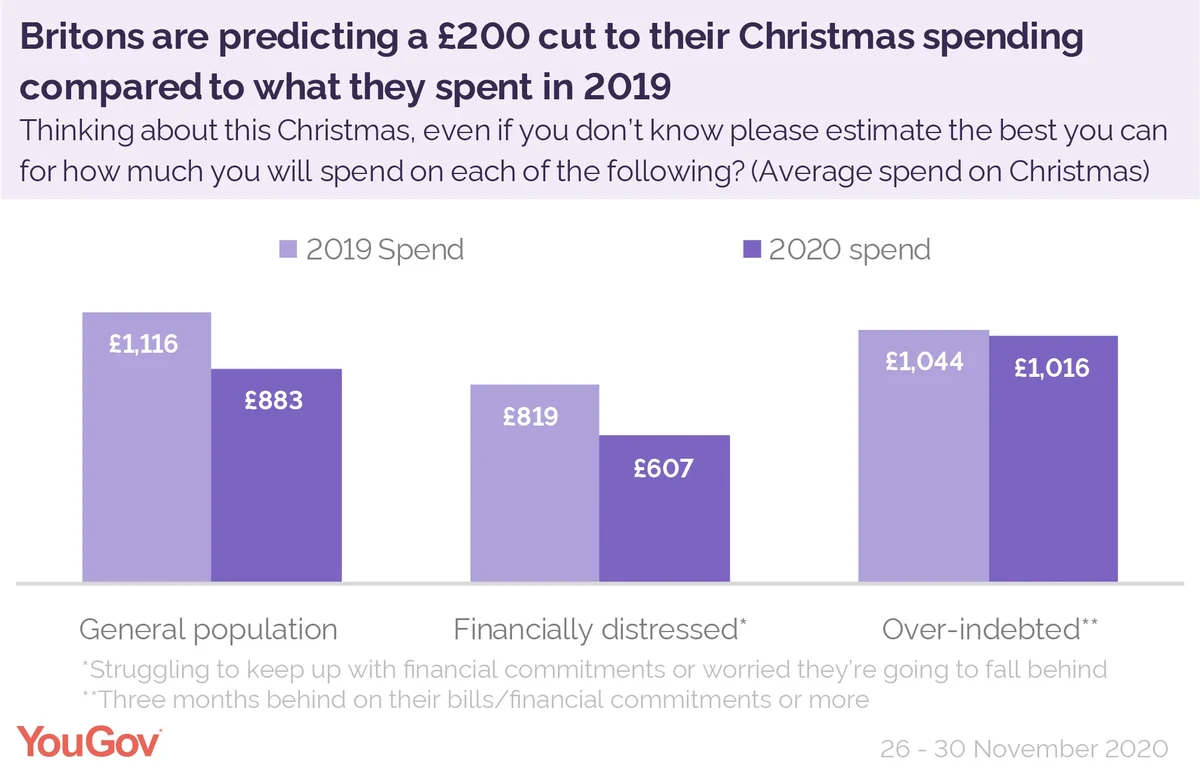 Predictably, presents make up the bulk of expenses for the festive season, with the average person spending £408 on gifts, an increase of £26 on 2019's average spend of £382. Both financially struggling groups plan to spend less than the average on presents, with those in the "distressed" category spending £307 on gifts (-£55 on 2019) while those in the over-indebted category are spending £371 (+£51 on 2019).
While present-spending is up on average, other areas of festive expenditure have seen significant decreases, including hotel stays (£87 this year, down £110 compared to the £197 spend in 2019) and travel (£74 versus £154 in 2019).
Nearly three in ten Britons predict they will overspend on Christmas
Overall, the proportion of Britons predicting they will spend more than they should has fallen to 29%, from more than two fifths in 2019 (43%). The proportion who are predicting to spend more than they should remains higher among both financially distressed (36%) and over-indebted Britons (40%) than the general population but has also fallen from last year.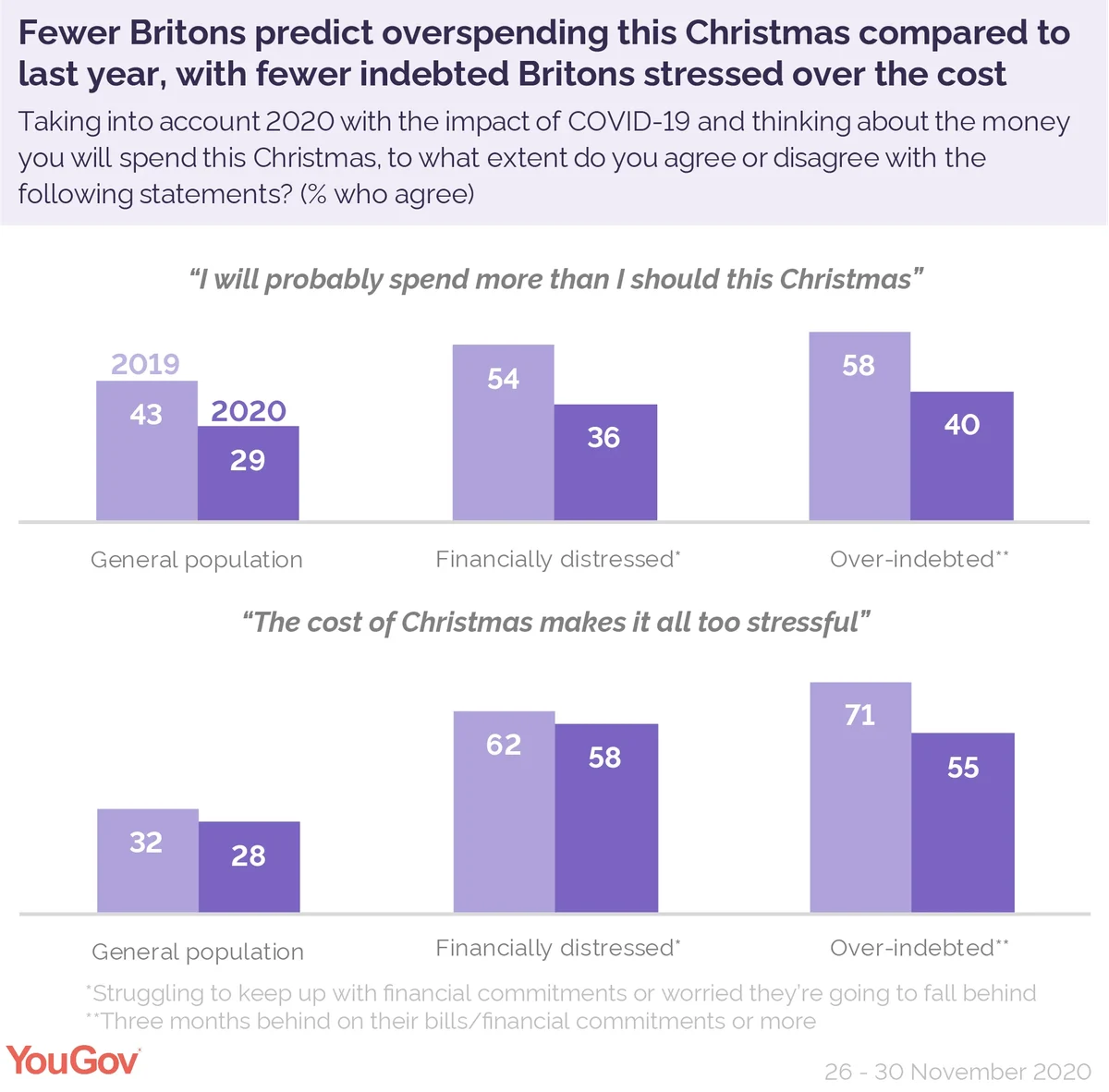 The flip side of this reduced overall spending is that fewer Britons are stressed by the financial burden of the holidays. Fewer than three in ten Britons (28%, down four percentage points versus 2019) say "the cost of Christmas makes it all too stressful", compared to 58% of the financially distressed (also down four percentage points compared to last year). The biggest change is among over-indebted Britons, 55% of whom agree the cost makes Christmas too stressful, down 16 percentage points since 2019.
Further to this, the number of over-indebted Britons struggling to enjoy the season due to spending worries has fallen from 58% in 2019 to 41%.
Fewer Brits are willing to rule out cancelling their Christmas this year
The upcoming break in the COVID-19 restrictions on the 25th December isn't enough to stop more Britons from potentially cancelling Christmas this year. Less than half (47%) of people say that "cancelling Christmas is not an option for me" this year, compared to the 62% who said the same in 2019.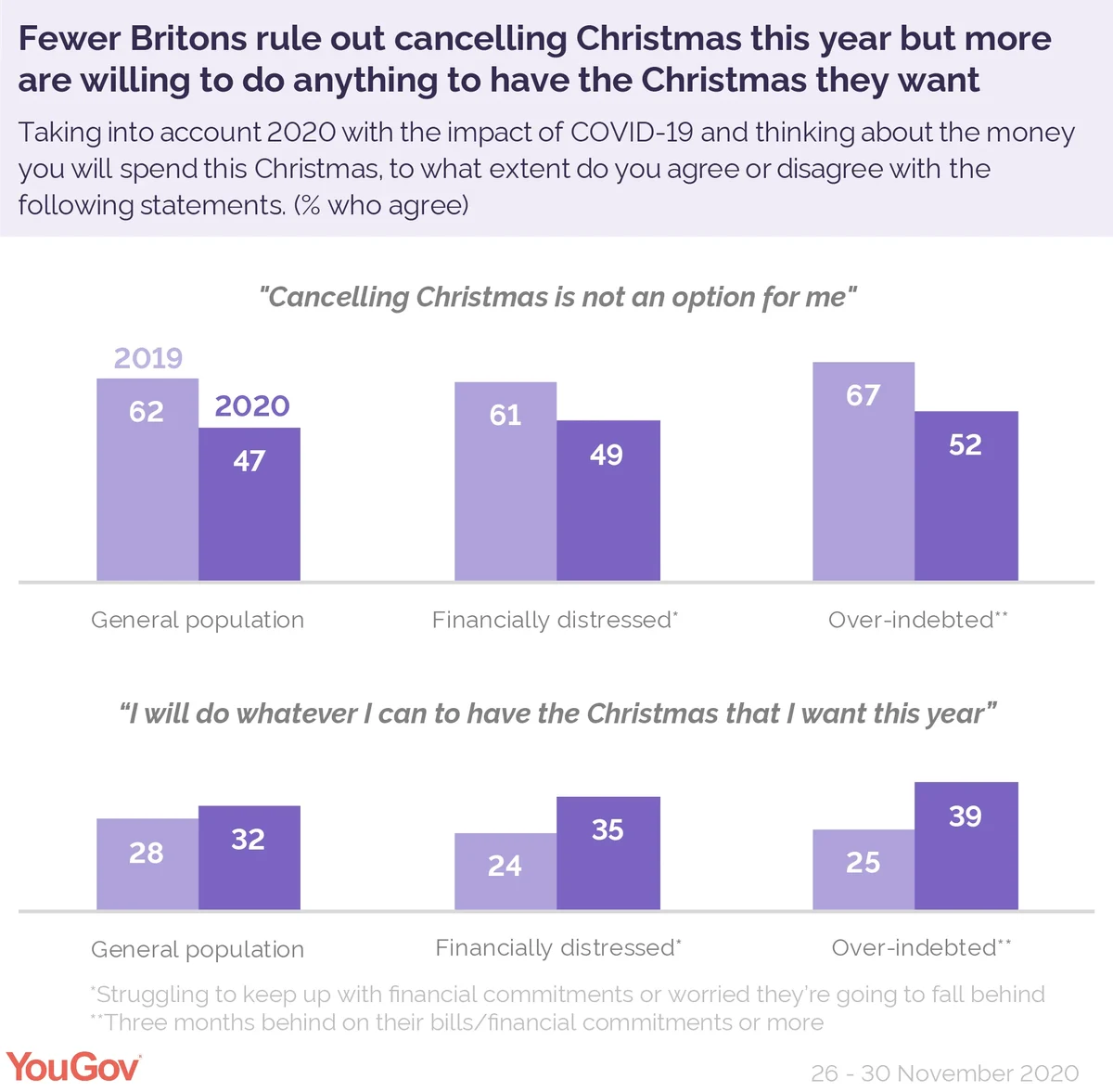 Despite this increased willingness to accept Christmas may have to be cancelled, slightly more Britons (32% versus 28% in 2019) are willing to do whatever they have to do to ensure they get the festive break they want. Over-indebted people are more likely than the general public to say they do whatever they can to make Christmas the one they want (39%), up 14 percentage points on last year.
The results also show an increase in the number of over-indebted Britons putting money aside throughout the year for a festive splurge: 34% say "I save throughout the year so I don't find the impact of Christmas stressful", compared to 25% who did so in 2019.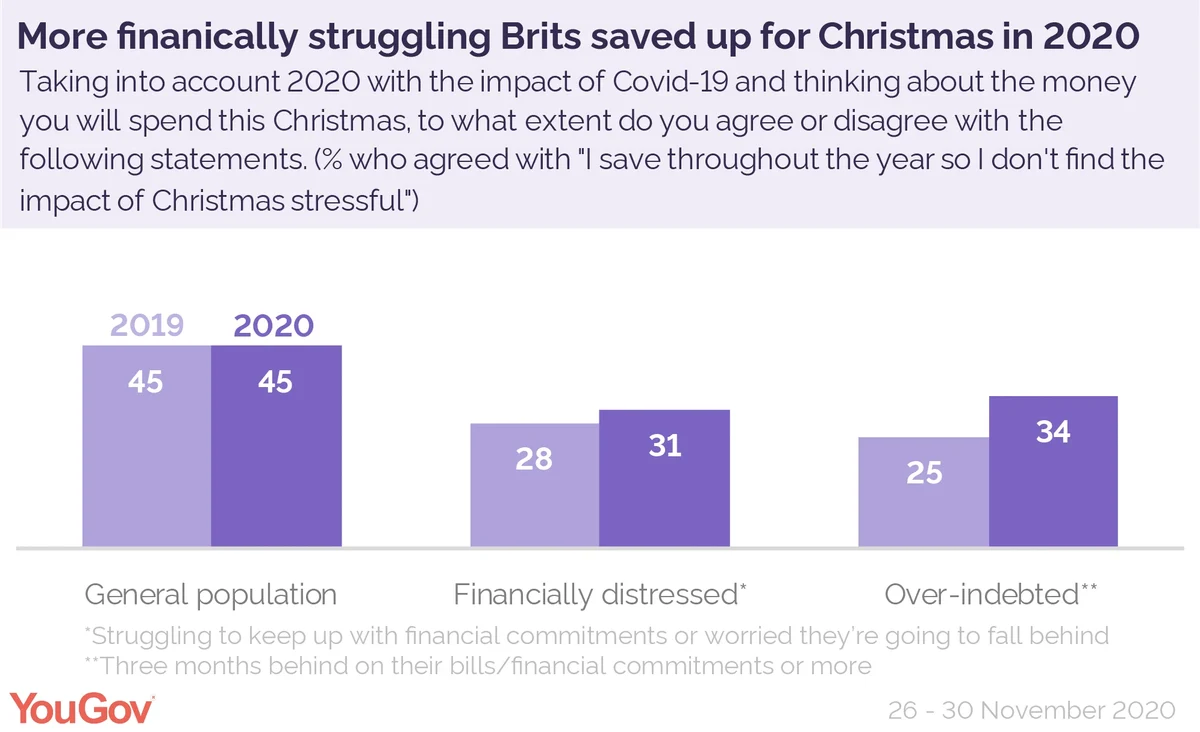 Despite a lower overall spend, 41% of over-indebted and 42% of financially distressed Britons are resigned to remaining in the red and say that Christmas will ultimately increase their debt, compared to 15% of the population who say the same.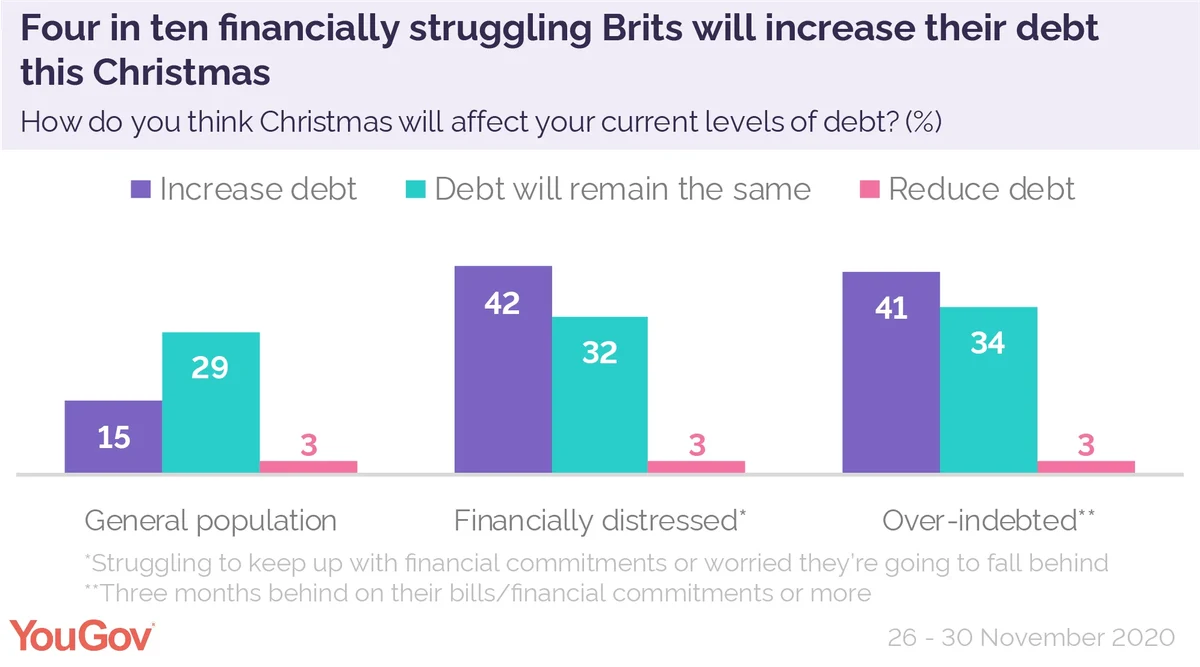 Learn more about YouGov Financial Research here