Employees from BAME backgrounds are more anxious than White workers about the coronavirus crisis threatening job security and career progression
Over half (56%) of workers from Black, Asian, and Minority Ethnic (BAME) communities are anxious that COVID will affect their job progression – a figure notably above that for White wage earners (45%), research from YouGov's Debt Tracker shows.
The data shows that employees from BAME backgrounds are almost twice as likely as White workers to be very worried (29% to 16%).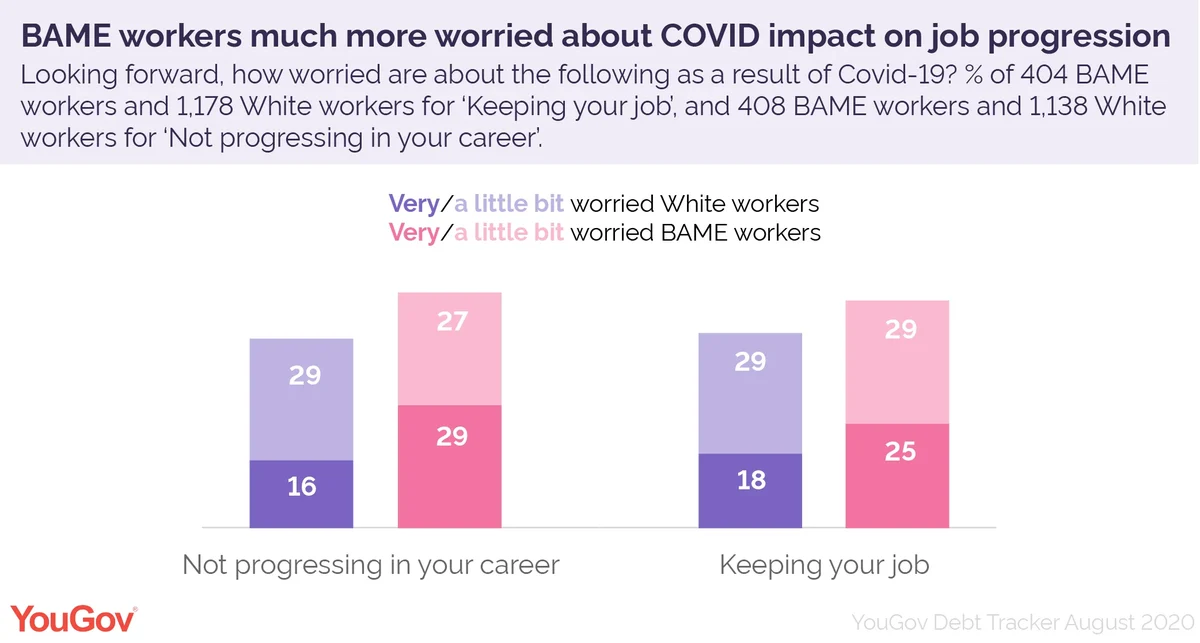 Employees from BAME communities are also more likely than White wage earners to be worried that the pandemic will affect their job security (54% to 47%). This includes a quarter of workers from BAME backgrounds (25%) who are very worried, compared with just under a fifth of White workers (18%).
Higher proportions of workers from BAME backgrounds struggle financially
When looking at people in work at the start of the pandemic, the Debt Tracker data shows that employees from BAME communities are more likely than White workers to be struggling financially. Higher numbers have experienced financial difficulties in the past 12 months (33% to 24%), find it hard to keep up with bills (16% to 11%) and have missed at least three payments for bills or other credit commitments (12% to 5%).
However, both groups share similar outlooks on how their financial circumstances will change in the next year. Three in ten people from BAME backgrounds working before the crisis (29%) expect their situation will improve, while 22% think it will worsen. This is in line with the view among White workers (26% improve and 24% get worse).