Consumer confidence rises to 102.4, continuing five-month improvement
Business activity rebounds by 4.1 points to 104.7 after August dip
Job security remains low at 85.1 as furlough scheme winds down
Home value score jumps by 6.3 to 107.8, the highest jump since 2013, with outlook for the coming year also strong at 111.3
Fewer than one in five Brits (18%) expect the economy to grow (17%) or boom (1%) in the next 12 months while 60% expect the UK to still be in a recession in 12 months
Consumer confidence continues to improve for the fifth month in a row even as a second wave of coronavirus looms, the latest analysis from YouGov and the Centre for Economics and Business research shows.
During September the index increased by 2.2 points to 102.4, with any score above 100 meaning more consumers are confident than not. This is the fifth month in positive territory since May with six of the eight constituent metrics showing improvement.
Originally August's interim figures showed the consumer confidence index as a dip scoring 99.5, however this decrease flattened out by the end of the month to 100.2. With the recent introduction of further coronavirus restrictions it remains to be seen whether September's positive index score will rise or fall now these restrictions have come into effect.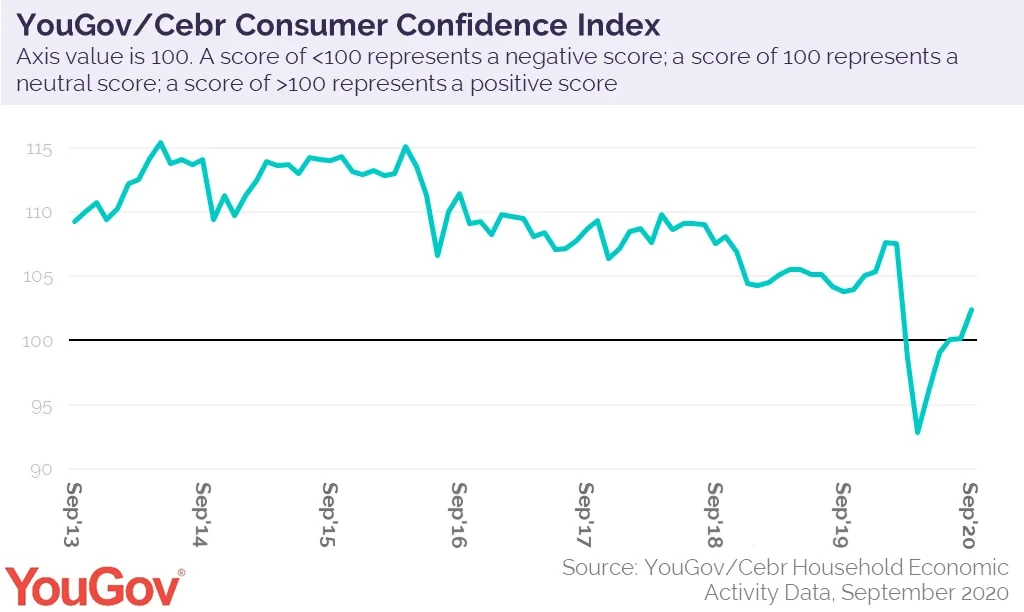 YouGov collects consumer confidence data every day, conducting over 6,000 interviews a month. Respondents are asked about household finances, property prices, job security and business activity, both over the past 30 days and looking ahead to the next 12 months.
House value and business activity are the main drivers of the cautiously rising optimism. The home value index, which asks homeowners how they think the value of their property changed in the past month, increased by 6.3 points. This is the highest monthly jump since August 2013. Homeowners' expectations for the next 12 months also improved by four points to 111.3, despite the stamp duty holiday coming to an end in April next year and gloomy market predictions.
Business activity in the last month also contributed to increasing confidence; after a dip of 4.3 points in August the index rose by 4.1 points to 104.7. However scores are still below July levels when pubs and restaurants reopened and some travel restrictions were lifted, prompting a jump to 105.
Expectations for business activity in the coming year has improved slightly by 0.7 but at 115.4 it scores the highest among the eight measures.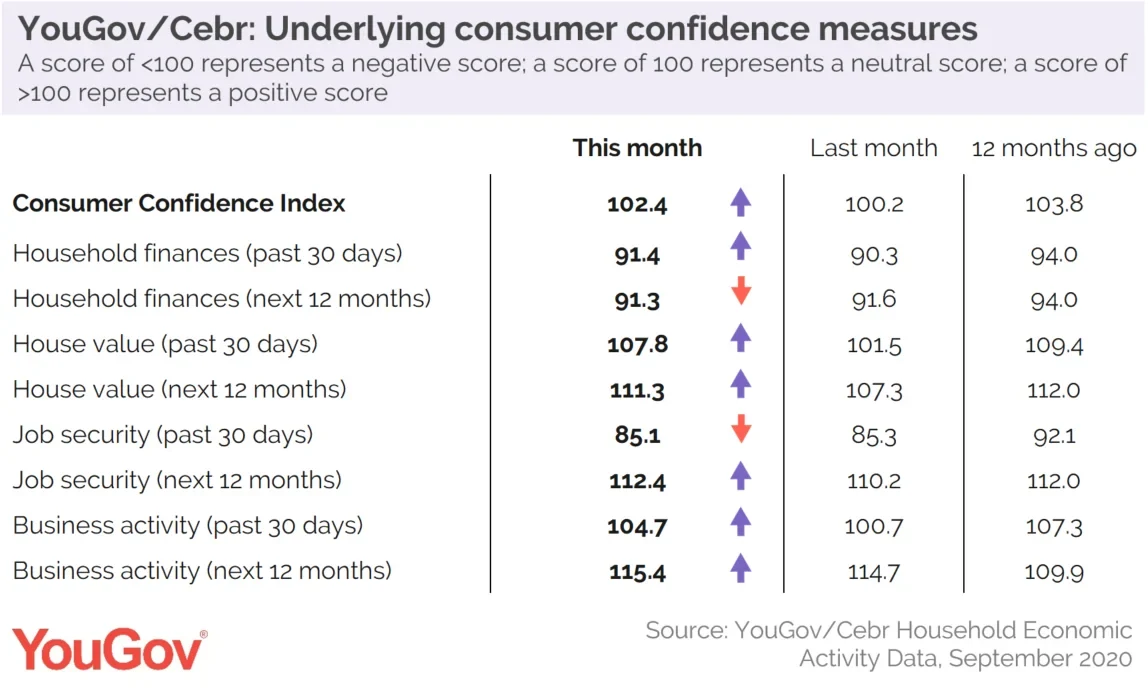 Workers remain pessimistic about job security with only one month remaining of the furlough scheme. The measure is still firmly in negative territory at 85.1 – down by 0.1 since August. This is the second month of decline following three months of growth between May and July. Outlook for the next 12 months is more positive at 112.4, up by 2.2 points from last month.
Additional research shows nearly all Brits (93%) expect unemployment to rise in the next year while just under two thirds of workers (64%) say it's unlikely they'll get laid off.
Scores for household finances improved by 1 point to 91.4, the highest level since February. However, this score still remains firmly in negative territory. Outlook for the next twelve months has worsened slightly and is now at 91.3, a decreased of 0.3.
Fewer than one in five Brits (18%) expect the economy to grow (17%) or boom (1%) in the next 12 months, while 60% believe we will remain in a recession. Another quarter (23%) expect an even more severe, sustained downturn: an economic depression.
Oliver Rowe, Director of Reputation Research at YouGov, said:
"Despite warnings from the Prime Minister that a second wave of coronavirus has begun, consumer confidence has continued to grow for five consecutive months, with business activity and house values the main drivers of the cautious rising optimism. However, while this month's index show improvements in almost all measures, it remains to be seen whether September's positive scores will remain as such by the end of the month given we have seen scores dip considerably when previous restrictions have been implemented and start to affect consumer behaviour."
Kay Neufeld, Head of Macroeconomics at the Centre for Economics and Business Research, said:
"Consumers continued to drive the budding recovery in September, as evidenced by a further increase in the Consumer Confidence Index this month. Encouragingly, the improvement in sentiment also extended to perceptions of business activity, with both the backward and the forward-looking measure recording gains. The reopening of schools and return of some businesses that had remained closed thus far will have contributed to increased optimism. It is, therefore, all the more tragic that the recent surge in new coronavirus cases in the UK and the imposition of tougher restrictions this week will feel like a step back for many, posing a real threat to the UK's economic recovery heading into the autumn months."