First-time buyers are over twice as likely as the average Brit to have benefitted financially from the coronavirus crisis – but getting a mortgage has become harder
A third of people who plan to buy their first home within the next year (32%) say the COVID-19 pandemic has been positive for their finances. In contrast, this is only the case for 14% of all Brits. And while 34% of the public have felt a negative financial impact, this figure is slightly lower among first-time buyers (30%).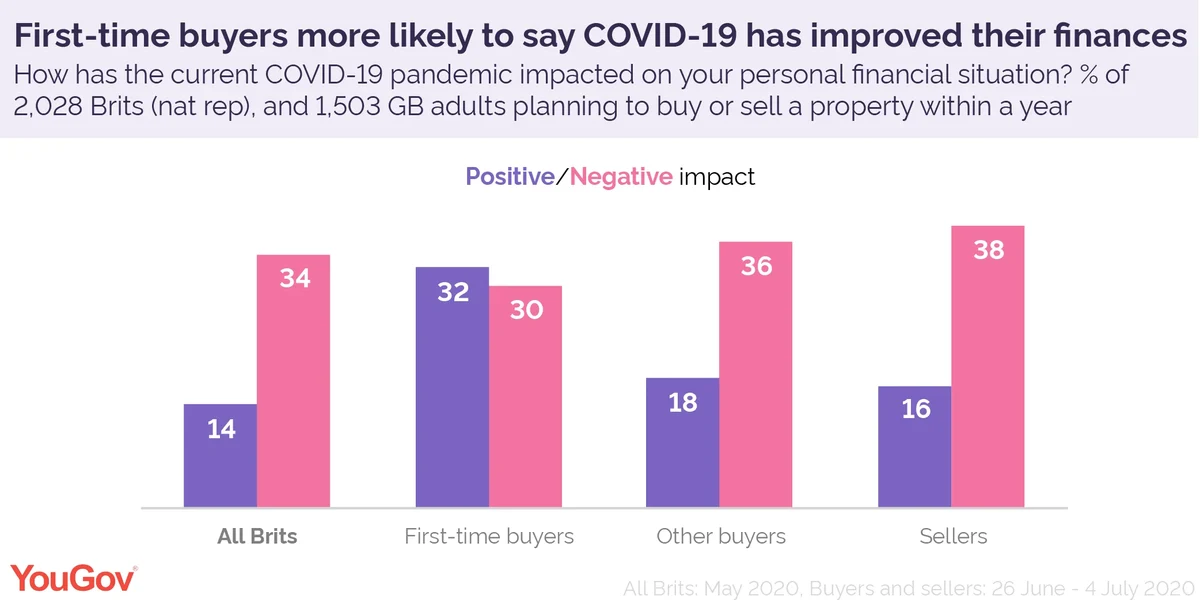 Other buyers, who have previously purchased a property, have not benefitted in the same way. But they have fared a tad better than the average person, with 18% reporting the pandemic has improved their finances. Just over a third (36%) say the opposite, which is similar to the wider public.
People planning to sell a property within a year are more likely than average to have been negatively affected by the coronavirus crisis. Two in five (38%) say it has made their finances worse, while one in six have seen their financial situation improve (16%).
These figures are from before the Government announced a temporary stamp duty holiday last week. Sellers, who are trying to shift expensive properties, may be able to increase their asking prices and could see a slight change of fortune – although prices have been falling for four consecutive months.
First-time buyers struggle to access mortgages as choice remains limited
The cut in stamp duty means the tax only kicks in after £500,000 instead of at £125,000 for existing homeowners or £300,000 for first-time buyers. Buyers can save thousands of pounds – if asking prices don't increase as a result.
But getting a mortgage may be the bigger hurdle for many, especially first-time buyers. Among all buyers planning to buy within a year, one in six (17%) have already applied for a mortgage – and the verdict is mixed.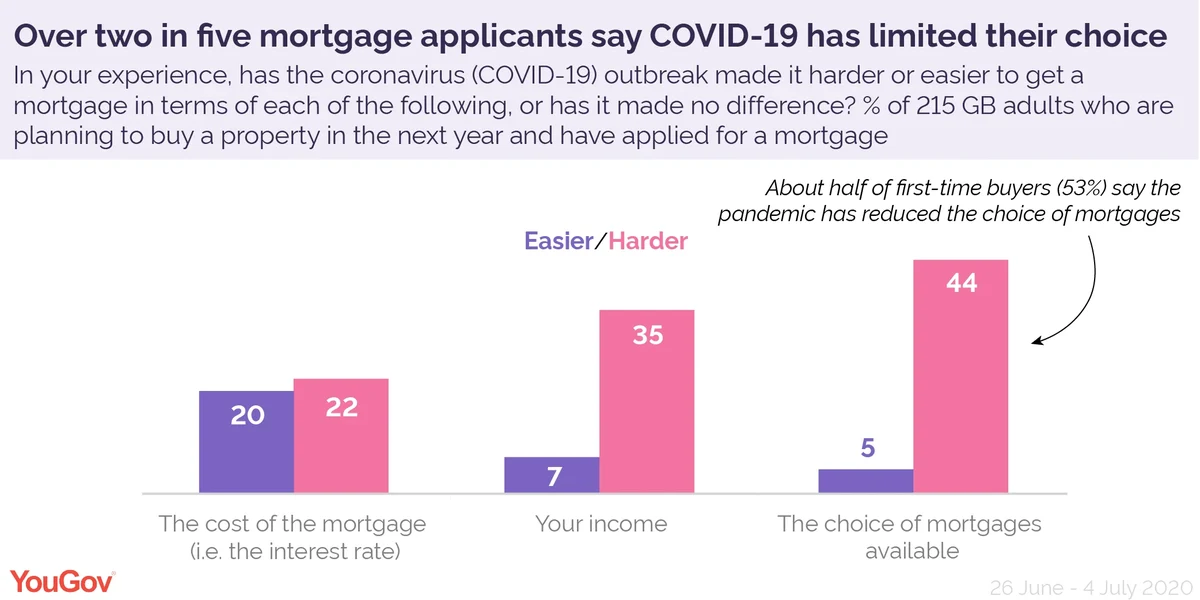 The most common issue is that there are simply fewer mortgages available, with over two in five buyers who have applied for one (44%) saying the limited choice has made it harder to get approved. This figure is much higher among applicants who are first-time buyers (53%), but even over a third of those who have previously bought (36%) have struggled as a result.
Many banks scrapped their higher loan-to-value deals when the coronavirus outbreak hit and have been slow to re-introduce them, leaving those who can only pay 5-10% of their deposit with few options.
A third of buyers who have applied for a mortgage (35%) also say the pandemic has made it harder in terms of income. This could be either be from banks increasing their requirements or as a result of reduced earnings.
In this instance, there's no real difference between applicants who are first-timers (36%) and those who have previously bought a property (34%) - possibly because the former are more likely to have benefitted financially from the pandemic.
A fifth of buyers who have applied for a mortgage (20%) say the pandemic has made it easier in terms of cost while 22% say the contrary. This is despite the Bank of England slashing interest rates to their lowest ever at 0.1% in March.