Every constituent metric rose during June, for second month running
Business activity for June saw largest increase, entering positive territory for first time since February
But 82% believe UK will be in recession or depression within a year
The COVID-19 lockdown is easing and consumer confidence is rebounding, according to the latest analysis from YouGov and the Centre for Economics and Business Research. As shops, cinemas, restaurants and cafes around the country prepare to tentatively open their doors after months of inactivity, optimism is slowly returning.
Consumer confidence climbed for a second consecutive month in June, rising 2.5 points to 98.5 - taking total gains for May and June to 5.7 points.
Any score over 100 means more consumers are more confident than unconfident, so Britain remains in negative territory. But another rise the size of the increase seen this June would take us well into positive territory.
YouGov collects consumer confidence data every day, conducting over 6,000 interviews a month. Respondents are asked about household finances, property prices, job security and business activity, both over the past 30 days and looking ahead to the next 12 months.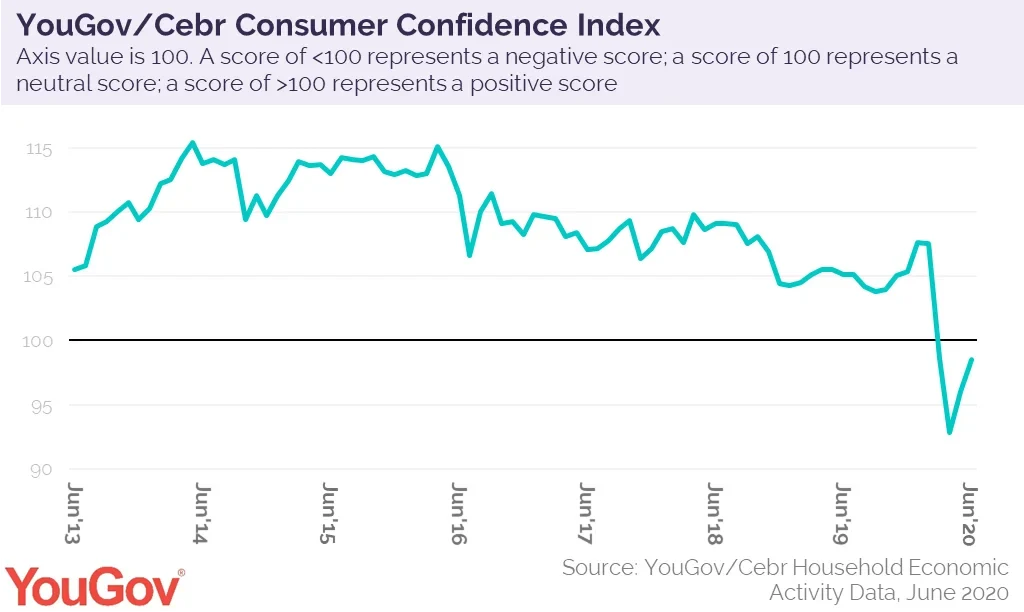 As recently as April we had seen three consecutive months of decline caused by the introduction of strict and unprecedented lockdown measures to slow the spread of COVID-19, totalling 14.9 points and sinking the metric to a low not seen since 2012.
All eight of the constituent metrics that makes up the consumer confidence indicator rose during June, for the second month running. The last time we saw green across the board like this was April 2018.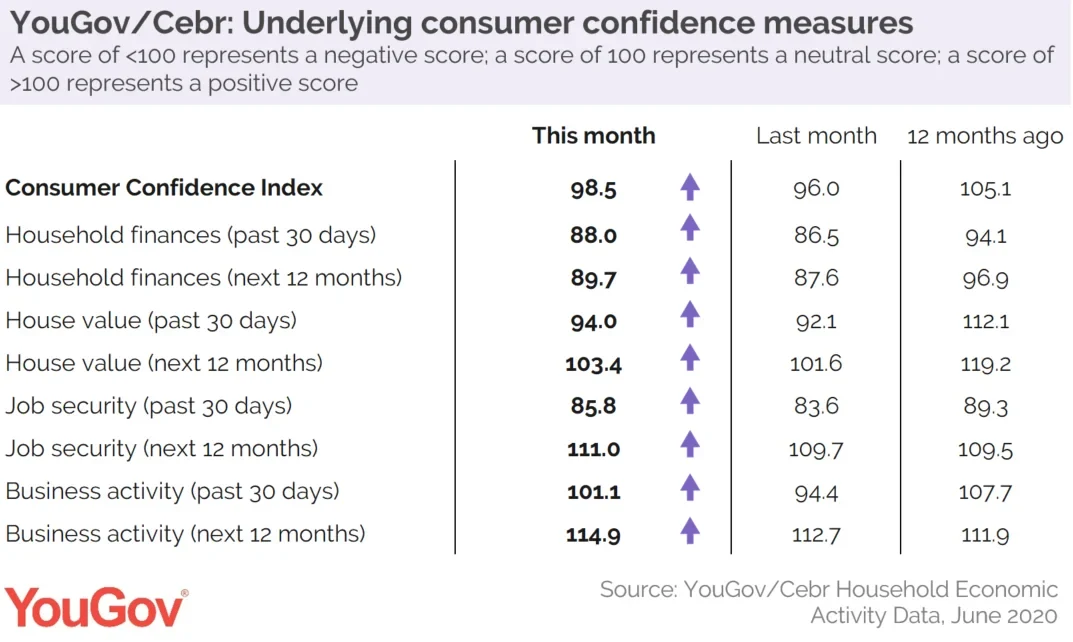 Business activity over the last month rose by 6.8 points, and business expectations for the coming year were also up 2.2 points. Both metrics are now well into positive territory, at 101.1 and 114.9 respectively. However, this optimism is countered by the fact that more than eight in ten (82%) respondents believe that the UK economy overall will sink into either depression (22%) or recession (60%) in the next 12 months.
Also up is job security, rising 2.2 points in the recent short term and 1.3 points when looking ahead to the coming year. The outlook for the next 12 months is now at 111.0 and extremely healthy, while the estimate of the previous month is 85.8 and extremely negative - perhaps no surprise given the current huge numbers of workers on the furlough scheme.
Again, though, we see a delta between personal forecasts and nationwide forecasts. When asked how the unemployment rate would change over the coming year, 89% said it would increase.
Home values over the last 30 days are up 1.9 points but remain negative at 94.0, while the forecast for the year ahead is up an identical 1.9 points to a much more healthy 103.4.
Personal finances rose 1.5 points in the recent short term and 2.1 points when looking to the year ahead, but are the bleakest pair of figures in our dataset, sitting at 88.0 and 89.7 respectively.
Oliver Rowe, Director of Reputation Research at YouGov, said:
"A second month of gains is definitely reason for optimism, and the economy is slowly picking up pace after lockdown. But with millions of staff enrolled on the furlough scheme and personal finances continuing to be a major worry for people, time will tell how robust this recovery is."
Kay Neufeld, Head of Macroeconomics at the Centre for Economics and Business Research, said:
"The rise in consumer confidence recorded in June is an encouraging sign as the UK economy slowly emerges from the depths of the lockdown-induced recession, which saw its nadir in April. Nevertheless, consumer confidence is still 9 points off its February level, highlighting the long recovery still ahead of us. The outlook on household finances and job security, in particular, could prove too optimistic if we see a spike in the joblessness rate later in the summer as the government starts to withdraw the furlough scheme. Until then, however, positive consumer sentiment should help shops, pubs and other businesses that are due to re-open in the coming weeks."