Pubs, restaurants and hairdressers are finally beginning to reopen after the COVID-19 lockdown - but which type of service workers should you be tipping?
Tipping is a social minefield at the best of times for Britons, and with hairdressers, pubs, and restaurants set to resume trading this weekend following the COVID-19 lockdown, we are able to clarify matters.
Before the pandemic began, YouGov asked Brits where they tip and where they don't. We also asked if they have ever removed an automatic service charge from a bill.
When to tip?
Of the types of places we asked about, Brits are most likely to tip when dining out in restaurants. A third (35%) say they always leave a tip, and another 28% often do. Only 5% of Brits say they never leave a tip for waiters or waitresses.
Older Brits are the most likely to leave something for their server, with 41% of Brits over the age of 55 always leaving a tip, compared to just 19% of 18- to 24-year-olds.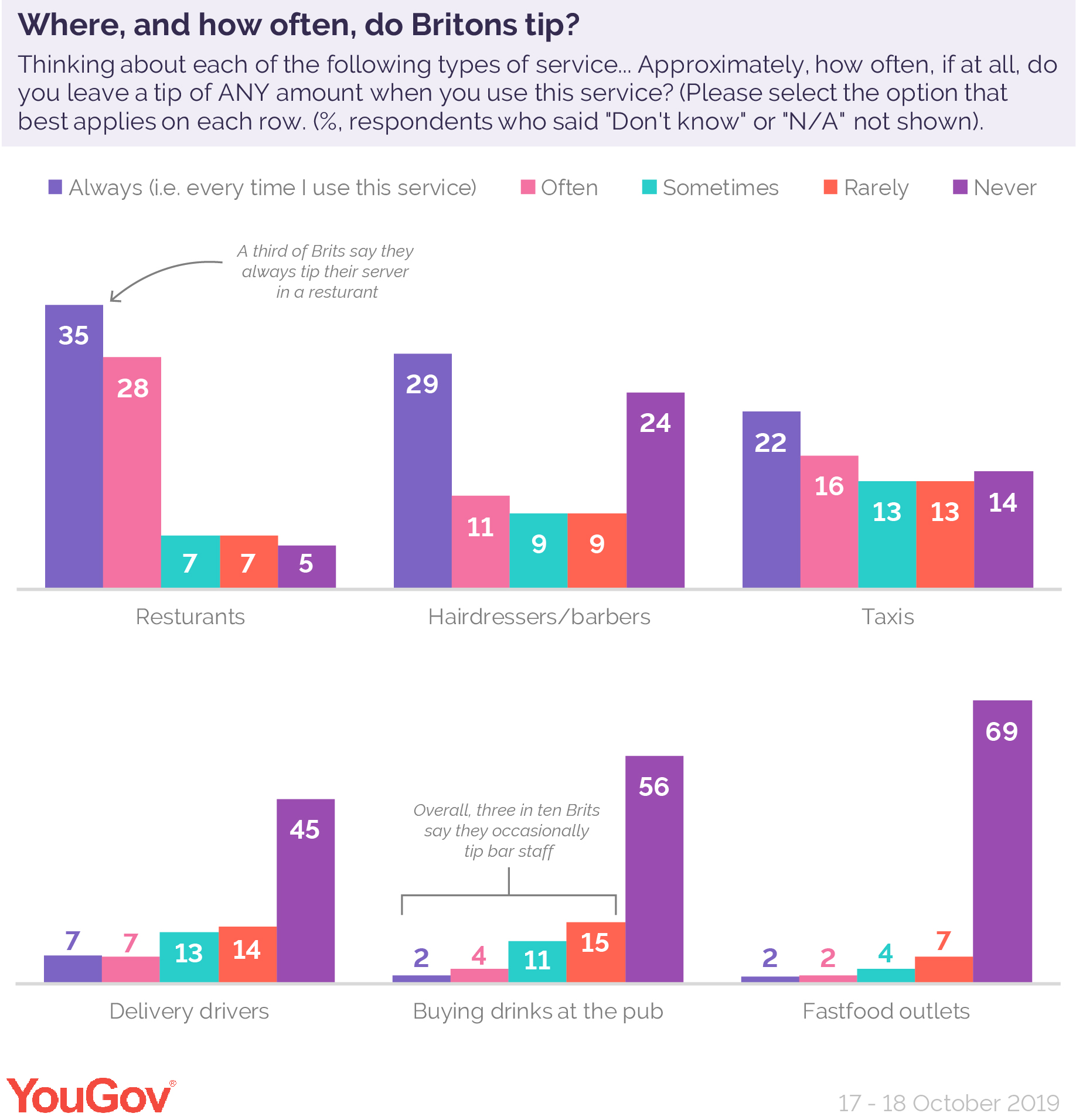 Click to enlarge
Hairdressers and barbers are also likely to be on the receiving end of Brits' generosity, with over a quarter (29%) of the public always tipping when they get a haircut, and a further 11% saying they do so often.
Again, older Brits are twice as likely to tip: 40% of Brits over the age of 55 tip their hairdresser or barber, compared to just 16% of 18- to 24-year-olds.
However, 24% of Britons say they never tip their barbers, with men slightly more likely to never tip (27%) than women (22%). This is despite another YouGov survey revealing that men are far more likely to pay less for their haircuts than women.
One in five (22%) Brits also say they always tip their taxi driver, and 7% say the same for delivery drivers. Bar staff and workers in fast food outlets are the least likely to receive tips, with 56% and 69% of Britons respectively saying they never tip when using these services. However, three in ten Brits (31%) say they do on occasion tip when getting a round in at the pub.
How do Britons feel about service charges?
Many restaurants now add an optional service charge to bills to cover staff costs, but if the service is not up to scratch many Brits are willing to withhold it. Some Brits also see it as more of a suggested gratuity, with 53% saying it's the same as leaving a tip, and that they would rather leave cash.
Overall, 48% of Britons say they have asked for a service charge to be removed in the past, with one in ten (10%) Brits doing so every time they are asked to pay one. A third of Brits (37%) have never asked to remove the additional charge.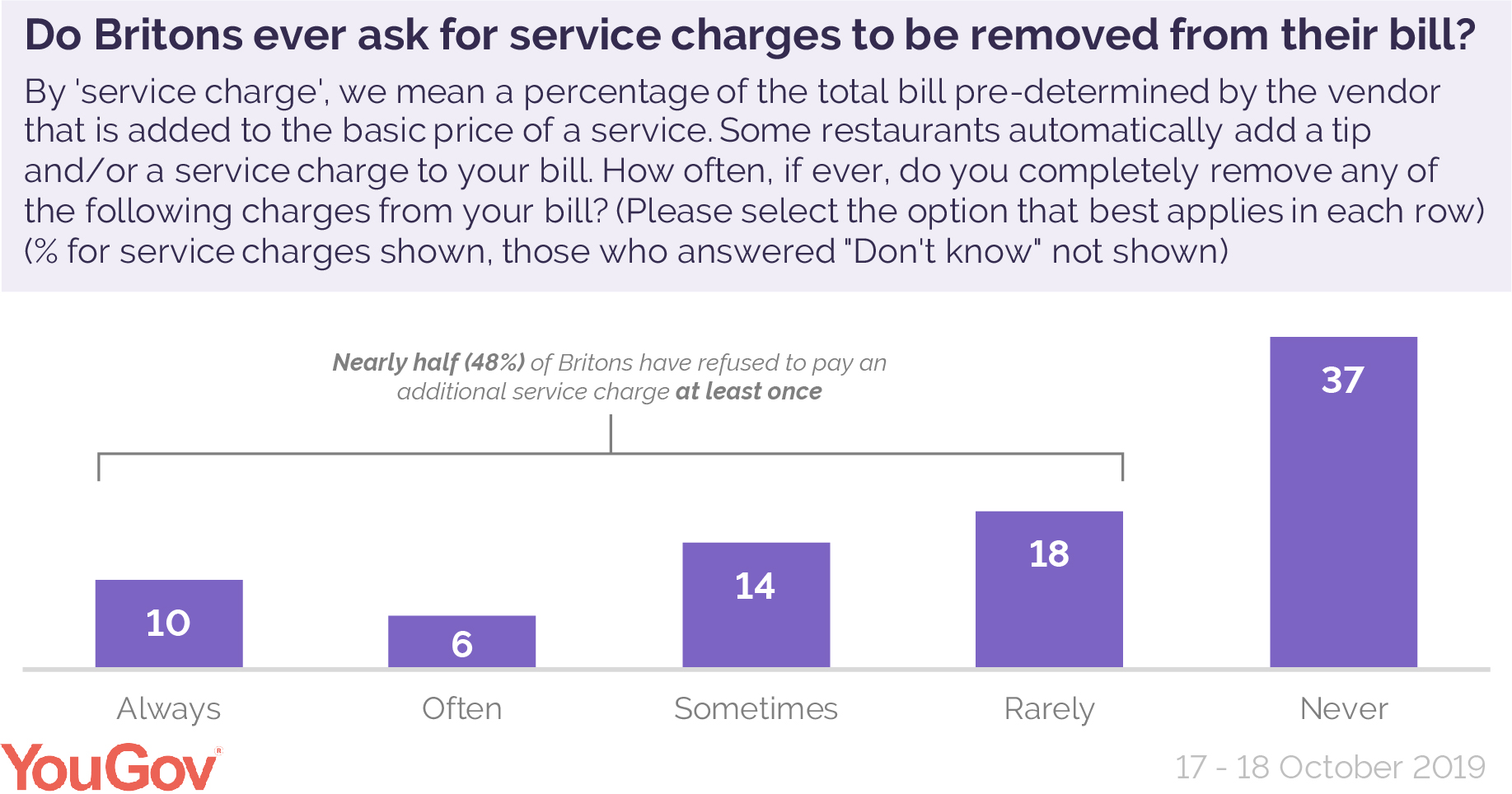 Click to enlarge
But what does it take for Britons to take a service charge off their bill? The top answer (26%) is receiving poor service. Another 17% take a moral stance and say they think service charges should be rolled into menu prices, rather than being an additional charge. Another 16% think they should be the ones to decide whether to pay extra, not the restaurant.
One in seven (14%) say they prefer to leave a cash tip rather than pay a service charge, and one in ten Brits who have refused service charges in the past have done so because they aren't sure if the charge goes directly to staff.
This could be because Britons also say they are not confident that tips paid using credit and debit cards are actually passed on to staff.
Two in five (43%) say they are much less confident staff members will receive tips paid this way than compared to a conventional cash tip, and a further 21% are a little less confident.