Consumer confidence plummets to January 2012 low
86% believe UK is heading towards either depression or recession
Nearly nine in ten Britons believe unemployment will rise (89%)
The UK has been closed for business to slow the spread of COVID-19, with cafes, restaurants and pubs shut and residents only allowed outside for essential activity. The bold measures may have saved tens of thousands of lives but the latest analysis from YouGov and the Centre for Economics and Business Research reveals the dramatic effect on Britons' economic outlook.
Consumer confidence was in freefall in the UK in April, dropping 5.9 points to 92.7. This is the third consecutive monthly drop - a negative run that has wiped 14.9 points off the index. The metric is now at its lowest level since January 2012.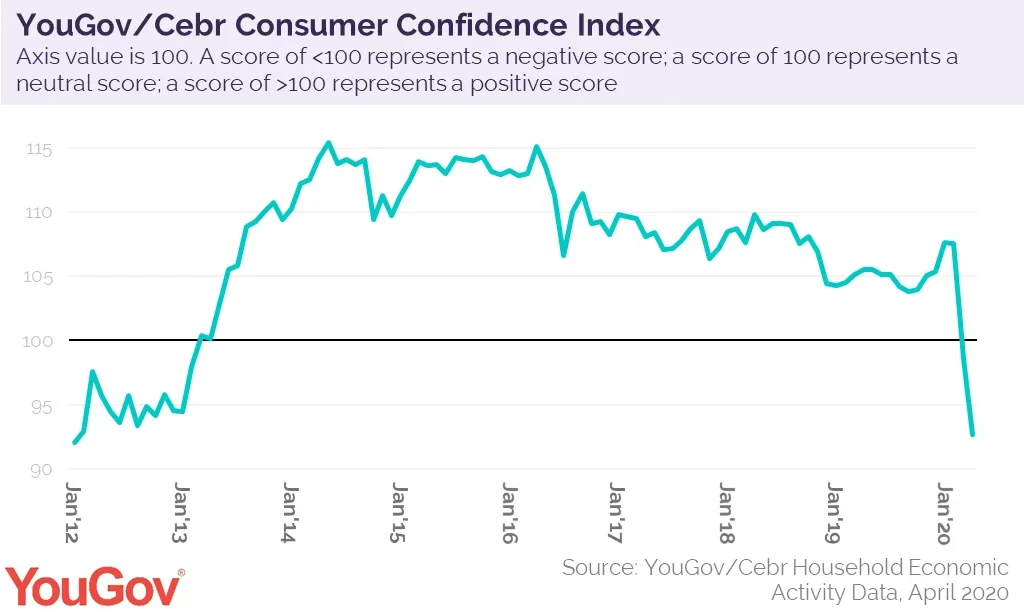 Any score over 100 means more consumers are more confident than unconfident, but Britain has now slipped deep into negative territory as the Government struggles to get to grips with the pandemic. Unprecedented measures from the Treasury to shore-up businesses and protect jobs have failed to stem the decline.
YouGov collects consumer confidence data every day, conducting over 6,000 interviews a month. Respondents are asked about household finances, property prices, job security and business activity, both over the past 30 days and looking ahead to the next 12 months.
Six of the eight constituent metrics fell during April. Respondents believed that their personal household financial situation had worsened over the last 30 days, with the measure falling 7.3 points to 78.6, and their estimates for the coming year also sliding 3.4 points to 83.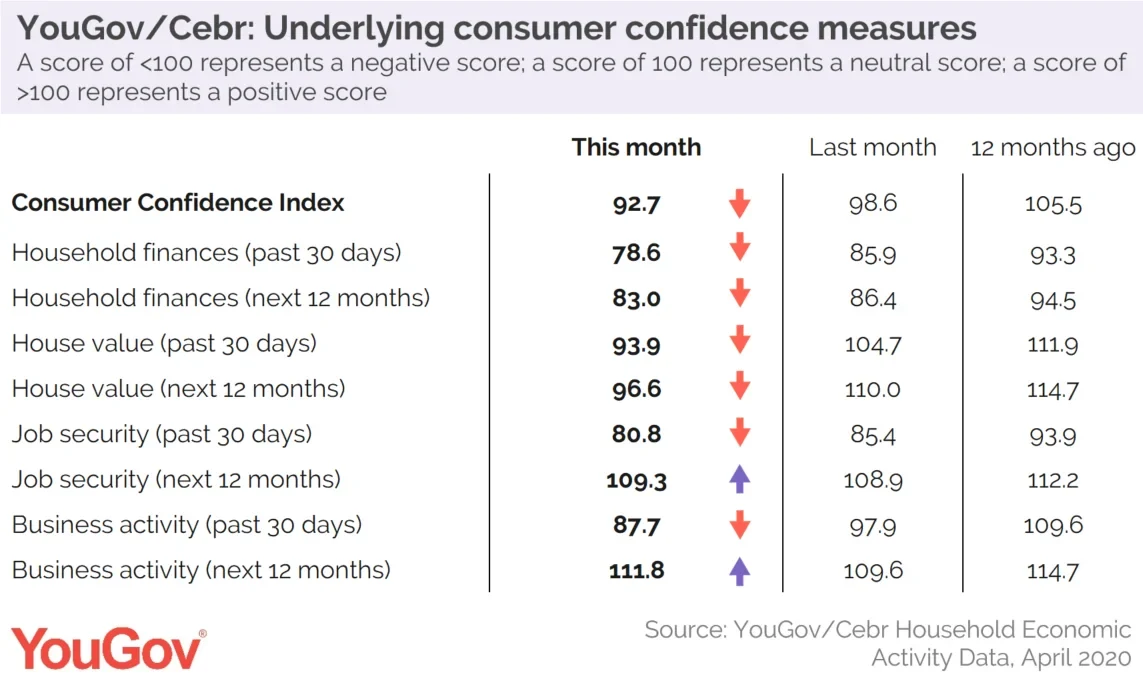 Britons were equally pessimistic about house prices, with estimates of value over the last month declining 10.8 points to 93.9, and for the coming year by 13.4 points to 96.6. Both measures are now in negative territory for the first time in years.
Respondents were increasingly pessimistic about their job security over the past month, with the measure falling 4.6 points to 80.8. However outlook for the coming 12 months rose fractionally by 0.5 points to 109.3, remaining firmly in positive territory. The cognitive dissonance between peoples' personal sense of security and their outlook for others persists, as 89% believe nationwide unemployment will rise over the coming year.
Surprisingly, given that these surveys were conducted after the Government imposed lockdown conditions, business activity estimates over the last month only slipped 10.2 points to 87.7. Estimates for the coming year even rose 2.3 points to 111.8. But these small glimmers of hope do little to balance the overwhelming average falls in sentiment and the 86% of Britons who believe we are headed towards either depression (28%) or a recession (58%).
Oliver Rowe, Director of Reputation Research at YouGov, said:
"COVID-19 has brought about unprecedented lockdown measures with no end date in sight, so it's hardly surprising that consumer confidence has slumped so dramatically. Time will tell if we have reached the bottom, or for how long the economic repercussions will be felt but the public does expect things to remain very tough for some time."
Kay Neufeld, Head of Macroeconomics at the Centre for Economics and Business Research, said:
"Measures to contain the spread of coronavirus have had a marked effect on UK consumer confidence in April. The number of unemployed people is expected to increase by 2 million compared to pre-crisis levels, with many more furloughed. The resulting fall in incomes goes some way to explain the drop in the household finance indicators, which would be even worse were it not for a widespread drop in spending. Meanwhile, a virtually frozen housing market and the expected economic fallout of the pandemic paint a bleak picture for UK house prices this year, further weighing on consumer sentiment."